A crowd of Harvard faculty members and alumni judges watched intently Thursday as a College student, a Loeb fellow, and three students in the Graduate School of Design declared that the days of art being confined to galleries, centers, and opera houses were over.
Instead, they said, they see the potential for cities' public spaces to be transformed into performance spaces, contending that the challenge lies in connecting with the millions of people who attend and appreciate citywide events and festivals. This vision is what captivated the judges and landed the group $30,000 and the grand prize in the Deans' Cultural Entrepreneurship Challenge.
"We operate in a world in which the arts have to prove their economic viability and be sustainable other than relying on government funding," Loeb Fellow Helen Marriage said. "We need to be able to connect with this younger, diverse audience."
She joined teammates Judy Fulton, Hokan Wong, and Wes Thomas, all of the Graduate School of Design, and Lucy Cheng '17, as well as nine other finalist teams at the challenge's inaugural demo day. Striving to find "art for the urban art explorer," the online platform called Musey helps people find art in their vicinity, learn more about the artists, and even donate to projects, replacing the traditional busker's empty hat with an app.
"This is a huge vote of confidence and encouragement," Fulton said of the award. "We were going to go ahead with it whether we won or not, but there's so much more momentum. Now we know we can probably work on it for a full year. It's amazing."
Sponsored by deans across the University and hosted by the i-lab, the competition challenged teams to spark innovations across the fields of music, visual arts, and performance.
The three runners-up, who each took home $15,000 awards, were Midas Touch, which uses 3-D printing technology to make paintings an accessible, tactile art form for the visually impaired; Culturally, an online social discovery and engagement ecosystem for the arts; and Music+1, a mobile app that provides adaptive orchestral accompaniment in real time to musicians.
Mukti Khaire, associate professor of business administration at Harvard Business School (HBS), said that in developing their projects, the students became a defining force for cultural entrepreneurship, an emerging business discipline.
"We're at a moment in time when new ways of thinking about business and culture can have a profound impact on society," said Khaire, who encouraged the deans and Harvard's artistic partners to create the challenge. "The arts are essential to civil society, and if artists and artistic organizations are to thrive, we have to think about new models. The ideas the students have presented as part of the challenge are a significant step in the right direction."
Announced in the fall and supported by the Office of the President as well as friends and alumni of Harvard, the challenge celebrates artistic and entrepreneurial visions, and grows out of an interdisciplinary partnership among HBS, the Division of Arts and Humanities in the Faculty of Arts and Sciences (FAS), and the Silk Road Project under the leadership of Yo-Yo Ma '76.
The inaugural challenge attracted entries from 70 teams across 13 Harvard Schools.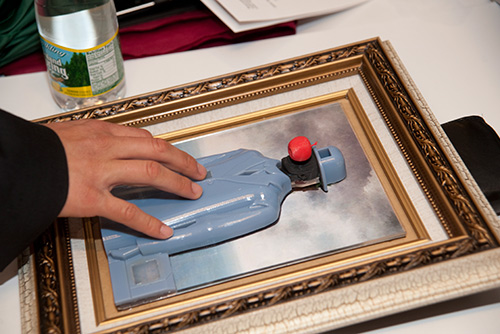 The event mirrors its sister project, the Deans' Health and Life Sciences Challenge, in asking students to develop solutions to some of the world's greatest social issues by disrupting traditional business markets. The Deans' Health and Life Sciences Challenge will announce its own winner and runners-up later this month.
HBS Dean Nitin Nohria, who presented the awards along with his co-chair, FAS Dean Diana Sorensen, commented on how the challenge broke down boundaries.
"Who would have thought, for example, that the two of us would be working together on an endeavor of this kind?" he said to Sorenson. "To my mind, that's what this venture is about: making unexpected connections and enabling remarkable things.  In many ways, that's the spirit of the i-lab."
Located at the frontier of Harvard's Allston campus, the i-lab is Harvard's newest home for entrepreneurial activity, helping students to achieve their innovative and entrepreneurial dreams. Earlier this year, the i-lab hosted three workshops supporting students in formulating their challenge proposals. The finalists were awarded tailored programming, expert mentoring, and a $5,000 grant to polish their proposals.
"Many of the problems we are facing today are interdisciplinary in nature. These teams have leveraged their passions, talents, and learning from all corners of the University to meet these challenges head on," said Gordon Jones, managing director of the i-lab. "The i-lab and Harvard are uniquely positioned to build on students' skill sets as they tackle big problems and offer big solutions."