More than 40 Harvard police officers stood outside Harvard Stadium Wednesday morning, but no emergency had called them to the scene.
Instead they had gathered, off-duty, to honor one of their own, Massachusetts Institute of Technology (MIT) police officer Sean Collier, the 27-year-old killed in the line of duty last Thursday in the aftermath of the Boston Marathon bombings.
"Emotions are running pretty high around here," said Harvard University Police Department (HUPD) Chief Francis "Bud" Riley, as the group prepared to board two shuttle buses headed to Collier's memorial at MIT's Briggs Field.
Though Harvard and MIT are sometimes cast as rivals in everything from prank wars to academic standing, it is a friendly relationship. And the two universities' police forces are especially close. HUPD often does in-service training with the Cambridge and MIT police, Riley said. Although most Harvard officers had not known Collier, who had patrolled MIT for only 15 months, his memorial drew nearly the entire Harvard force that wasn't on duty.
HUPD joined thousands of law enforcement officials from around the country — and an equally large crowd of civilians — to pay tribute to Collier at a noon service. The MIT event attracted other college heads, including Harvard President Drew Faust, and politicians both local (Boston Mayor Thomas M. Menino and Massachusetts Gov. Deval Patrick) and more national (Vice President Joseph Biden and U.S. Sen. Elizabeth Warren, D-Mass., who each addressed the audience).
"The MIT community is like family to Harvard, and I wanted to honor Officer Collier and his service to the students, faculty and staff of our neighboring institution," said Faust.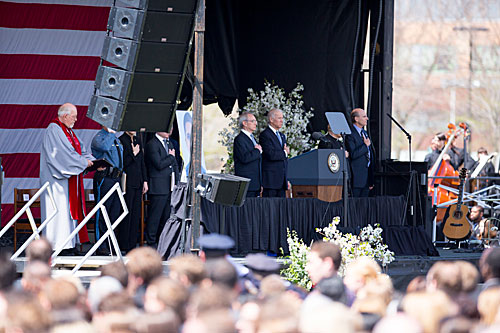 The day's program — which included performances by singer/songwriter James Taylor, the MIT Symphony Orchestra, and Massachusetts State Police bagpipers and drummers — highlighted Collier's contributions to the MIT community, and the unusual role that university police officers can play in campus life.
"Officer Collier did not just have a job at MIT. He had a life at MIT," said MIT President L. Rafael Reif. "He had a deep, broad, beautiful sense of what his duty involved."
Various speakers, including Collier's brother, Andrew, recalled examples of Collier's unusually personal commitment to the community he had vowed to protect: stopping into a robotics lab late at night to ask a grad student about his research, volunteering with an organization that served Cambridge's homeless, even taking ballroom dancing lessons and going on hikes with student groups.
For all the law enforcement officers gathered on the field, whether they hailed from Canada, Florida, or just down Massachusetts Avenue, Collier's service to MIT "left us a lesson," said John DiFava, MIT's chief of police. "Every time you put on the uniform, do it right."