During the white-heat search for the surviving Boston Marathon bombing suspect on Friday, Harvard shut down, along with 87 square miles of Greater Boston, as government officials had requested. But behind the campus calm, administrators and staff labored intensely to keep systems humming, and Harvard University Police aided the manhunt.
Starting at 7 a.m. and for nearly 12 hours afterward, there were no classes, no shuttle buses, and no conferences at the University. Fourteen Harvard cafes and coffee shops never opened. Crimson Catering ceased operation. At Harvard College, Visitas, the weekend program for prospective freshmen, was canceled. At Harvard Law School, an alumni weekend gathering also was canceled, along with a program for prospective students.
The shutdown lasted until shortly before the bombing suspect was captured Friday evening in nearby Watertown. In an email to the Harvard community Saturday, President Drew Faust remarked on the double-edged quality of Friday, a day of both vigilance and togetherness. "Yesterday was a harrowing day in a week of tragedy, suffering, and uncertainty," she wrote, "as well as courage and solidarity."
Harvard hunkered down in tandem with the wider outside world. MBTA bus and subway service stopped. Most businesses closed. Traffic was scant. State and city officials asked citizens to "shelter at home." Harvard officials told the University community to do likewise.
But as with the world at large, Harvard's machinery never entirely stops. On Friday, the departments that supply security, power, meals, maintenance, and custodial services kept running.
Lisa Hogarty, vice president for Harvard Campus Services, summed up the operational result as "very smooth." The College's 6,000 students were fed three times at 12 residential Houses and at Annenberg Hall, where freshmen dine. At Annenberg, free meals were provided to Harvard police officers, custodians, and graduate students shut out of their usual dining venues.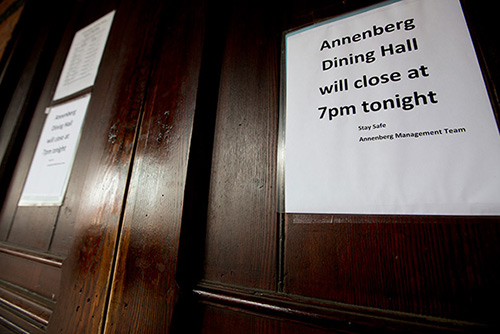 At lunchtime at Annenberg, freshmen gave dining hall workers a standing ovation. Many had been pressed into service from Crimson Catering, where workers typically start at 5 a.m.
A moment later, the same students spoke for everyone in the Boston area who felt defiant and proud in the face of Monday's terror attack. Standing to face the American flag in Annenberg, they sang the national anthem. Nina Hooper '14 witnessed that moment and called it "lovely." (She's Australian.)
The Harvard University Police Department (HUPD) was the tip of the spear during the shutdown. Thursday night, following the fatal shooting of a Massachusetts Institute of Technology police officer, HUPD kept its 3-to-11 shift on duty through the night. That doubled the police presence on campus overnight, a tactic used for the next two shifts as well, until 11 p.m. Friday, just after the manhunt ended. "We had a lot of officers working a lot of time," said HUPD spokesman Steven Catalano. "It was all hands on deck."
HUPD officers helped pursue suspects
Some HUPD officers faced dangers on the overnight shift, as they joined a multiagency car chase through Cambridge and Watertown that ended in a gun battle with the suspected marathon bombers. "They were getting shot at, and grenades were being thrown in their area," said Catalano of the responding Harvard officers. "They put themselves in jeopardy [that] night."
But on the University's Cambridge and Harvard campuses Friday, quiet reigned. Visiting scholars, shut off from scheduled conferences, organized mini-tours through Harvard Yard. Others sequestered at the Faculty Club, including many Marcel Proust scholars at Harvard for an international conference marking the 100th anniversary of "Swann's Way," the first volume of the novel "In Search of Lost Time." Organizer François Proulx, a lecturer in Harvard's Department of Comparative Literature, wrote in an email: "They worked on their papers or just followed the news. One did mention brushing up on some Flaubert."
At midafternoon, National Guard soldiers stood watch on Harvard's periphery near the entrance tunnel for MBTA buses. Two HUPD cars were at opposite ends of Harvard Yard, engines idling. Freed from classes, undergraduates played soccer and threw Frisbees and footballs. Near Massachusetts Hall, two young men played a blistering game of baseball catch.
Later, with a soft rain falling, a knot of tourists — a rare sight Friday — paused near the John Harvard Statue, their umbrellas open. An undergraduate walked by on the way to dinner at Annenberg, wearing a T-shirt that was an advertisement for normalcy. It read, "No one says 'When I grow up, I want to go to Yale.'"
Beyond the crowded Yard, the streets were nearly bare of traffic. At one point, Catalano looked out the window of his Massachusetts Avenue office. He saw two pedestrians and one car. (In her email, Faust wrote of the eerie stillness of the daylong communitywide lockdown.)
The emptied streets and slowed traffic seemed "crazy," but they were a relief too, said Catalano. "Everyone followed the directions [to shelter inside]. It was a smart thing to do: Stay safe and let law enforcement do its work," he said.
Twelve Harvard alert emails
Twelve Harvard alert emails were broadcast to the community through the day. (The last, at 9:27 p.m., was a poem of joy and relief: "Suspect taken into custody in Watertown. Safe to resume normal activity.")
Hogarty praised that effective communication, including the flurry of internal emails that for Catalano began at 10:56 p.m. Thursday, after the MIT shooting. "That started a very, very long night of communication," Catalano said, including, at 12:15 a.m. Friday, the first of many conference calls. Catalano, like many Harvard officials, barely slept. Between 2 and 4 a.m., 31 emails had flooded his computer from just two College officials, and another 25 from people elsewhere. In the morning, said Catalano, "things heated up even more."
Things stayed hot through the day for Harvard's Crisis Management Team, too. This core group of administration deans from each School, along with Massachusetts Hall officials and vice presidents associated with operations, joined in nearly hourly groups calls — 10 of them between 6 a.m. and 6:30 p.m. alone, said Hogarty. Among the topics addressed were the timing of the closure, logistical needs (like how to staff the kitchens), and the content of messages to the Harvard community.
At dinnertime, Faust joined Dean of Harvard College Evelynn M. Hammonds at Annenberg Hall, where they spent 45 minutes talking with freshmen.
Around the same time, Harvard Provost (and Boston Marathoner) Alan M. Garber made the dinner rounds at Currier, Pforzheimer, and Cabot Houses to mingle with upperclassmen. Along the way, he met some students who had been diverted from the marathon just a few blocks from the finish line Monday. A few of them ran or walked all the way back to Harvard — cold, and without access to their checked personal belongings.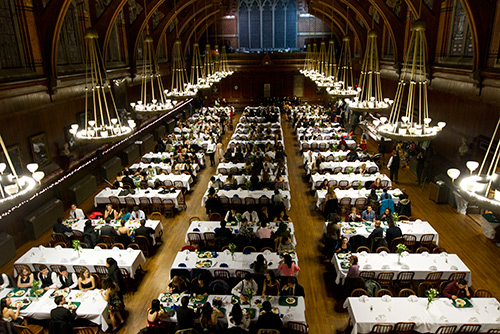 Students pitch in to keep Houses working
At Cabot House, students stepped in to make up for a staffing shortfall by washing dishes and checking in students. At Annenberg, Hooper, the freshman from Australia, organized two shifts of a dozen Class of 2016 friends to help out in the kitchen. "It was a nice chance to get to know the kitchen staff," she wrote late Friday night.
But it was more than that, she added, writing a capstone for a day of cooperation.  "There is something very special about the students at Harvard," and it goes beyond just being bright, she wrote. "Because they come from so many different ways of life, they really know how to appreciate how good we have it here and all those who make this possible."