"There has to be a better way to do this."
From common roots — intellectual curiosity and the desire to make life just a little bit easier — 64 ideas blossomed this year in the Harvard College Innovation (I3) Challenge.
Pursuing innovation not for its own sake alone, but out of a conviction that problems can be solved, students wrought lasting impacts, typically inspired by some challenging life experience.
For Majahonkhe Shabangu '14, a biomedical engineering student from Swaziland, it was something deeply personal: a relative who was living with HIV had stopped taking an essential medication. That's all too common in patients taking a drug whose side effects can feel worse than the disease itself. But defaulting on a medication can lead to drug resistance, and it can allow HIV to advance or even kill — as it did Shabangu's relative.
During summer internships at a health clinic in South Africa, Shabangu and Nathan Georgette '13 worked to help patients keep up with their medications. They made personal phone calls to support those who seemed most at risk of default, but they also spent hours sifting through paperwork to keep up with everyone's treatment. There had to be a better way, they thought.
Shabangu, Georgette, and collaborators Dario Sava '13 and Roy Zhang '13, won the $5,000 Senior Social Start-up Prize this year for Sawubona, a software program that automates clinical record-keeping, sends text messages to remind patients to take their medication, and identifies a "high risk" group of people who might need that extra phone call.
Last summer, the group tested a prototype of Sawubona (the name is a Zulu greeting), analyzed the results, and quickly realized the impact they could make.
"If we implemented this program [in one clinic] over 10 years," says Zhang, an applied mathematics concentrator, "we could actually prevent 300 people from contracting HIV."
"There are over 2,000 clinics in the entire country, so you can imagine scaling this to cover South Africa, and out beyond the country [it could] have a huge impact in cost savings and the HIV incidence rate," adds Sava, who studies engineering sciences.
"Imagine, invent, and impact" — that's the motto of the I3 Challenge, as it's known on campus. Run by the Technology and Entrepreneurship Center at Harvard (TECH), and based at the School of Engineering and Applied Sciences (SEAS), the program involves more than just a competition. Over six years, I3 has grown into an independent study course (ES 95r), a mentorship program, a series of workshops, and a rigorous training program in idea development, pitching, legal issues, marketing, and technology research and design. Many of the projects grow out of assignments for courses such as CS 50 (Intro to Computer Programming I), Soc 159 (Social Entrepreneurship), or ES 139 (Innovation in Science and Engineering).
Of the 64 teams participating in the challenge this year, 20 were selected as semifinalists, and six were announced as prizewinners on March 4 at the student start-up showcase and reception at the Charles Hotel in Harvard Square. Two additional teams were given second-place grants.
The program was especially beneficial to Olenka Polak '15 and her older brother Adam, whose personal experiences revealed a problem in the film industry and an innovative solution, but not an obvious path to market.
"I grew up in a Polish-speaking house with parents who spoke little to no English, and they never came to movies with us," recalls Polak, who is studying economics at Harvard. "We thought they didn't like us," she jokes, "but in fact it's because they didn't understand the language spoken on screen."
MyLINGO, the proposed solution, is a phone-based app that offers moviegoers a selection of audio files in various languages. What's really new in myLINGO is a technique called "audio fingerprinting," which automatically keeps the sound in synchrony with what's happening onscreen. Arrive late to the theater, and the dialogue picks up at the right place, in any language.
Through I3, Polak and her brother were able to find a mentor (electrical engineer Dan Ellis at Columbia University — "the exact guy" they needed, Polak says), find collaborators at the Graduate School of Design, identify the right studio contacts, and walk through the so-called "user funnel," the route by which a potential user learns about the app, commits to it, and then accesses the audio files.
Their project won the McKinley Family Grant for Innovation and Entrepreneurial Leadership in a Commercial Enterprise, a $10,000 award.
"The great thing is that we can actually launch a movie with that sum of money because of how much we've already done," Polak says. "We could go to market without even raising capital."
Common to every successful I3 project is the desire to create and share something good.
Project Lede, a $10,000 McKinley Family prize winner in the social category, wants to bring journalism workshops and newspaper starter kits to middle schools. "It's such an awkward and vulnerable time," says social studies concentrator Jacqueline Schechter '15, who developed the project with a friend from her hometown. "We realized we could take our newspaper experience and scale it down to the middle school level to help engage and empower kids."
OpportunitySpace, developed by masters students at the Harvard Kennedy School, aims to facilitate the most cost-effective use of government properties — land and buildings — to advance policy goals.
"Our students don't sit back," says Paul Bottino, executive director of TECH. "When they see a need in health care, in government, or in everyday life, they also see tremendous innovative solutions. But more importantly, they believe in their own ability to make change. These awards are meant to celebrate that and to help push their ideas to the next level of development. The drive to bring them to fruition after I3 continues, and so does our support."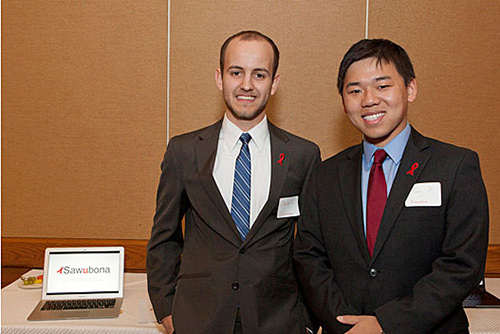 The winners are as follows:
McKinley Family Grant for Innovation and Entrepreneurial Leadership in a Commercial Enterprise
$10,000 awarded to: myLINGO
Olenka Polak '15 (Economics)
Adam Polak (Johns Hopkins '12)
$5,000 second place awarded to: Theratech (video here)
Nikhil Mehandru '15 (Engineering Sciences)
Aaron Perez '15 (Mechanical Engineering)
Alydaar Rangwala '15 (Applied Math)
Brandon Sim '15 (Physics)
McKinley Family Grant for Innovation and Entrepreneurial Leadership in a Social Enterprise
$10,000 awarded to: Project Lede (video here)
Jacqueline Schechter '15 (Social Studies)
Elizabeth Quartararo (University of Delaware)
Public Sector Innovation Award, presented by Accenture
$10,000 awarded to: OpportunitySpace (video here)
Cristina Garmendia, M.P.P. '13
Alexander Kapur, M.P.P. '13
Andrew Kieve
$1,000 second place awarded to: textMEd
Vishal Arora '14 (Economics)
Tracy Lu '14 (Computer Science)
Divya Seth '14 (Neurobiology)
Technology and Entrepreneurship Center at Harvard: Senior Start-up Prize
$5,000 awarded to: Get It Together
Andrés de la Llera '13 (Engineering Sciences)
Phillip Galebach '13 (Government)
Nevin Raj '13 (Applied Mathematics)
Technology and Entrepreneurship Center at Harvard: Senior Social Start-up Prize
$5,000 awarded to: Sawubona (video here)
Nathan Georgette '13 (Applied Mathematics)
Dario Sava '13 (Engineering Sciences)
Majahonkhe Shabangu '14 (Biomedical Engineering)
Roy Zhang '13 (Applied Mathematics)
Harvard Student Agencies Prize
Awarded to Butucu (video here)
Neel Patel '16 (Computer Science)
James Ruben '16 (Economics and Computer Science)
Nithin Tumma '16 (Computer Science and Mathematics)
About I3
The Harvard College Innovation Challenge is known on campus as I3, for "invent, imagine, impact." Students compete for project grants and incubator space to help them realize their innovative visions. It is a yearlong program that cultivates, coaches, and showcases Harvard's rapidly growing group of student entrepreneurs.
Now in its sixth year, I3 has provided more than $600,000 worth of grants, incubator space, and professional services to students pursuing commercial and social start-ups on campus, online, and internationally.
The students compete to win summer funding and space by submitting proposals and presenting their ideas to expert panels. The McKinley Family grants are awarded only to underclassmen; the TECH Prize is given to the best senior project.
I3 relies on the support of several sponsors, including: The McKinley Family, The Lumry Family Endowment for Technology and Entrepreneurship, Accenture, WilmerHale, and The Coop.