After a tense Friday that saw the campus and the Greater Boston area on lockdown, Harvard returned to life Saturday as students, residents, and visitors flooded back into the Square.
Some Harvardians gained a sense of closure after Friday night's capture of the second suspect in Monday's Boston Marathon bombings, 19-year-old Cambridge resident Dzhokhar Tsarnaev, in nearby Watertown, which brought a massive manhunt to an end.
On Saturday morning, a group of 18 runners from the Harvard College Marathon Challenge — some of whom had crossed the finish line, or failed to, on Boylston Street on Monday — met at the John Harvard Statue.
Their recovery run took on added purpose after a tough week for the running community; several Harvard runners had been dangerously close to the blasts. On Friday night, senior Mark Jahnke had asked the group to join him for a slow jog along Boston's Freedom Trail. It would be, he wrote in his email invitation, "a symbol that what we experienced this week will never take away what we experienced for four hours on Monday and will never stop us from being a united Boston."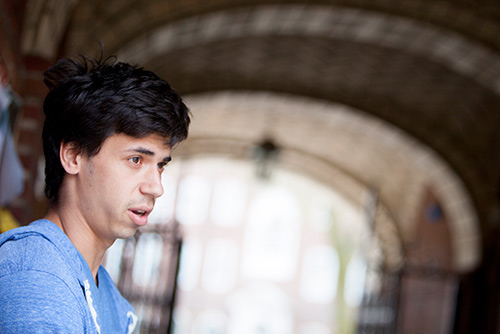 Detour to slain officer's memorial
The run had its somber moments, including a detour to the makeshift memorial for slain Massachusetts Institute of Technology police officer Sean Collier, who was gunned down Thursday night, allegedly by the two suspects. But the run also provided a way for people to come together and to make a statement, said senior Sam Singer, that "those who might hope to inspire terror have failed to keep us off our feet."
"Today's run brought a really great sense of community," he said.
For most students, as well as everyday Harvard Square residents and visitors to campus, Saturday morning simply promised a return to normal.
During the travel ban Friday, many Harvard Houses locked their gates for safety. Students were free to roam the halls and courtyards — Kirkland House even set up a croquet game and a trampoline on its lawn — but as the lockdown wore on, it seemed to give new meaning to the term spring fever.
"I think people were scared and nervous and really sad for everything that's happened this week," said Daniel Grafstein, a sophomore in Kirkland House. "There was also a level of frustration. It was just one guy, and the whole city shut down. But I think people understand it's what needed to be done."
Family and friends called and texted from out of state, though not as frantically as the modern-day trope of helicopter parenting would suggest.
"My mom's a pretty classic Jewish mother, but she's been good at letting go of the reins," Grafstein said. "She trusts me to be safe. But it was a scary week, and it could have happened to anyone."
Still, "My friend said he was called more this week than he was cumulatively the entire year."
Freshmen Leah Schwartz and Cordelia Mendez spent Friday in their residence, Hollis Hall, listening to the police scanner and watching the news.
"I signed up for Tivli yesterday and watched it pretty much all day," Schwartz said, referring to the free television streaming service started by Harvard graduates and entrepreneurs Nick Krasney '09 and Ho Tuan '09 that is now offered on campus. "It was hard not to."
For freshmen living in the Yard, even the decision to head out for a meal was fraught. But many ended up in Annenberg Hall, Schwartz and Mendez said, "just to feel normal." At lunchtime, freshmen gave the dining hall's staff a standing ovation.
"It was a really nice time, only because it forced us all to be together," Schwartz said. "We couldn't focus on work; we couldn't really focus on anything that required any sort of concentration." Teachers were lenient about assignment deadlines on Friday, Mendez added.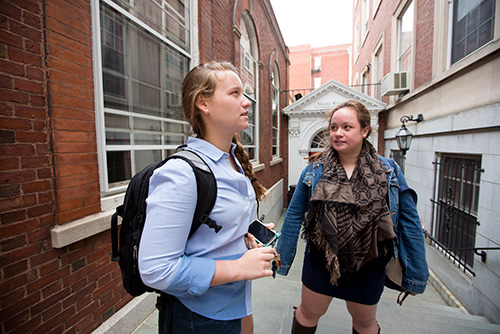 Students who had planned to host admitted high school seniors for the Visitas weekend dealt with added stressors on Friday — namely, how to help their pre-frosh charges in the midst of an unprecedented crisis.
Nancy De Haro, a senior in Winthrop House and a seasoned Visitas host, connected with her two visitors from Los Angeles, Marleen Sanchez and Andrea Mosqueda, Friday morning
"I knew Visitas was canceled, but I told them to come over anyway," De Haro said Saturday, as she led Sanchez and Mosqueda on a tour of the campus. "It would be too bad if the weekend went to waste, since they're already here. There isn't any programming, but I think they can still explore the city and ask me some questions and get something out of it."
Mosqueda, who had never flown in a plane before this week, was lucky enough to make it to Cambridge before the travel ban went into effect. A Harvard alumna on her flight found her a ride, she said. Despite her surreal entry to Boston, her assessment of Harvard so far was reassuringly common.
"I really love the buildings. I want to major in civil engineering, so buildings are something I do admire," she said. "It's beautiful."
The surest sign of normalcy, perhaps, was the renewed flood of tourists. Campus tours roamed the streets on what became one of the first nice days of spring.
"Harvard's known all over the world," said Ron Gabayan, an 18-year-old Israeli visiting the information center with his host family from Western Massachusetts. "I've been interested to come and visit here for a long time."
"I noticed this morning that [Harvard] was open again, so I said, 'Let's go,' " said his American host, Lynn Lesser. "If something's going to happen, it's going to happen, whether you're in Boston or Israel or wherever." After all, she added, "He had already seen Yale. I said, 'Harvard's nicer.' "