As the Harvard community regrouped the day after the Boston Marathon bombings — accounting, in a flurry of phone calls and text messages, for faculty, staff, and students who had headed out Monday morning as runners, volunteers, and spectators — the worst news of the attack seemed to be over.
But on Tuesday afternoon, as authorities released more information about the victims of the two explosions in Copley Square, a Harvard family — and the University community — received word that everyone on campus had hoped not to hear.
Krystle Campbell, 29, the daughter of longtime Harvard Business School (HBS) Restaurant Associates employee Patty Campbell and sister of Cabot House dining services staffer Billy Campbell, was confirmed as one of three dead in the attack. Krystle Campbell herself had worked for HBS Restaurant Associates, where her mother has been on staff for 30 years, while attending college several years ago. According to news reports, Campbell, an Arlington resident, was standing in the crowd along Boylston Street with a friend when the bombs detonated.
At 3 p.m., the Business School held a moment of silence on the steps of Baker Library. There, HBS Dean Nitin Nohria announced the news of Campbell's death as roughly 200 community members and many of the Campbell family's co-workers stood by.
"Our heart goes out to Patty, to her husband, Bill, to their son, Billy," Nohria said. "As difficult as these moments are — and this is truly a difficult time for all of us in this community — these are also the times that remind us how much we rely upon each other, how much we lean on each other, how much this also brings out in us our very best."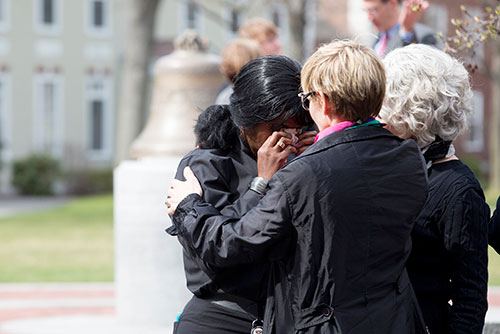 Nohria's message was in evidence across campus Monday and Tuesday as the University, along with concerned family and friends, worked to confirm the safety of the more than 100 students, faculty, staff, and alumni who were running, helping, or simply cheering along the marathon route. That number included a busload of runners — from undergraduates running their first 26.2 miles for charity to longtime marathoners like Provost Alan Garber — who had taken off from Mt. Auburn Street early Monday morning for the starting line in Hopkinton.
On Monday, offers to take in stranded runners poured in by email from recent Harvard alumni who live along the marathon route, and the Harvard University Police Department offered to provide rides back to campus. The Harvard College Marathon Challenge, a campuswide group that helped 17 Harvardians secure charity spots in this year's race, used its email listserv of hundreds to help track down any missing participants.
On Tuesday morning, President Drew Faust sent a letter to the University community announcing that at least one Harvard staff member and some family and friends had been injured and were being treated at area hospitals; their names were not released.
In her statement, Faust thanked local physicians, nurses, and first responders — many of whom trained or work at Harvard-affiliated hospitals — for using "extraordinary skill and heroism to treat patients with injuries more commonly seen in a war zone."
"The Boston Marathon is an event that demands resilience," Faust wrote. "As we struggle to make sense of yesterday's events, I urge all of us to draw on the strength of the Harvard community and the support of colleagues and friends."
A family's grief
Nowhere was that strength more necessary than at the Business School, where a somber mood darkened the clear and unusually quiet day. At an afternoon vigil in the Spangler Center, people gathered to write notes to the Campbell family.
Restaurant Associates employees shared memories of Krystle Campbell, who worked at Spangler Grille while putting herself through college, her former co-workers said.
"She just needed a little spending money when she was putting herself through school," said Jean Adams, a cashier at HBS's Baker Library who has worked with Patty Campbell for three decades. "She put herself through college, never asked the family for anything. She and her brother threw their parents a 25th anniversary party. She was very independent."
"If I had a daughter, I would want her to be like Krystle. … She was just an awesome, awesome kid," Adams said, her voice breaking. "I don't understand why."
Adams and other Restaurant Associates staff called their team at HBS a "second family," with Patty Campbell serving as one of the group's honorary matriarchs.
"She's been here since before buildings were here, before I was born," said Janell Alvarado, who has worked in the Kresge Boardroom with Patty Campbell for the past five years. "She truly loves this place. … It feels like we all lost somebody today."
Patty Campbell had been working in Kresge when news of the bombings spread, her co-workers said.
"We're trying to move on today but it's hard, especially not seeing her face here," Alvarado said.
"Everyone just seems a little bit out of place," agreed Henry Green, a fellow co-worker in Kresge.
Many at the vigil said they hadn't considered not coming into work on Tuesday, and that the day's sad news had strengthened their desire to stay on campus.
"I have to tell you, when that confirmation [of Campbell's death] came through, you could almost feel the wave go through campus," said Barbara Cleary, an HBS faculty assistant. "As soon as they heard there was somebody from the HBS community who was involved, everybody just dropped everything."
Harvard University Dining Services (HUDS) also expressed grief for their colleague's loss.
"Today our hearts are with Billy Campbell, a member of our Cabot-Pforzheimer team since October 2000," said David Davidson, managing director for HUDS. "Billy and Krystle were especially close, and she was well-known to many at the Quad, as her brother has shared countless stories about her."
Somber gathering
Just after 8 p.m., Harvard's last vigil of the day unfolded on the steps of Memorial Church, facing Widener Library. First a dozen, then a few dozen, then a hundred, and finally a thousand lit candles to remember the dead and to comfort one another.
The Harvard Glee Club opened the ceremony. Then came the speakers, each brief, including Harvard Undergraduate Council President Tara Raghuveer '14, Harvard President Drew Faust, three Harvard chaplains, the Rev. Jonathan Walton, and Anqi Peng '14, whose Boston Marathon race stopped just short of Mile 26 when smoke bloomed in the distance. "I came back here," she said of her race day, "and I saw all my friends and I hugged every one of them."
Everyone else took up the same theme: Look on, embrace your friends, and find love within the aftermath of tragedy.
Faust remembered the words of Toni Morrison: "We tend to overlook goodness, and we must put goodness in the center of our lives."
She remarked on much of her scholarly career, "devoted to war and tragedy and violence. As I looked at the events yesterday, I thought about my own historical work and how so often I can find in those tragedies the glimmers of hope and the glimmers of humanity that affirm all of us and our common community, amidst the tragedies and violence we experience."
The day after the bombings leaves more questions than answers, said Walton, the Pusey Minister in the Memorial Church and Plummer Professor of Christian Morals. "Anxiety is understandable and anger over senseless acts of terror is appropriate," he said. But: "Don't allow your anxiety or your anger to take your mind to an awful place. Darkness cannot drive out darkness. Only light can do that."
Looking out at the sea of small flames arrayed at dusk, Walton said: "As you blow out your candles tonight, let the light of God light you up."
— Corydon Ireland contributed to this story.