Two years after it was formed to help faculty members incorporate new media into the classroom and their coursework, the Harvard College Library Planning and Management Team for Expanding the Boundaries of Authorship had to rapidly shift gears.
As course assignments increasingly began to call for multimedia components, the team moved to meet the growing need for support and training in the use of new media tools. The team launched a website, Expanding the Boundaries of Authorship, that collected a wealth of information on the use of multimedia tools, developed a Library Guide for Multimedia Authoring, and launched a Wintersession "boot camp" in multimedia authoring that included presentations by faculty and experts in the field.
In acknowledgement of their efforts, the team was among the Faculty of Arts and Sciences (FAS) staff honored on March 6 at the fourth annual Dean's Distinction awards.
In nominating the team, Martin Schreiner, who heads up Maps, Media, Data, and Government Information, wrote: "With these three major initiatives, the Multimedia Lab has attained a new level of quality, and provided a stronger framework for the Faculty of Arts and Sciences' increasing use of new media and technologies. The work required a great deal of research, organization, and collaboration of skills and expertise — not to mention time and commitment to seeing the project through."
The team members were among the 57 FAS employees honored at the ceremony and reception, held in the Faculty Room of University Hall. FAS Dean Michael D. Smith thanked the recipients for their service and cited nominations that called staff members everything from "wicked smart" to "the picture of grace under pressure."
"I view Harvard as a community without peer," Smith said. "The things that happen on this campus, from the fantastic students we attract and whom we have the opportunity to teach, to the faculty who come here to do research and teach — none of that could happen without the incredible dedication and hard work of the staff who are in this room today. The faculty and students are incredibly fortunate to have you here, have you working for us, and have you support everything we do here. You make a huge difference in everything this institution is able to accomplish. You make Harvard what it is.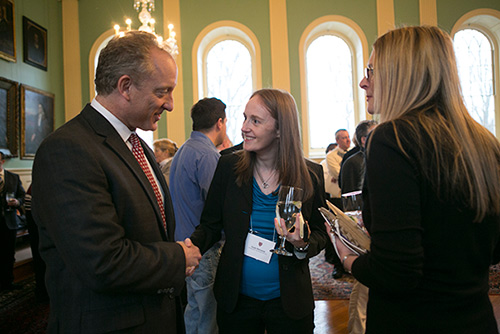 "This is also a wonderful opportunity for us to not only thank the staff who do so much for us, but to also thank the spouses, the families, the children, and everyone who supports those who support us," Smith said. "I know it's a huge commitment, so my heartfelt thanks go out to all of you who support our honorees."
In addition to congratulating the winners, Dean for Administration and Finance Leslie Kirwan offered thanks to the many colleagues, supervisors, and customers who nominated staff members, saying such positive support is critical in the workplace.
"This is an exciting and significant occasion," Kirwan said. "This is a very selective honor, and I want to say thank you, the Dean's Distinction recipients, for your personal commitment, innovative thinking, and hard work that we're here to celebrate today. In so many ways, and in so many places, you make the FAS what it is — strong and dedicated to its mission."
Kirwan also applauded Smith for his efforts to recognize staff, and to ensure the Dean's Distinction program has grown in the four years since it began.
"There is tremendous evidence that positive recognition is one of the most important elements of a healthy and engaged work place," she said. "Leadership that gets that link should also be celebrated, so in that spirit, I would like to recognize Dean Mike Smith for his role in creating this program four years ago, and for hosting every one of the events."
Senior associate director of athletics Patricia Henry nominated head athletic trainer Brant Berkstresser for his exceptional work in overseeing the medical care of more than 1,100 student athletes, particularly his role in working with physician Frank Wang in Harvard University Health Services to establish a state-of-the-art concussion management plan.
"Brant's work with Dr. Wang has made Harvard a leader in the area of concussion management long before the subject of concussions reached its current level of public attention," she wrote. "Brant's leadership and commitment to Harvard Athletics have enhanced the health and welfare of our student athletes, and served as a model for post-secondary athletics departments nationwide."
For his part, Berkstresser said it was an honor to be recognized with other exceptional staff members.
"It's very humbling just to be nominated, and to be recognized as part of such a distinguished group, I think it's great," he said. "For the people you're working with to recognize what you're trying to do for the benefit of the students — it's wonderful to have received this distinction."
In total, the 57 Dean's Distinction honorees were chosen from nominations submitted from 50 FAS departments and units. Nominees ranged from those with one year to 38 years of service at Harvard.
The Dean's Distinction recipients
Ferdinand Alimadhi, The Institute for Quantitative Social Science
Anna Anctil, Office of FAS Human Resources
Brant Berkstresser, Department of Athletics
Jeannette Bowlen, Harvard Forest
Sue Brown, Harvard College Freshman Dean's Office
Shayna Cummings, Department of English
Marilyn Goodrich, Department of Anthropology
Janet Hatch, Department of History
Carolyn Jones, Department of Earth and Planetary Sciences
Lori Kelley, Social Sciences Administrative Support Group
Brooks Lambert-Sluder, Harvard College Office of Undergraduate Education — Advising Programs Office
Walter "Reed" Lowrie, Harvard College Library
Lisa Matthews, Harvard University Center for the Environment
Heather McCormick, Office of FAS Finance
Margaret McFee, Department of Physics
Nuala McGowan, FAS Research Administration Services
Christopher Nicholson, Department of Psychology
Suzanne Ogungbadero, Department of Sociology
Michael Paterno, Department of Chemistry and Chemical Biology
Anna Salvato, Department of Organismic and Evolutionary Biology
Deborah Sears, Department of History of Art and Architecture
Nancy Shafman, Department of Music
Amy Staffier, Harvard College Financial Aid Office
Deana Ste. Marie, Division of Science
Matthew Stec, Office of Physical Resources and Planning
Gilmore Tamny, Department of Anthropology
Sunia Trauger, Taplin Biological Mass Spectrometry Facility
Alessandro Vaccaro, Instructional Media Services
Douglas Walo, Harvard College Office of Student Life
Catherine Weisel, Museum of Comparative Zoology
Angela Wright, Division of Continuing Education
Kwok Yu, Office for Faculty Affairs
Susan Zawalich, Graduate School of Arts and Sciences
Steven Zimmerman, Department of Molecular and Cellular Biology
Nina Zonnevylle, Harvard College Observatory
Adaptive Technology Laboratory Team   
Yvonne Carts-Powell, Adaptive Technology Laboratory
Ericka Crouse, Adaptive Technology Laboratory
Nicholas McNab, Adaptive Technology Laboratory
Julia Suggs, Adaptive Technology Laboratory
Tanya Washburn, Adaptive Technology Laboratory
Curtis Wilcox, Adaptive Technology Laboratory and Instructional Media Services
HUIT University Cross Registration Team    
Claude Daoust, Harvard University Information Technology
Robert Davis, Harvard University Information Technology
Paige Duncan, Harvard University Information Technology
Douglas Hall, Harvard Medical School
Katherine MacRostie, Harvard University Information Technology
Colin Murtaugh, Harvard University Information Technology
Greg Roy, Harvard University Information Technology
Susan Smith, Harvard University Information Technology
Planning and Management Team for Expanding the Boundaries of Authorship 
Enrique Diaz, Harvard College Library
Kevin Guiney, Harvard University Information Technology
Ramona Islam, Harvard College Library
Pamela Matz, Harvard College Library
Lynn Sayers, Harvard College Library
Martin Schreiner, Harvard College Library
Liza Vick, Harvard College Library
Paul Worster, Harvard College Library