There was a time when you could pick up the telephone, dial a number, and hear Allen Ginsberg reading one of his poems. Another day it might have been Denise Levertov, or Donald Hall, or James Tate.
For 25 years, Cambridge-based "Phone-a-Poem" provided a vehicle for poetry through the telephone and answering machine, still a technological wonder when the service was started in 1976. An exhibition at Lamont Library's Woodberry Poetry Room presents 20 recordings from the "Phone-a-Poem" archives, which are now digitized and housed at Harvard. The exhibition also includes 15 recently commissioned "answering machine poems" by such poets as Charles Bernstein, Forrest Gander, and Anne Waldman.
Soundbytes: Phone-a-Poem
"What interested me was the intersection of these two technologies: poetry and the telephone, both of which rely on the voice and on silence, on interpretation and timing, to get their messages across," said Christina Davis, curator of the Woodberry Poetry Room. "The exhibit returns us to the dialogic, the idea of poetry as a conversation. Instead of thinking of poetry as a monologue, it revives the urgency and momentum of the poet's voice in its journey toward another person."
Visitors can pick up a retro-looking handset and listen to renowned poets — some of the greatest of the past 50 years — recite their works in the 90-second bursts the cassettes allowed. The exhibition also contains photos and correspondence from the likes of Maxine Kumin and Marge Piercy. In one letter, Hall describes the difficulty he had in recording his poem, using several tape recorders before finding one that worked properly.
"Phone-a-Poem" was started by Cambridge poet Peter Payack, who said he was looking for a vehicle to bring verse to a wider audience.
"I gave the average person a chance to hear a poem, and if they didn't like it, they could just hang up," Payack said. "Usually, if you wanted to hear the poet's voice you had to go to poetry readings, which can be intimidating. But this allowed people to hear the poet's voice in their own home, so it wouldn't be intimidating."
Payack said he averaged 2,000 to 3,000 calls a week right from the beginning, about 10 times greater than the average distribution rate of a small literary magazine. "Phone-a-Poem" grew in popularity over time.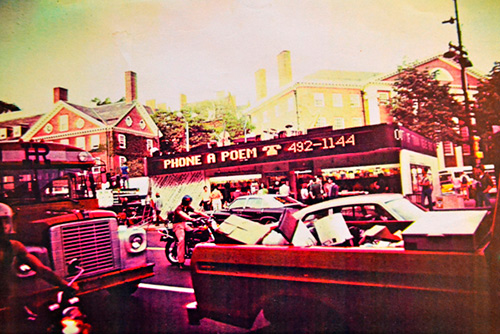 "We would actually burn out our answering machines, which was unexpected," he said.
Payack would mail a cassette to a poet along with a note requesting a reading. Most of them, no matter how well-known, agreed to participate.
The collection features only a small sample of the contributions to "Phone-a-Poem" — cassettes were taped over once they were full.
"If you think about it, that's what you did back then: When the tape was full, you didn't get a new one, you taped over the one you had, much like a palimpsest," said Davis. "That is why it is important that we have this archive here: to remember the constraints, and liberations, of any given medium or mode of communication, and to consider how these technologies operated much like literary forms and structures to encourage and compel certain choices: What words will I write on this page? What message will I leave on this machine?"
Payack said part of his goal was to take poetry out of the libraries and put it in a more public space, and noted the irony in the recordings finding a home in a library.
"I am excited it is being archived at Harvard because it is a safe environment where they will be available for the future. And I am really excited that young poets of the future can see this attempt to get poetry out of books and magazines and give it back to the people, where it belonged," he said.
The exhibition runs until May 1.