For the Harvard men's basketball team, the novelty's over, but the excitement's rising.
The team is headed to the NCAA Division I Men's Basketball Championship for the second year in a row, after an absence of 67 years. For the first time, the squad knows what to expect in the tournament because most of the players have been there.
"We're going to go in … with the idea and the attitude that we're going to have a spirit about us," head coach Tommy Amaker said Wednesday at a press conference in Lavietes Pavilion. "We're going to be competitive.  And crazier things have happened in this great tournament that we're participating in."
Harvard finished its regular season at 11-3 in the Ivy League and 19-9 overall, and won its third straight Ivy title, two of them outright. The team was 13-1 at home.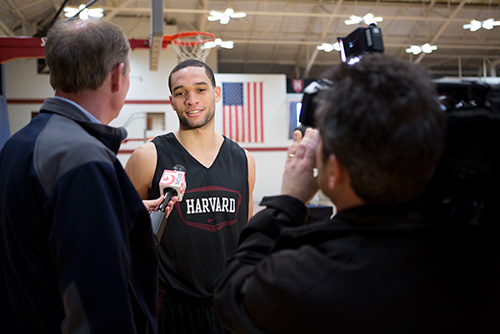 "These kids have had a sensational year," Amaker said. The team is something of an underdog, and few of the teams in the tourney will have played the Crimson, so they'll be a bit of an unknown. That may help Harvard, said Amaker.  "People won't be familiar with us, so that's exciting … We've been practicing, so we're ready for anybody."
To get to the tournament, Harvard rebounded from two late losses early this month that left the team in second place going into last weekend, when the Crimson beat both Columbia and Cornell, while Princeton was losing to both Yale and Brown.
The resilient team includes point guard Siyani Chambers '16, who was unanimously named Ivy League Rookie of the Year. Harvard also enjoys the most All-Ivy recognitions, with Chambers, Wesley Saunders '15, Laurent Rivard '14, and Steve Moundou-Missi '15 all being selected. Amaker is a finalist for the Ben Jobe Award, presented to the top minority coach of the year in Division I men's basketball.
Team co-captain Rivard said, "If we play our way and stick to our standards, we should do well."
Saunders added, "I think good things will happen. If we go out and just 'relax and attack' — that's kind of been our motto for the season — we'll be able to do some damage in the tournament."
The Crimson will learn who its first opponent will be during the NCAA Selection Show, broadcast Sunday at 6 p.m. on CBS. The team will gather in the Hall of History at the Murr Center to watch.