AUSTIN, Texas — Harvard's spirit of innovation and entrepreneurship was on full display under the bright late-winter sun of Texas as members of the University's digital community came together Sunday at the 2013 South by Southwest Interactive Festival (SXSW) in Austin.
Stamping Harvard's digital presence on the country's pre-eminent interactive conference, more than 250 alumni, students, faculty, and guests — representing eight of Harvard's 12 Schools — convened at Icenhauer's, a 118-year-old house reinvented as a gathering space, for the second annual Digital Harvard in Austin at SXSW, hosted by the Harvard Alumni Association.
As attendees mingled and conversed outdoors, sampling Tex-Mex fare and enjoying the extra hours of daylight, Chief Digital Officer Perry Hewitt remarked that she was "lucky enough to be at Harvard at a time when digital innovation is absolutely everywhere."
"Harvard today has a significant digital footprint," she said. "Not only for the 375,000 alumni we have worldwide, but also the people anywhere in the world who are able to connect and engage with Harvard content online."
Also on hand to address the crowd briefly was David Malan, senior lecturer in computer science at the Harvard School of Engineering and Applied Sciences (SEAS), whom Hewitt introduced as "part inspirational teacher, part cult leader, and a phenomenal partner at the University."
Malan is the brains behind the College's introductory computer science course CS50, as well as its online counterpart, CS50x, which is hosted on the new edX platform, a joint online education venture between Harvard and the Massachusetts Institute of Technology.
In his remarks, Malan pointed to a new era of inclusiveness at Harvard for classes that traditionally would have appealed to only the most tech-minded students.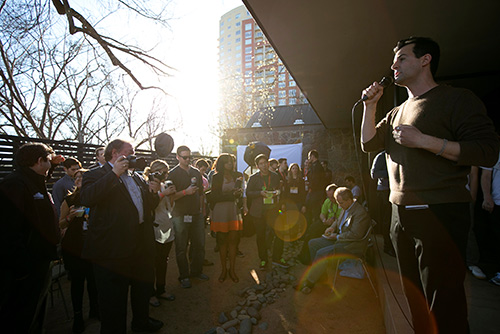 "In recent years, we've undertaken an initiative to make CS50 and other courses more broadly accessible to students, irrespective of their backgrounds," Malan said. "Increasingly, we have students coming in without prior experience who have yet to discover their interest in computer science."
Malan introduced his crew of undergraduate CS50 teaching fellows, calling the system of young mentors a defining characteristic of the class. He also noted that after "several years of iterations," the class is now one of the largest on campus.
In the hands-on tradition of South by Southwest, student and alumni representatives from the Harvard Innovation Lab (i-lab), SEAS, edX, and Hack Harvard — armed with iPads, laptops, and a healthy dose of enthusiasm — demonstrated their work for the crowd.
Francisco Aguilar '05, M.P.P. '12, of Bounce Imaging showcased his palm-sized rubber ball embedded with tiny cameras and sensors that is intended for first responders in dangerous situations. The ball, incubated in the i-lab with funding from MassChallenge, and named one of the best inventions of 2012 by Time magazine, is about to enter a field testing phase with police units in Massachusetts.
Aguilar said he is excited to see Harvard at SXSW, especially as that reinforces the University's rising investment in innovation and entrepreneurship.
Harvard's forward-thinking momentum also resonated with Sasha Mervyn '98, who has a background in entertainment but is now working in the digital space. "I feel like I never really connected to entrepreneurship when I was at Harvard. I didn't think as much about what happens after school, and I think that's what they're doing now."
Zachary Hamed '14, a member of the Hack Harvard crew in Austin, showed guests his Rough Draft Ventures, a student partnership that invests in college tech entrepreneurs in Boston. He is also working on a visualization project.
"It was great to meet members of the Harvard community at a place where a lot of the tech community is coming together and trying to meet each other," he said. "It's good to see how much Hack Harvard has grown, how much the interest has grown, and how much Harvard is doing to support that, through the i-lab, through the alumni network, and through great alumni companies. Everybody is trying to help."
Gordon Jones, the managing director of the i-lab, which also showcased Tivli, an IP-based cable and broadcast streaming platform for university students, and the personalized event service hottSpot, noted that SXSW offers an ideal opportunity for Harvard to look ahead.
"This is a great place for Harvard to be talking about the future and where it is looking to innovate, whether it be the i-lab, whether it be CS50, whether it be edX, whether it be Hack Harvard," said Jones. "It's a chance to talk about where the University is headed as we continue to look for new ways to enhance student learning while demonstrating the impact that Harvard graduates can have on the world at large."
For more coverage on SXSW, read the student blogs.