When Rachel Vandagriff, a graduate student from California, arrived at Harvard's Music Department a few years back hoping to write a dissertation on the work of contemporary music champion Paul Fromm, Harvard officials pointed her to a stack of boxes once housed in the music building's basement devoted to his foundation.
Thinking there were only half a dozen boxes to peruse, she soon realized there were close to 40. During her research, Vandagriff unearthed, scattered in places like Houghton Library and the Harvard University Archives, a trove of material, including printed scores, letters, financial records, concert programs, photographs, reel-to-reel tapes, LPs, typescripts of lectures, and interviews connected with one of America's foremost supporters of new music.
"I give her credit for figuring out that all of that information was on our doorstep, was in our backyard, so to speak, and we didn't even know about it," said Anne Shreffler, Harvard's James Edward Ditson Professor of Music, lauding Vandagriff's research. Shreffler and three graduate students enrolled in her Fromm-inspired seminar developed an exhibit based on the extensive material. The resulting "Composing the Future: The Fromm Foundation and the Music of Our Time" is on view at the Eda Kuhn Loeb Music Library through May 2.
The five-case exhibit, which commemorates the Fromm Music Foundation's 60th anniversary (and its 40th at Harvard, in the music building), showcases the life and work of Fromm, who died in 1987, and his enduring organization that has commissioned more than 400 musical works since its inception in 1952.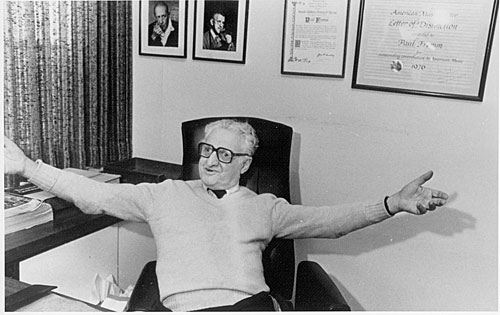 "We are taking him out of the background," said Shreffler of the German-born Fromm, a wine merchant turned new-music philanthropist who shunned the spotlight, preferring to shine it on contemporary composers such as Lou Harrison, Barbara Kolb, Gunther Schuller, and Roger Sessions, as well as on their works.
A team of graduate students cataloged and inventoried Harvard's Fromm holdings last summer. Building on their work, Shreffler and her students created an intimate look at Fromm's life through items that show the rich results of his enduring support, and his resolutely democratic nature.
In one case, Fromm's desire to create a modern canon of works not yet established in the musical repertoire is shown in a survey that he mailed to thousands of musicians and composers, asking them for their recommendations. One respondent was Harvard's own celebrated composer John Adams '69.
Shreffler said Fromm "wanted to support composers from all different styles and orientations. He wanted to be aesthetically open … and to represent contemporary music as it was at that time, [not just] a particular school or genre."
The new show includes a copy of the score for Fromm's most well-known commission, "Double Concerto," by Pulitzer Prize-winning composer Elliott Carter. Fromm frequently called the ambitious, notoriously challenging piece his variant of "The Firebird," a reference to the famous ballet by Russian composer Igor Stravinsky. Pianist Charles Rosen, who premiered the piece in 1961, said its final section included "the most complicated rhythmic passage I have ever been asked to play."
But the arrangement of "Double Concerto," which calls for two main instruments, a piano and a harpsichord, to be surrounded by their own mini-orchestras, helped to define the future of American music. "This piece being such a famous Fromm commission, so often performed, is something that inspired other composers to throw in lots of instruments in groups, and I think it really inspired a change in the way of thinking about orchestration in American music," said Shreffler.
Fromm was born in Germany in 1906 to a family of vintners who loved culture and art. He studied the piano as a child, and was forever changed by contemporary music on hearing Stravinsky's groundbreaking "The Rite of Spring" in the early 1920s. That piece, Fromm said, "made a 20th century man out of me." Fleeing the Nazi pogroms in 1939, Fromm relocated to Chicago, where he became a successful wine merchant and used his profits to help those less fortunate. He once told a friend he wanted to give back to the country that had taken him in by supporting "those most needy and worthy cases," emotionally disturbed children, and American composers. One story says that Stravinsky once told Fromm, "I want to know you, because contemporary music has many friends but only a few lovers."
To help prepare for the exhibit, Shreffler's students toured other Harvard exhibits and met with conservators and curators from to learn how to choose and display items in a show.
"In some ways, it was harder because it's so far outside of our field of what we have been taught to do as academics," said Caitlin Schmid, who worked on the case dedicated to birthday letters and scores that friends and colleagues gave Fromm. But the work, Schmid added, also opened avenues of research. "This thing that we don't normally think is part of what we do as graduate students will end up being integral in new projects that we will work on in the future."
Shreffler said the show builds on a growing movement to incorporate material things housed across the University into Harvard's broader curriculum. "I have done classes in the past that involved going to the archives, but this is the first one where it resulted in an exhibition," said Shreffler. "If you can work with the students with materials and then show it later, it's really a different process, which I have found really valuable."
To help celebrate the Fromm anniversaries, the Harvard Music Department will host two free concerts by the Fromm Players at Harvard on April 12 and 13, with the music ensemble Sound Icon, conducted by Jeffrey Means. This year's concerts will be held in John Knowles Paine Concert Hall at 8 p.m. and will be devoted to works commissioned by the Fromm Foundation.