Amid a throng of local residents, festive decorations, and even a professional alpine horn player, Michael and Fereda Falk said they'd been looking forward to the Allston opening of Swissbäker for almost a year.
"We've been counting the days until it opened," Fereda Falk said as her daughter, Madison, munched on a raspberry Berliner. "We're big foodies. We like to find unique and different things, so this was exciting."
Originally, Michael Falk said he was perplexed as to where the family-owned bakery and café would be located, as the space was formerly a car dealership and service center.
"I kept driving around and thinking: Where are they going to put this?" he said, shaking his head in amazement. "But the space is open and welcoming; it's very nice. I think it will fit in great here."
The Falks' young daughter agreed. Her face dotted with sugar, she gave the bakery two thumbs up.
Serving Swiss breads, pastries, cookies, cakes, sandwiches and coffee, Swissbäkers is the newest of several businesses that are helping to foster vibrant shared spaces for campus and community in the area. The new café seats about 100 people.
"Swissbäkers will contribute to the vibrancy of Barry's Corner, along with the Ed Portal, i-lab, and Stone Hearth Pizza, as well as the new ceramics location at 224 Western Ave., the planned residential and retail commons at the intersection of Western Avenue and North Harvard Street, and the Science Center," said Kevin Casey, associate vice president for Public Affairs and Communications. "These kinds of street-level, neighborhood-friendly establishments in key Barry's Corner locations represent another step toward achieving Harvard and, we hope, the community's goals for the area."
For Swissbäkers' Thomas Stohr, who runs the shop with his wife, Helene, opening their second storefront was a dream come true.
"This is the best [kind of] business in the world," he said, beaming at the crowd. "We have immediate reward: A grumpy guest comes in, and a happy guest goes out. What's better than that?"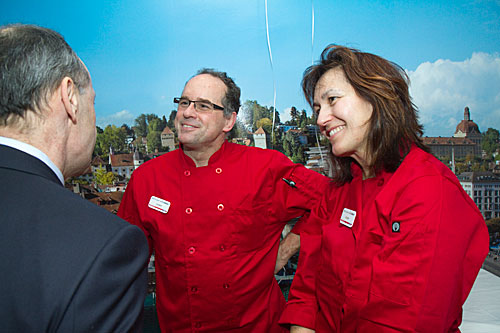 While Stohr has a passion for food, however, he says baking isn't just a job with sweet benefits; it's about building community.
"The lifestyle of the Swiss is that everything is tied very closely together," he said. "We all can text and email, but communication is the key to life, and that happens at the table, with food. It's the neighborhood, the human factor, connecting with our guests with food and with hugs, helping to connect Harvard to Allston. We think we can be a big part of that."
Since 2010, Harvard has signed 21 new leases in the Allston community, creating more than 300 jobs. Lisa Hogarty, vice president for campus services, whose department helped arrange the lease with Swissbäkers, said that Barry's Corner is a vital part of the Allston/Harvard community.
"This area is a nice balance to Harvard Square," she said. "And working in complete concert with the Allston community, we hope to really tie together in creative ways where the university meets the community and build a central meeting space."
Over time, that space will include School of Engineering and Applied Sciences (SEAS) researchers, faculty, and staff in the Science Center.  SEAS will be an anchoring presence in Allston, with the substantial majority of the school's activities moving to the Science Center in the coming years.  That development, along with the planned commons in Barry's Corner, will bring more people and activity along the Western Avenue corridor, and even more customers for area businesses.
"If you think about Cambridge and Harvard Square, it's the perfect melding of those businesses and institutions that make it a wonderful space to live and work," Hogarty said. "Improving the public realm and quality of life are the keys to our long-term sustainability and the community's engagement with us."
As the horn player struck up one more refrain, Fereda Falk said the opening had lived up to a year's anticipation.
"This is a lot of fun," she said. "We'll definitely be back."