Nicole Scherzinger, an advocate for people with special needs and breast cancer research, a classically trained opera singer, and the former lead singer of the Pussycat Dolls, was awarded the Harvard Foundation's most prestigious medal Saturday at the 28th annual Cultural Rhythms festival.
The event included a breakfast, a luncheon, and a food festival, as well as 24 performances by student groups, all showcasing the University's cultural diversity. U.S. Treasurer Rosa Rios ('87), who helped S. Allen Counter, director of the Harvard Foundation, launch Cultural Rhythms in 1986, was honorary host.
The artist tribute, in the Kirkland House Junior Common Room, featured the Harvard University Band serenading Scherzinger with "10,000 Men of Harvard." Next, the comedic group Immediate Gratification Players performed a take-off on Scherzinger's short-lived show "The Pussycat Dolls Present: The Search for the Next Doll." Scherzinger laughed at the spoof, and seemed surprised and delighted when the Hawaii Club performed a traditional song and dance that honored her Hawaiian-Filipino descent.
During the luncheon, Mariachi Veritas performed traditional Mexican music. Among the speakers was senior admissions officer David L. Evans, who encouraged students to "think about things, and then go out and change them. What ought to be comes directly out of what is thought to be."
The Matinee Show at Sanders Theatre included a retrospective of 28 years of student leadership at Cultural Rhythms.
"This is a day to celebrate the Harvard family, and to see what wonderful diversity we have here," said Counter.
"Culture is about experiencing life," Rios added. "How one chooses to live their life experience."
Scherzinger introduced the student groups and interviewed members after the performances. The matinee featured the Harvard College Pan-African Dance and Music Ensemble, Harvard Wushu, the Kuumba Singers, the Harvard Asian-American Dance Troupe, Harvard College KeyChange, the Harvard Philippine Forum, Harvard Bhangra, the Harvard College Middle Eastern Dance Company, and the Harvard College Irish Dancers.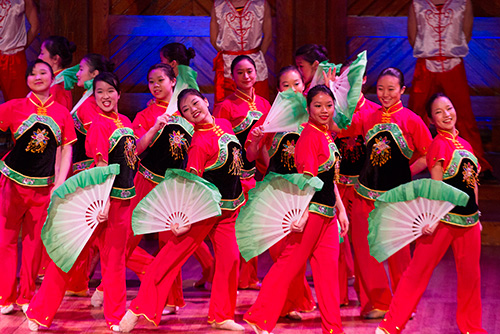 During intermission, Scherzinger was presented with the Harvard Foundation Medal, as well as a Harvard sweatshirt that she put on over her dress. "I'm blown away by the diversity here," she said. "I see the beautiful faces of all walks of life from around the world."
After the Philippine Forum performed, the audience shouted that it was the birthday of one of their dancers. Scherzinger sang "Happy Birthday" to him — in operatic Italian.
Performers in the evening show were Reylon Yount, the Harvard Hellenic Society, Ballet Folklórico de Aztlán, Harvard College Deepam, Speak Out Loud, the Harvard Vietnamese Dance Troupe, the Harvard Undergraduate Drummers, the Harvard Bulgarian Club, Under Construction, the Harvard Ballroom Dance Team, and the Freshman Black Table.
Past recipients of the Artist of the Year award include Jackie Chan, Matt Damon, Salma Hayek, Shakira, and Will Smith.