As research funding dwindles in the United States and abroad, scientists need to rethink their methods for supporting the most promising projects — and how they communicate the meaningful results of that work to the public, according to Nobel Prize–winning geneticist Paul Nurse.
A British biologist whose work on how genes control cell division earned him the prize in 2001, Nurse drew a packed hall of Harvard scientists Feb. 6 to "Making Science Work," this semester's Science and Democracy Lecture organized by the Program on Science, Technology and Society at Harvard Kennedy School (HKS) and moderated by Sheila Jasanoff, Pforzheimer Professor of Science and Technology Studies at HKS. The event was co-sponsored by the Harvard University Center for the Environment, Harvard School of Engineering and Applied Sciences, and Harvard Graduate School of Design.
In a sometimes controversial, often optimistic lecture, Nurse laid out his thoughts on how research should be funded and on how scientists should engage the public, with an eye toward the general good.
"I mean public good in the widest possible sense," Nurse said, from science's practical applications for human health, environmental sustainability, and economic growth to its contributions to culture and our understanding of the universe. (As the American physicist Robert Wilson told Congress when asked how a particle accelerator would help national security, he added, "It has nothing to do directly with defending our country, except to make it worth defending.")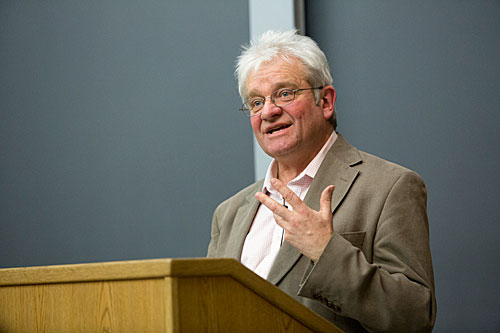 To start, Nurse said, funding organizations should focus on finding and supporting the best scientists, not simply those who "write good-quality grant proposals" or pursue trendy lines of research. He advocated in-person interviews to assess "the quality, the passion, and the past performance of the scientist proposing the research." Scientists who are open to cross-disciplinary collaboration, he emphasized, are often most likely to produce the kind of research that leads to broad applications that benefit society.
But funding the most creative, engaged researchers won't be enough to translate scientific breakthroughs into public benefits, Nurse said. For that, scientists must start to engage with the public from the outset of any popular conversation. In recent debates over climate change and genetically modified foods, for example, much of the scientific community came too late to the debate to set the terms, which were often subject to "political, ideological, and religious influence," Nurse said.
A recent survey he cited found that the British public showed "a concern at eating food containing genes," a fact that drew chuckles from the crowd (because, after all, all crops have genes, modified or not).
"Now, this is an issue a scientist is unlikely to have considered," Nurse said. "We scientists have to listen to the public more to be completely aware of their concerns and of the questions they want answered by scientific advice."
After his talk, a panel of Harvard professors responded to Nurse's bold prescriptions with broad support, tinged with a bit of their trademark disbelief.
"You told us we were supposed to be skeptical scientists," teased Eric Lander, a professor of systems biology at Harvard Medical School (HMS) with a joint appointment at the Massachusetts Institute of Technology and the Broad Institute.
With that in mind, Lander questioned the idea of throwing out old methods of funding science, such as targeting specific fields with grant money, in the interest of simply funding "the best possible science." Tuberculosis, for example, grows incredibly slowly in a lab, so slowly that savvy young researchers might choose instead to work on bacteria that can yield more rapid results.
"We might have to set incentives for those courageous people who are going to work on things that are hard and important," Lander said.
While scientists have a duty to engage the public, there are still basic concepts — the scientific method, conflicts of interest — that are widely misunderstood by many nonscientists, said Lisa Randall, Frank B. Baird Jr. Professor of Science.
Randall, a physicist, recalled being asked to appear on CNN to discuss climate change, a field in which she had no expertise. But in the network's view, her lack of expertise was exactly what lent her an air of objectivity. "I said, you should have an expert on climate science. That doesn't make them biased," Randall said. "That means they have data that supports their point of view."
Scientists face a "paradox of expectations," said Charles Rosenberg, a historian of science.
"We're in a moment where we want science to be a humanity," said Rosenberg, Ernest E. Monrad Research Professor of the Social Sciences and lecturer on global health and social medicine at HMS. "But we're also selling the idea that science will make progress: We'll make the economy better, we'll give you the Internet, we'll solve your energy crisis. There's this tension between demanding a lot, expecting a lot, and then not knowing how to go about it."
But some scientists in the audience were more than willing to lay some blame on themselves for the deteriorated state of public discourse surrounding their work.
"In my graduate school years, I was never taught to engage besides with my bench and with my experiments," said Raji Edayathumangalam, a postdoctoral fellow at the Center for Neurologic Diseases at Harvard-affiliated Brigham and Women's Hospital. "If I can't tell my grandmother or a person on the street why [my work] is important in a simplistic fashion, do I really understand what I do and how it impacts society? I feel like we're also a part of the equation in why there's a lapse in communication, in why someone is suspicious of what I do and why they should part with their tax dollars."