At the recent Harvard Start-Up Career Fair, first-year M.B.A. student Minh Bui was looking for the next big thing.
"I'm looking for a team with a high potential for growth — the next Facebook — but really, a team that I can truly believe in," Bui said. "Startups are incredibly exciting because there are so many factors that are hard to predict, and there are some really promising companies here."
Bui wasn't alone. More than 1,000 students and alumni attended the third annual fair at the Harvard Innovation Lab (i-lab), which sponsored the event with the Faculty of Arts and Sciences (FAS) Office of Career Services and Harvard Business School. More than 100 companies were on hand to discuss their organization's goals, culture, and opportunities — including internships and full-time jobs.
Attendance at the event was up 65 percent from last year, indicating to Scott LaChapelle, assistant director of technology platforms and new employer development at the Office of Career Services, that the event resonated for both students and potential employers.
"The event's grown exponentially, and that's all word-of-mouth," LaChapelle said. "Harvard students are certainly very tech-savvy, but they also have such strong energy, ideas, and leadership. Our students are very entrepreneurial in nature, and that translates well to what these organizations are looking for."
Deb Carroll, associate director for employer relations and operations for the FAS Office of Career Services, said that the strong response from students spoke to the creative and dynamic nature of startup companies.
"Lots of students are interested in working for startup companies because they have a lively, fun, energetic environment, and they're on the cutting edge of something new," Carroll said. "We wanted to present a wide range of opportunities for as many different career paths as possible, from marketing to research to computer science."
Companies at the event included the less traditional — fashion and fantasy sports — but still maintained the standbys, such as media and real estate … but with a twist.
Alumna Bridget Frey '99, the vice president of engineering at the real estate company Redfin, said that she was there because Harvard's entrepreneurial spirit is hardwired into students' DNA.
"We're growing really fast, and need people who get it and can help us get to the next level," Frey said. "Harvard's startup culture is embedded in its computer science programs. We don't recruit exclusively at Harvard, but we like the program and the training that the students get, and feel like there's a strong chance that they'll understand our vision."
Andrei Oprisan, senior developer with the digital commerce company Optaros and a student in the information systems management master's degree program at the Harvard Extension School, was recruiting engineers, business analysts, and user interface developers.
"There's a lot of great talent," Oprisan said. "The people are creative, open, analytical, inquisitive, and challenging. That lines up very well with what the companies here are looking for."
Alumni Cristina Hernandez '09 and Hasan Korre '09 were there to explore opportunities and build their networks.
"When we were undergraduates, there was no i-lab," Korre said. "But also, back then Harvard focused more on consulting and banking. So these kinds of companies wouldn't necessarily have been [at a career fair] when we were undergraduates."
Looking around the career fair, Korre said, "You see so many different opportunities. It's good to start funneling Harvard people into different companies and industries — and the fact that we're able to attend as alumni is great."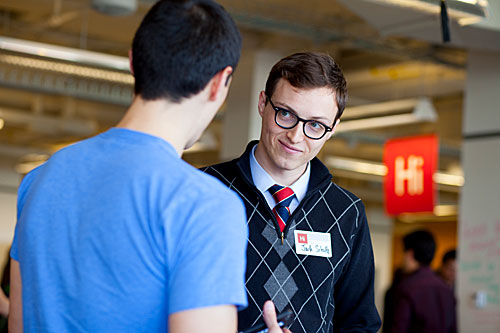 "These kinds of companies also don't recruit the way other companies do," Hernandez said. "It's a great way to make connections and network."
Gordon Jones, managing director of the i-lab, said that the event was just another example of how the i-lab helps students take their entrepreneurial ideas as far as they can go.
"Small startups look for students who want to be entrepreneurs, if you will, or early joiners, to startups," Jones said. "That's a resource that the i-lab fits, and the interest is here: Today's turnout reflects that. The breadth and depth of what our students can do and the scale of what we can do through the One Harvard approach is an immense resource to students."
As more and more students walked into the career fair, Carroll took a moment to appreciate the teamwork behind the event. "It's a great collaboration across Harvard offices," Carroll said. "Many of the organizations here have alumni staff or founders, so … this really feels like a great, full-team, Harvard effort."