"It was hard enough to get a job if you were a woman, but if you were a mother, then it was impossible," recalled Ruth Bader Ginsburg, once a struggling young lawyer in a male-dominated field but now a veteran associate justice of the U.S. Supreme Court.
Through determination and hard work, Ginsburg eventually reached the top of her profession. The legal scholar and tireless defender of equal rights reflected on her career during a discussion with Harvard Law School (HLS) Dean Martha Minow on Monday before a packed room in Wasserstein Hall.
Ginsburg recalled the frosty climate that greeted women hoping to enter the field of law in the early '60s. She said that former Associate Justice Felix Frankfurter refused to take her on as a clerk after her graduation, and she couldn't find a job in a law firm despite being the first woman to serve on both the Harvard Law Review and the Columbia Law Review, eventually graduating at the top of her class.
Thanks to a friend, Ginsburg, who was married and the mother of a young child, finally secured a clerkship with U.S. District Judge Edmund L. Palmieri. She went on to become a law professor and a judge for the U.S. Court of Appeals for the District of Columbia. In 1993 President Bill Clinton appointed her to the Supreme Court.
Despite her husband's death from cancer in 2010 and her own battle with the disease, Ginsburg remains a steady presence on the court. At age 79, she is its oldest justice. During a frank talk with Minow that was peppered with personal anecdotes, Ginsburg offered the crowd a window into her life, as well as a glimpse at the inner workings of the nation's highest judicial body.
Supreme Court justices have made Harvard a regular stop while on the bench. In recent years Chief Justice John Roberts and Associate Justice Sonia Sotomayor have taken part in the School's popular and prestigious Ames Moot Court Competition. Last month Associate Justice Clarence Thomas was at HLS for a similar, candid discussion with Minow.
To open the talk, Ginsburg touched on her time at Harvard. She attended HLS with her husband, Marty, and though the school declined to grant her a degree when she transferred to Columbia Law School to follow her husband to New York City, she said she looks back on her Harvard years with fondness. She recalled the support she received when her husband fell ill during his third year and how their classmates rallied around them. "The help that we got from our friends here, I will remember all the days of my life," she said.
Becoming a law professor, she began to focus on issues related to sex discrimination, she told Minow, in part because women were starting to make complaints about being treated unfairly in the workplace that "they had never made before." It was a "tremendous opportunity for me," she said.
Ginsburg, who went on to argue a series of successful gender equality cases before the Supreme Court, said she, her colleagues, and other equal rights supporters tried "not to take the court by storm, but to lead them there in small degrees."
"Brilliantly done," responded Minow, who lauded Ginsburg for her concern over "the constraints that gender roles play in the lives of both men and women."
Ginsburg said she envisions that someday there will be three or four women on the Supreme Court, and she hopes it will one day resemble that of Canada, where four of the nine justices are women, including its chief justice.
Ginsburg also showed the crowd how her work is never ending, at one point leaving the stage to take an urgent call.
"She has an emergency at the court; this is real," said Minow. When Ginsburg returned, she explained that as the head of the 2nd U.S. Circuit Court of Appeals, she is always on call.
Minow inquired about collegiality on the court, which is often deeply split. Ginsburg responded that over the years her husband's culinary skills have helped foster a friendly atmosphere. He baked birthday cakes for members of the court, she said, and catered their quarterly meetings.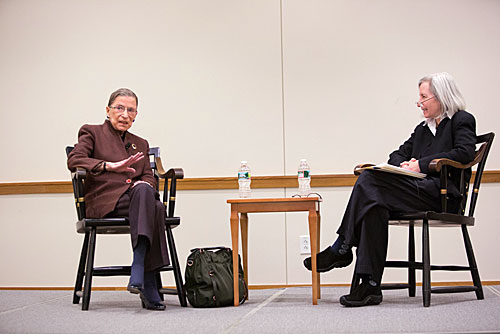 In addition, the justices like to hold regular soirees, said Ginsburg, where they forgo work and "just listen to beautiful music."
But are there times, Minow pressed, when, despite their ritual handshakes before they take the bench, a little animosity breaks through?
Ginsburg said she may occasionally bristle at a "nasty dissent" penned by another justice, but "we are all in this together, and we do revere the institution for which we work." Still, she said she hoped the court someday will return to the "spirit of bipartisanship which prevailed in the early '90s."
During a question-and-answer session, Ginsburg discussed her position on Roe v. Wade, the court's 1973 landmark decision legalizing abortion, and countered critics who suggest she is "against" the ruling. Ginsburg said she agreed with the judgment the court rendered, "dealing with what was the most extreme law in the country, where a woman could get an abortion only if was necessary to save her life." But she disliked the sweeping scope of the decision. Instead of simply striking down the Texas law and proceeding by "slow degrees," the ruling made "every law in the country … unconstitutional in one fell swoop.
"That's not the way the court ordinarily operates."
Ginsburg also took issue with the notion that the court should be responsible for fixing society's ills.
"It's rare that a court will move unless the people want them to. … Before every major change, it was people who saw that the laws were wrong, wanted them to change, were fighting to capture other people's minds, and then trying to get legislative change," that pushed issues along. "Then the court is the last resort. … It has to be the people who want the change, and without them no change will be lasting."
One questioner asked Ginsburg how she dealt with "getting a call when you know someone's life is at stake?"
"It's the only part of the court's business that I genuinely hate," said Ginsburg. She recalled the first time she voted in a death penalty case and how she stayed awake until after the execution into early hours of the morning, crying.
"It's just something that I just have to do. I will never adjust to it. I will never feel comfortable about it. I could have made the choice that [Justices] Brennan and Marshall made. They took the position that the death penalty in any case was cruel and unusual. But if I did that, then I would be out of the running, and I couldn't influence the results in particular cases."
Honoring Ginsburg's 20 years on the court, Minow closed the session by reading excerpts from 12 essays by HLS faculty members on some of the justice's important cases.
"She was obviously a tremendous guest to have here," said Laurence Tribe, Carl M. Loeb University Professor, who penned one of the essays. "It was an honor to have her here, and it was wonderful to listen to her."