For some graduate students, January means a long slog through cold, gray days and seemingly endless hours in the lab or the library.
For the hundreds of students in Harvard's Graduate School of Arts and Sciences (GSAS), however, January offered a chance to let their hair down and explore topics they might otherwise never contemplate, from questions of race in director Quentin Tarantino's films to the production of nano-materials to fabricating a hand-crank generator.
Those sessions and more were just some of the more than 100 classes, seminars, and workshops that were offered to GSAS students throughout the month as part of the fourth January@GSAS. The annual January offerings are designed to give students a chance for professional development and social interaction, as well as an opportunity they might not otherwise get during the semester to explore unusual interests.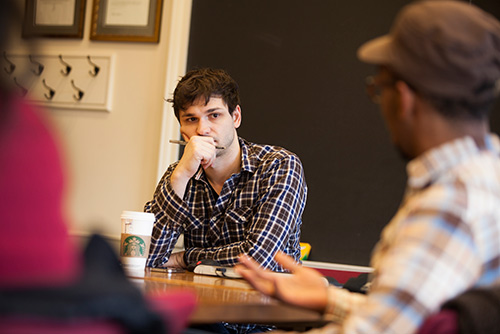 For Andre Green, a fifth-year graduate student in molecular and cellular biology, the "Race, Racism, and Quentin Tarantino" class offered valuable insight into questions of racist writing and writing racism, in addition to a welcome break from the lab.
"This is an interesting diversion from lab life," he said. "One thing I've taken away from this is the idea of where Tarantino is coming from as an artist. He's not trying to make a documentary. Rather, the films are his own interpretation of some historical event. It's interesting to understand the freedoms he has in making those interpretations, and how he presents them in his films, including 'Django Unchained.'"
The benefits of the January@GSAS offerings weren't limited to the intellectual, though. Jason Silverstein, a Ph.D. student in anthropology, led the Tarantino talk, and said it was the interdisciplinary nature of the classes — which often brought together students from wildly different fields — that attracted him.
"That, to me, is the coolest thing about this. It's a true interdisciplinary program," Silverstein said. "This is one of those rare times when we can truly have this. It's exciting to bring together a group of people who might not normally have these conversations."
Discussions about subtext in film, however, barely scratched the surface of this year's offerings.
Along with workshops aimed at reinforcing students' research skills and the use of quantitative analysis techniques and reference tools, the GSAS partnered with the Office of Career Services to highlight professional development programs, including sessions on making the transition to a non-academic career, expanding professional networks using online social media tools, and navigating the academic job search. The sessions included advice from former students.
"Our intention with January@GSAS is to give graduate students — who often remain on campus during winter break — an opportunity to stretch themselves intellectually, meet their peers in the Harvard community, and hopefully have some fun," said Garth McCavana, GSAS dean for student affairs. "The January session also gives us a chance to offer students important professional development opportunities that may be difficult to fit into their busy schedules during the semester."
For female scientists navigating grad school and the launch of professional or academic careers, the Office of Career Services and Harvard Graduate Women in Science and Engineering co-sponsored a seminar titled "Empowering Women in the Job Search." Led by Heather Law, assistant director of career services, the session addressed everything from common interview mistakes to advice on networking after the job is landed.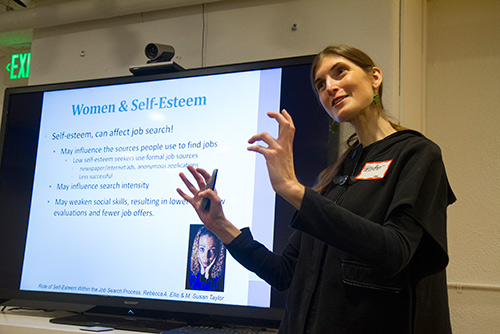 "The statistics are clear. New female college graduates are earning 17 percent less than their male counterparts. And among full-time workers in the population as a whole, women still only early 77 cents for every dollar their male counterparts make," Law said. "In addition, women report salary expectation of between 3 and 30 percent lower than men for the same jobs. That's a drastic difference. That means men are going in and negotiating at much higher rates, and asking for much more money than women are. There is a big discrepancy, and that's something I want you to be aware of so when you're in that situation, you're going to be able to advocate for yourself in the way you should."
Too often, Law said, women can fall victim to the "imposter syndrome," believing their careers are due more to luck than expertise, or they may deflect credit away from themselves and toward others, with the result being lower career self-esteem.
"What effect does that have on your job search or your ability to take part in a job?" Law asked. "In fact, it actually has a lot to do with it. It results in you feeling doubtful about your abilities. It results in you potentially spending a lot of time focusing on the mistakes you make rather than the positives. You may miss out on opportunities for advancement. It really can affect either your job search or your career."
"I think it's a great opportunity for women to come together and talk about any shortcomings they feel they may have," said Shanying Cui, co-chair of Harvard Graduate Women in Science and Engineering, following the seminar. "We had identified negotiation as a weakness that many people have, so we thought that would be an excellent starting point for this discussion."