"If you're low on air, you will gradually lose consciousness," Justin Sola '14 tells his scuba diving partner, Alice Xiang '13, as they perform safety checks on each other's alternate air sources. Outside, it's one of the coldest days of the year, and yet the two are decked out in swimsuits, dreaming of faraway places.
"We're in St. Lucia right now," says scuba instructor Tori Steinmeier. "On a boat, with all our friends."
If only.
But these Harvard students are getting the next best thing: scuba lessons inside the Malkin Athletic Center that will earn them PADI open water certification to explore the underwater realm of St. Lucia — and anywhere else in the world.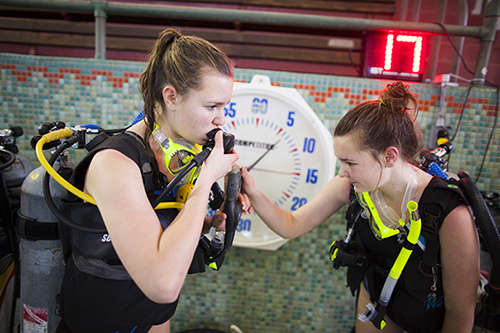 Sola and Xiang are just two of many students who, for a multitude of reasons, returned to campus early after holiday break. The period in between break and spring term contains a block of time known as Wintersession, a College programming initiative that offers students unique opportunities to explore other interests and develop new skill sets, such as personal-finance management, first-responder certification, ethnic cooking mastery, and more.
For Kristen DePre '13, returning to campus early from Long Island was all about utilizing the downtime to work on her thesis — and to enroll in scuba lessons.
"I returned just for this class," she says. "Scuba is something I've always wanted to do. It's typically expensive and time-consuming, and I'm going to be graduating soon, so I really wanted to take advantage of all Harvard's offerings."
For these students, not only was the class free, it would give them all the skills to complete their open water certification dives in just one week.
"You really feel like a fish," describes DePre of her first time breathing underwater. "It's bizarre. It feels almost like outer space."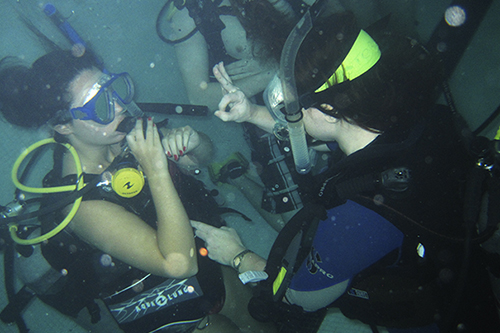 The class meets daily from noon to 4, with a mix of classroom instruction and pool exercises administered by longtime scuba aficionado Alan Budreau, with the help of Jim Estabrook from Somerville's United Divers, and Steinmeier, a professional scuba instructor and student at Harvard Extension School.
Come springtime's warmer weather, the students will head north to Rockport, Mass., to complete certification dives with Budreau and the other instructors. Yet murky New England water is no match for a vacation's lure. Many students will opt to complete their certification in places like the Caribbean, over spring break.
"I came back to campus to work on my thesis, but I've always been interested in marine biology," says Xiang, whose buoyancy control device, or BCD, gets the clearance from Sola. "And you get to swim with dolphins!"
"Scuba's just cool," says Sola, suiting up. "James Bond did it."
Harvard Recreation offers scuba courses for students, faculty, and staff in spring and fall semesters. For more information.