Nearly halfway through the renewal of Old Quincy, student rooms are starting to take shape, as are the common and program spaces, while work outside the House is moving from the courtyard-facing façade around the building to the street side, putting the project on track for its scheduled August completion.
"Seeing the new framing reassures us that Quincy House will be whole again. It is so exciting to see the lower level [basement] being transformed into usable student spaces," according to a statement from Quincy House Masters Lee and Deborah Gehrke.
On the lower level, large cutouts in the wall will soon hold glass doors connecting a large multipurpose room with an open-air terrace. The room will help address the need for more social space, and will join new seminar and meeting rooms, and a music suite.
"One thing we wanted to do was open up the lower level, which was really underutilized space," said Steve Needham, senior director of project management for Harvard Planning and Project Management.
A drainage system feeding into a sump pump has been built under the lower level's slab to handle any flooding from groundwater.
On the upper floors, a steel skeleton has been erected, outlining student and tutor living spaces. New horizontal corridors connect the traditional vertical entryways, but also connect single rooms, doubles, four- and six-person suites, common rooms, and tutor communities. The horizontal corridors not only will allow for greater student interaction and better circulation, but will eliminate walk-through bedrooms.
New study niches have been creatively carved out of spaces in the new corridors, and cabinets for wireless printers have been tucked behind restored fireplaces. Two new elevator shafts are taking shape, and will make the building fully accessible. That will make moving in and out much easier for students and parents.
"We have gone just about as far as we can go structurally without building a new building. And as you can see, it is really coming together," said Lee Blackwell, senior project manager for Old Quincy.
All of the student rooms will have ceiling fans, double-pane insulated glass in the windows, and thermostats to control the heat. This means the storm windows are gone, and so are the days of regulating heat by opening and closing windows. Insulation between the rooms will help to make them virtually soundproof.
In addition to having a contemporary feel, the rooms will have new furniture.
"All of the furniture will fit on the floor of the rooms, so there won't be any need for bunks," said Needham.
Improved insulation will provide greater comfort, and help to reduce energy use and cost greatly.
"If you look at the exterior walls, it was just plaster and brick — no insulation," said Blackwell. "This will really improve the overall performance and comfort of the building."
Outside, the inward-facing façade has been cleaned and restored. The old brickwork that faces New Quincy has come alive as workers have made their way around the building, stripping paint from window frames and repointing brick.  New copper flashing peeks out from under new slate tiles on the roof.
Over two summers, designers, engineers, and construction officials evaluated Old Quincy's original details, including the roof flashings and chimneys, with an eye to preserving as much original construction as possible. This exploratory work led to six chimneys being carefully rebuilt because of damage, while the remaining nine were repointed and reflashed. All 15 chimneys are now weather-tight and look as they did 82 years ago when Old Quincy first welcomed students.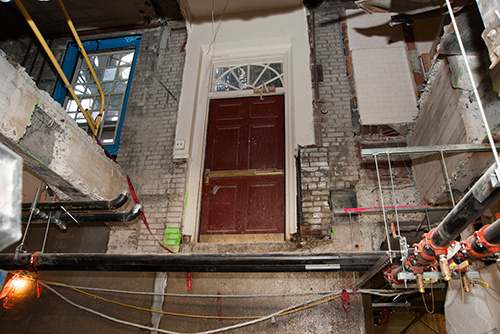 That same detailed advance work has been done on McKinlock Hall, the neo-Georgian section of Leverett House set for renewal this June, and will be done on Dunster House, the first full House set for renewal beginning in June 2014.
All of this pre-planning has worked to limit any surprises at Old Quincy.
"That's not to say there haven't been any surprises; it's just that we have been able to minimize the number of surprises during construction and the associated delays, which should lead to a much better outcome," Needham said.
As work on Old Quincy progresses, great care is being taken to preserve the character and history of the building, while creating an environment that will better foster learning and living in the 21st century.
"This building and all the neo-Georgian river Houses are extremely well-constructed," said Blackwell. "To the extent we can preserve materials as a goal, that is what we are doing. And we are integrating state-of-the-art technology and new heating and plumbing, but incorporating that within the fabric of Old Quincy."
Because the building's materials were of high quality, workers are reusing as much of them as they can to help achieve greater sustainability and to keep the building's historic features intact.
"If you look at this windowsill and this entrance, you can see this is eastern white pine. That is old-growth wood that is just not available anymore, so it is certainly worth preserving and reusing when appropriate," Blackwell said.
As with all of the renewal projects, greater sustainability is also a key focus. Energy-efficient technology will be employed throughout the building. Models show an upgrade in the heating system and the addition of better-insulated walls and windows will cut the energy used to heat the building by 30 percent. A water-retention tank will help reduce waste by recycling rainwater for use in toilets.
Old Quincy is on track to becoming a Leadership in Energy and Environmental Design (LEED) certified gold building.
"Usually, when you do a restoration of a historic building, it is a real challenge to achieve LEED gold performance, but we are on track to do just that," Needham said.