Amid brass bands, a bevy of glamorous drag queens, Harvard cheerleaders, and a duck tour vehicle, actress Marion Cotillard had a day in her honor in the cool Cambridge sunshine.
Cotillard, who won the Academy Award as best actress in 2007 for "La Vie en Rose" but may be better known for her roles in "The Dark Knight Rises," "Midnight in Paris," and "Inception," was feted today as the Hasty Pudding Theatricals 2013 Woman of the Year.
She toured Harvard Yard and boarded a convertible for a short parade to Farkas Hall, where she received her Pudding Pot award. During the parade, the Harvard University Band and the Hot Tamale Brass Band provided a festive soundtrack, while Hasty Pudding members, as per tradition, frolicked in drag.
"We chose Marion as oƒur Woman of the Year because she's an international star who's wowed both critics and mainstream audiences alike," said Tyler Faux '13, press and publicity manager for Hasty Pudding. "She's been very gracious and outgoing with all of us, so I think she's having a great Harvard experience."
Alex "Bubba" Serrano '14, a producer of the student-run comedy news show "On Harvard Time," marched in the parade with other costumed members from the show. "She's a terrific actress," Serrano said. "Also, who wouldn't want to walk in a parade on a beautiful day in front of a bunch of cross-dressing students? If I wasn't marching in the parade, I'd be here to see it."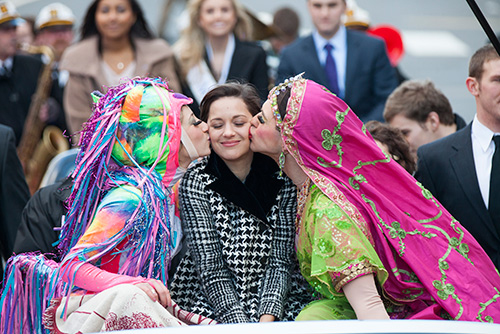 Earlier in the day, Matthew McCambridge '13 led Cotillard on a tour of Harvard Yard.
Outside Widener Library, McCambridge shared the story of the library's creation. Harvard alumnus Harry Elkins Widener, Class of 1907, had traveled to England to purchase a rare Francis Bacon book that would complete his collection, "but unfortunately, his return trip was on the Titanic.
"They were one of the first people on the lifeboats, but Widener realized that he had left his Francis Bacon book behind," McCambridge said. "He felt like his entire trip would be for naught if he left it …"
"Oh, leave the book," Cotillard winced, knowing the fatal ending.
Widener's mother donated money to build the library in her son's memory.
At the statue of John Harvard, McCambridge asked Cotillard if she could guess the reasons it is called "the statue of three lies." Cotillard frowned and tilted her head.
"Was his hair shorter?" she asked.
"Close enough," McCambridge said as the crowd laughed. "It's actually not him," McCambridge said, or at least not his likeness. "Oh, that is a really big lie!" Cotillard exclaimed.  (The other two lies: Despite the inscription, John Harvard was a financial backer of the college, not its founder, and Harvard was founded in 1636, not 1638.)
McCambridge told Cotillard that the statue was known as the third-most photographed in the nation, and he hoped to stump her by asking which two were better known. With help from her entourage, Cotillard rallied and guessed both: the Statue of Liberty and the Lincoln Memorial.
"I just saw 'Planet of the Apes,'" Cotillard said slyly. "So I know."
 The Man of the Year ceremony will take place on Feb. 8. Man of the Year has yet to be announced. For more information.