At Harvard this year, Winter Break will be unusually long: a five-week span from Dec. 21, when exams end, to Jan. 28, when classes resume.
For many Harvard College students, what to do over this long stretch is no mystery: Get out of town the minute you can, and come back the minute you must.
"People know what a break is," said Lisa Boes, Allston Burr Resident Dean at Pforzheimer House. "They know how to use it."
Most undergraduates are required to leave during what is called Winter Break I. This year, from Dec. 22 to Jan. 1, Harvard goes into a virtual hibernation. Dormitories and Houses are closed, along with dining services, administrative offices, and most laboratories. Shuttles stop running.
Then comes a quiet awakening: Winter Break II is the stretch from Jan. 2 to 16 when duty calls some students back to campus. With prior approval, thesis writers, athletes, and others return to a quiescent Harvard, with limited dining and shuttle services. This hard core will include students with Boston-area internships, some campus jobs, or rehearsal demands with Hasty Pudding or the Dunster House Opera. Also returning to campus will be international students who can't get home easily, along with core student personnel at Phillips Brooks House Association.
And then there is a real quickening, a kind of false spring that starts on Jan. 18, when undergraduates start returning in earnest. Houses and the dormitories in the Yard open that day, shuttles resume a regular schedule, and limited dining operations are open. Last year, 25 percent of students returned by that first weekend, about 60 percent by midweek, and nearly all by the weekend before classes begin.
This interval of gradual quickening got a new name last year: Wintersession. The "session" part of that Harvard neologism refers to a fast-growing list of elective activities that students can take part in, mostly for free.
"Wintersession at the College is filled with terrific opportunities for students to learn new things or explore their passions," said Dean Evelynn M. Hammonds.
There are more than 150 offerings this year, up from 140 last January. The point is to explore an artistic passion, sharpen a career skill (like résumé writing), or sample something new.
There's no expectation that students need to come back during break, and there is every expectation that undergraduates will use the time off however they wish. "We want every student to decide what makes sense for them," said Hammonds, "whether it is coming back to participate in an activity, traveling abroad, or simply staying home until classes start."
Some Wintersession offerings are walk-in activities, like a series of book talks that might last 90 minutes. Others require registration and a stouter time commitment. One course on personal finance, for instance, meets for three hours a day over four days.
Students can emulate golfing the great courses of the world (using real clubs and balls with a computer interface); learn the fundamentals of skating, pottery painting, or Scuba diving; explore hacking; learn how to grapple; or eat meals in Boston-area restaurants and write reviews. There is the joyous (ballroom dancing, trampoline jumping); the sober (global health, math and science problem-solving); and the earnest (workshops on summer grant writing and education reform).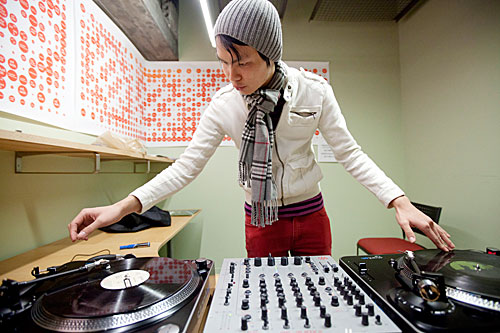 "It's not to get credit for something," said Boes, who oversees Wintersession. "It's not to compete with peers. It's a really nice opportunity to pursue really interesting things in a noncompetitive environment."
Offerings are listed on the Harvard Events calendar, and there is a Wintersession website for browsing.
Unlike many Harvard traditions, Wintersession is something of a novelty. Its origins came during the Derek Bok presidency, when final exams were shifted to December, opening a long break before classes resumed in late January.
During the first year of the new-calendar regime in 2009-10, a few College thesis writers returned early, but there were no intersession programs. In 2010-11, there were seven days of January programming, called Optional Winter Activities Week.
"It was a nice start," said Boes, and it established the order of things. Proposals would come in from staff, students, and faculty, and Harvard College would coordinate the communications.
By 2011-12, Wintersession got its new name, and the interval for programming grew from seven to 10 days, with two weekends and a week in between. Options shot up to 140 offerings. This year there are more.
A few broad themes have emerged. In the health and wellness arena, programs coordinated by Harvard Athletics and the Center for Wellness include nutrition counseling, one-on-one fitness evaluations, chair massage, and restorative yoga. There are workshops that don't point toward six-pack abs too, including one on laughter and another on somewhat the opposite: rocky relationships.
On career building, students can learn how to write résumés and cover letters and how to glide through job interviews. (Harvard's Office of Career Services and the Harvard Alumni Association (HAA) sponsor many of the programs.) Or students can visit what might be a future place of employment, including a law office and a newsroom.
Arts is another broad Wintersession theme, including a series of January Arts Intensives offered through Arts @ 29 Garden. Students have already signed up for an intensive on design visualization, "movement practice," theater, and arts journalism. (The last involves exploring the gates that encircle Harvard Yard, as aesthetic objects and historical artifacts.)
Also, the Harvard School of Engineering and Applied Sciences (SEAS) is offering an elaborate program of Optional Winter Activities throughout January. (There is some crossover with Wintersession, including a minicourse called "Introduction to Flight," which was popular last year.) At SEAS, workshops offer looks at prototyping techniques, nanomaterials synthesis, discrete mathematics, and more.
SEAS is also involved in another broad theme that long has been part of the wintertime Harvard fabric: directed travel. The School is partnering with the Harvard Innovation Lab (i-lab) and Harvard Business School (HBS) on trips to New York City and Silicon Valley, as well as with the David Rockefeller Center for Latin American Studies on a two-week collaborative field course in Brazil on the future challenges of energy production.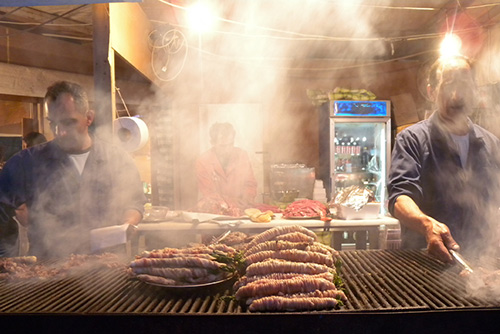 The center has three other programs that involve January travel for students to Chile, Brazil, and Mexico.
Closer to home, the Office of Career Services and the Office for the Arts are coordinating the 11th iteration of Harvardwood 101, a 20-day course (mostly in Los Angeles) on entertainment careers. The HAA's "Harvardwood" Shared Interest Group is offering the course.
Much further afield, students have already signed up for a three-week Winter Break program in Uganda. (The session asks: What are the challenges of aid, economic stability, environmental pressures, and other issues in a developing country?) The program is sponsored by the Harvard Project for Leadership, Service and Collaborative Learning, and is led by co-masters at Cabot and Currier Houses, along with HBS's Rakesh Khurana, the Marvin Bower Professor of Leadership Development.
Some students will spend seven days in the Sicilian countryside at a cooking school near the village of Vallelunga. All the food is grown locally, and centuries of tradition go into simple dishes of bread, meat, pasta, herbs, oil, vegetables, and cheeses so distinct you can tell the town where each originated.
"The Cultural Anthropology of Sicily through Food" is the brainchild of Graduate School of Design (GSD) staffer Shannon Stecher, A.L.M. '07, who has interned with chef Fabrizia Lanza at the Tasca Lanza Cooking School. The landscape there is "voluptuous," she said, "and I get googly-eyed about the food."