Many a Bostonian has been taunted with accusations of "pahking the cah in Hahvahd Yahd." But for Glenn Fiore, the phrase recalls nothing so much as a stressful day in 1987, when he rushed to drop off an application for a job as a Harvard building mechanic.
"I remember the day so clearly, driving up and down those narrow side streets," Fiore said. "I didn't know where to park my car. I said, 'Hell, if they give me a ticket, they give me a ticket. It's an investment.' "
Fiore got a parking ticket — and eventually, the job. As he hobnobbed with other honorees at the Harvard Faculty Club on Nov. 27, remembering that minor brush with the law more than 25 years ago, it was clear that his gamble had paid off.
Fiore and 138 other faculty and staff were feted at Harvard's 25-Year Recognition Ceremony, a 58-year-old tradition honoring long-term employees. As they dined on wine and finger foods, chatted with family and friends, and perused their options for an anniversary gift — including the ever-popular Harvard chair — the honorees took a well-earned break from the workday grind.
"This is your time to enjoy the glow of the last 25 years of achievement, and to enjoy the gratitude of the University," said Marilyn Hausammann, vice president for human resources.
President Drew Faust thanked this year's cohort, whose ranks included everyone from custodians and dining hall checkers to a University Professor (political scientist Gary King).
"You all represent just about every dimension of what Harvard does," Faust told the crowd. "We educate more widely, we reach out to more people, we think, rethink, change, improve, all because of you. You've done so much to get Harvard to where it is today."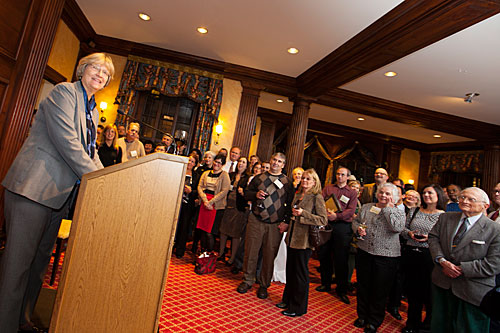 While Faust was quick to praise all the honorees' loyalty to the University, one guest in particular was loyal to Faust herself. George White was working in human resources at the Radcliffe Institute for Advanced Study when Faust, then at Radcliffe, was named president in 2007. He traded 9-to-5 office life to become the manager of Elmwood, the Harvard-owned residence of the president and her husband.
"It was a big career U-turn, and I was sort of torn about what my next step was, but I wanted to be part of her administration in some way," White said. "At first it was a little bit of a shock."
Now he keeps the property up and running for Faust and her visitors, overseeing the 18th-century Georgian that is on the National Register of Historic Places. Maintaining Elmwood's original character is a high priority, he explained: "It's such a historic house, and you have two historians living there."
White's Harvard roots runs deep. A native Cantabrigian, he worked part time at Widener Library during high school and college — where he met his wife, who recently retired from the library after 38 years. ("I think she started at 17," he said.)
"I'm very proud to work here. I think part of that is from being a local," he said. "Harvard's always been thought of as a desirable place to work."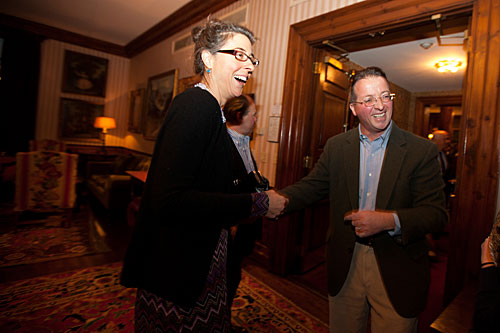 Barbara Wiberg, the Peabody Museum's administrative coordinator, has also kept Harvard in the family. She arrived with her daughter, Kara Colannino, who has worked at the University for 15 years. Over 25 years, the museum staff has become a second family, Wiberg said. She has seen countless graduate students off to Commencement, although at least one of her charges has come back — Daniel Lieberman, now a professor of human evolutionary biology.
"It's a place where you like to go to work in the morning," Wiberg said. "It's never a chore."
Other honorees said their day jobs have allowed them to find new passions. Mick Cusimano, a cartoonist turned head mail clerk at the Harvard Art Museums, has taken 16 graduate courses through the Tuition Assistance Program, including his first video class, which sparked his interest in filmmaking.
"Harvard's enabled me to do a lot of things I wouldn't have done otherwise," said Cusimano, who recently returned from showing one of his comedies at the Cyprus International Film Festival.