The military controls about 15 million acres in the United States. That's down by half from a Cold War peak, but enough that growing American cities and towns are increasingly brushing up against those set-aside spaces.
Landscape architects and historians are awakening to the prospects for this little-studied military acreage, examining what Pierre Bélanger calls "the landscape of defense."
Proof of this awakening came in a recent daylong series of presentations by Harvard Graduate School of Design (GSD) students. Something of a general himself for the day, Bélanger, an associate professor of landscape architecture at the GSD, oversaw the logistics of 24 presentations from GSD 1211, "Landscape Architecture III."
There were 72 students, in teams of three, along with two dozen faculty and visiting reviewers (including reviewers from Belgium, Britain, San Francisco, and New York City).
Piper Auditorium was converted on Dec. 5 into a 10-hour buzzing headquarters of poster walls on wheels, graceful models of terrain, knots of alert students, and watchful experts in folding chairs.
Each five-minute presentation (followed by a 25-minute interrogation by reviewers) was a culmination of months of work. The student projects answered a challenge that Bélanger had posed in September: Design the future of the Massachusetts Military Reservation (MMR).
The reservation brings the landscape of defense to a regional scale. An hour south of Boston, its 22,000 acres occupy about 10 percent of the Cape Cod peninsula, which juts like a claw hammer eastward into the Atlantic. In the lower grip of the hammer is the reservation, a rectangular blot of sandy soil, scrub trees, and marsh bounded by the towns of Bourne, Falmouth, Mashpee, and Sandwich.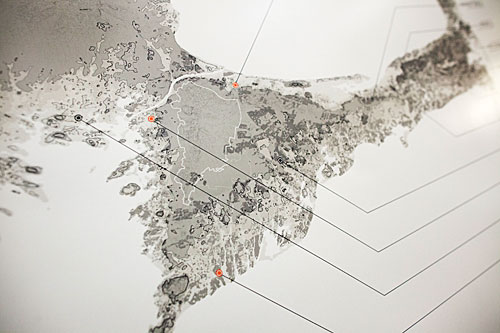 Largest ground training facility in Northeast
The site, now home to five commands for land, sea, and air operations, has existed in some form since 1911. On the eve of World War II it was Camp Edwards, which in four months grew from a sleepy outpost to a small city of 30,000 soldiers. Today, it's still the largest ground force training facility in the Northeast.
As with many military bases, the site also has a legacy of pollution. Pollutants from spills, test burns, and target practice seeped into the ground. Thirteen contaminated plumes of groundwater radiate outward from the Sagamore Lens, an underground formation 300 feet thick that supplies freshwater to most of the Upper Cape. (A groundwater lens, shaped like a convex monocle, is a layer of freshwater suspended above a denser layer of saltwater.) In 1989, the reservation was added to a federal Superfund list of gravely contaminated sites.
The reservation is amid transition. Faced with shrinking budgets, the Department of Defense is searching for a new model for its domestic bases. The MMR is among the bases in a regional planning process that invites ideas for their future.
"The studios are very timely," said Sharon J. Rooney, M.L.A. '86, chief planner for the Cape Cod Commission and one of the two dozen project reviewers. "Who knows what the future will bring?"
The students bring imagination and perspective to the challenge, she said, along with ideas for "integrating civilian uses into the fabric of the base." (There is a county jail on the reservation now, and some shared fire services.)
Included in studying the base is Bélanger's notion that "ecology is a matter of national security." In an age of degraded ecologies, civil protections exist in clean water, untainted soil, and robust biodiversity.
Students were asked to focus on the reservation's "central impact area," the 12,000 most contaminated acres just south of the Cape Cod Canal. Bélanger instructed students to look at ecology as a driver for economics, to look at ways to protect resources and optimize energy use, and to look at the site as a "proving ground" for other U.S. military sites in transition.
Design studios are a crucible in which theory and practice meet. The results that the students presented were imaginative. At least two teams envisioned a place where veterans could transition from military to civilian life — in one case, by living in converted railcars while doing remediation fieldwork. (Rooney liked the idea of the base as a place that could help allay post-traumatic stress disorder.) Other projects envisioned a site for energy experiments with biofuels and algae. (The reservation has many hardy stands of pitch pine, scrub oak, and juniper.)
Other student teams saw the reservation as a place for the military to test camp strategies for tactical exercises, survival practices, and disaster relief. Some envisioned it as a civil engineering laboratory where military experts would construct barrier islands as models of urbanized coastal protection, templates that could be employed on a regional scale in an era of rising seas.
Battalions of plants to aid the environment
Another team envisioned "plant battalions," nurseries for the tree, shrub, and aquatic plant species needed to stabilize Northeastern coastlines.
Others suggested making the contaminated area a "phytolab"—to investigate how plant matter can remediate sullied land and groundwater—or making the area into an outdoor laboratory for robotics, with unmanned machines that could seed, irrigate, or locate landscapes in need of reforestation.
More than one project envisioned a training ground for pilots controlling unmanned aerial vehicles. Such military surveillance and attack technology, after all, could make airborne assessments of ecosystems, or even drop "seed bombs" where needed.
The project "Rights of Way" proposed having the military share the space with civilians. A seasonal clock could schedule times for hunting, hiking, and bird-watching, along with traditional military uses.
Given the site's proximity to rail and heavy industry, another project would augment the poor soil with waste from New England industries, including wood ash and cement dust. Students said the results could be profit and rich topsoil.
In every student project, representation was prized. Wall-size mobile posters looked like works of art. But don't let presentation trump clarity, said one reviewer, echoing others, because "otherwise it becomes more of an aesthetic than a tool."
In some cases, the reviewers also suggested that one project may really be two or three. "Securing Ground," for instance, envisioned a training center for a joint military construction battalion; a testing ground for barrier islands and barrier beaches; a control center for an offshore wind turbine farm; and an alternate emergency evacuation route. This proposal, said a reviewer, "is trying to solve a lot of problems at once."
At day's end, 16 reviewers sat in a line in front of the capacity crowd. The experts were kind, but spoke pointedly too: Present more explicitly; explain your concepts; edit.
From the audience, Charles Waldheim, chair of the Department of Landscape Architecture, marveled at the day's smooth-working teams of three, half of whose members were "civilians" a year ago. (The course includes students grounded in other disciplines before starting at GSD.) "Where are the divorces?" he asked. "Where are the teams that fell apart?"
There were none, agreed Bélanger. "I don't think there was one minute wasted today," he added, "or one breath wasted."
The biggest lesson may have been to remove what Bélanger called the "military shadow" over the process of reinvention. "These are a lot of good ideas," said Rooney, a regional planner and landscape architect with more than a decade of ties to the reservation. "The military are people too."