Internet sites offer help for people suffering from a dizzying array of serious conditions, including: Alzheimer's, Amyotrophic lateral sclerosis, atherosclerosis, autism, brain damage, cancer, cerebellar ataxia, cerebral palsy, chronic obstructive pulmonary disease, Crohn's, diabetes, diseases of the eye, genetic disorders, Huntington's, kidney disease, lupus, muscular sclerosis, muscular dystrophy, Parkinson's, rheumatoid arthritis, spinal cord injury, spinal muscular atrophy, stroke, and Tay-Sachs disease.
There are clinics all around the world — but especially in China, India, the Caribbean, Latin America, and nations of the former Soviet Union — that will provide stem cell treatments for those long-intractable conditions. Never mind that cancer is the only disease category on that list for which there is published, scientifically valid evidence showing that stem cell therapy may help. Thousands, if not tens of thousands, of desperate people are flocking to clinics that charge tens of thousands of dollars for every unproven treatment.
That "stem cell tourism" was the subject of a panel discussion titled "Stem Cell Therapy and Medical Tourism: Of Promise and Peril?" presented Wednesday by the Harvard Stem Cell Institute (HSCI) and the Petrie-Flom Center for Health Law Policy, Biotechnology, and Bioethics.
Brock Reeve, HSCI executive director, introduced the topic by pointing out to those attending the session in Harvard Law School's Austin Hall that there is medical tourism, and then there is medical tourism. After all, Reeve noted, patients flock from all over the world to the Harvard-affiliated Massachusetts General Hospital, Brigham and Women's Hospital, Dana-Farber Center Institute, and other Boston research hospitals for cutting-edge, scientifically validated treatments for a host of diseases.
But then there is the other kind of medical tourism, and every member of the panel agreed with speaker Timothy A. Caulfield, the Canada Research chair in health, law, and policy at the University of Alberta, when he said that the stem cell tourism phenomenon "hurts the legitimacy of the entire field" of stem cell science and medicine.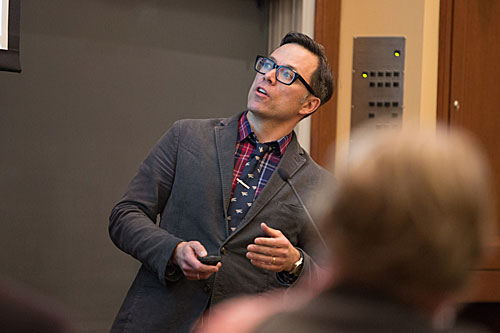 While adult stem cells have been used for decades to treat a number of malignancies — bone marrow transplants are, in fact, blood stem cell transplants — those treatments, said George Q. Daley, the Samuel E. Lux IV Professor of Hematology/Oncology and director of the Stem Cell Transplantation Program at Children's Hospital Boston and Dana-Farber Cancer Institute, are the only stem cell treatments that are not experimental.
Daley, a member of the Harvard Stem Cell Institute's executive committee and past president of the International Society for Stem Cell Research, added that "we are seeing a growing number" of legitimate clinical trials, "but all such uses are experimental … and there is great skepticism as to whether we have" the scientific knowledge and basis even to "predict that these will be effective." It may, he said, take decades before there is certainty.
But the overseas clinics selling stem cell therapy for a sweeping catalog of diseases aren't offering patients places in clinical trials. They are touting what they claim are established treatments, with proven results. Caulfield and his colleagues in Alberta have conducted a number of studies on what is being offered at the overseas clinics, what claims are being made, who is seeking the treatments, and why. He said that the treatments are offered as safe, routine, and effective, but "none of what is being offered matched what the scientific literature said." He accused the clinics of "financial exploitation" of desperate people, and said those who raise money to finance pilgrimages to them are "raising money to turn over to a fraud."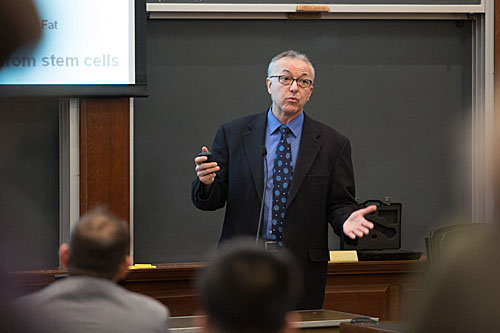 I. Glenn Cohen, an assistant professor at Harvard Law School and co-director of the Petrie-Flom Center, suggested that one way to slow stem cell tourism could be to prosecute for child abuse when the treatment involves minors. "This falls under existing child-abuse and neglect statutes," Cohen said.
"I am sympathetic to parents" who believe they are helping their children, he said, suggesting that pediatricians in the United States should first try to convince parents to agree to the use of proven therapies, next try to dissuade them from using unproven therapies, then threaten to report them to the authorities, and, when all else fails, report them.
One member of the panel was at a far remove from stem cell research, patient treatment, and science.
So it came as little surprise that Jill Lepore, David Woods Kemper '41 Professor of American History and chair of Harvard's History and Literature Program, came at the issues from a very different perspective. "I don't have patients," Lepore said, "I have characters." She then proceeded to tell the story of Robert Ettinger, who for decades ran the Cryonics Institute outside Detroit, which offered its clients the hope of eternal life by freezing their brains after death until some future time when the condition that claimed their lives could be cured.
Lepore pointed out that the institute recently was reclassified a "cemetery" by the state of Michigan. She said there is a kind of "faith in science that draws" some people to any promise of a cure for disease, no matter how specious. What fuels this false hope, she said, is "one of the most dangerous elements of our culture: that we have forgotten how to die."