When alumna Danielle Thiriot '07 returns for the Harvard-Yale game (aka The Game) on Saturday, she'll have one of the best seats in the house. Above the house, in fact, and traveling at 300 knots, about 345 mph.
The Navy lieutenant  — call sign "Purple" — will be one of two pilots conducting a U.S. naval pregame flyover, immediately following the playing of the national anthem. Thiriot attended Harvard on an ROTC scholarship and was commissioned the day before she graduated from Harvard.
"We're able to do very dynamic flying, things nobody else can do," said Thiriot, who will pilot an F/A-18E Super Hornet jet over Harvard Stadium. "I'm lucky to be able to do it. It's one of the best jobs in the world."
In addition, Secretary of the Navy Ray Mabus, who graduated from Harvard Law School with a J.D. in 1976, will attend the game. At halftime, the secretary will participate in an on-field recognition ceremony with Harvard President Drew Faust, Thiriot, and the second pilot of the flyover, Lt. Camille "Pinc" Wilson.
"Excepting West Point and Annapolis, Harvard University has, in its ranks of graduates, the most recipients of the Medal of Honor in this country," said Mabus. "Our country today may debate the purpose of a war, but is united in the support of the warriors who fight. I am proud to have been a partner with President Drew Faust in bringing ROTC back to Harvard — it is one of the great delights I have had in this job. Both partners, Harvard and the military, have benefited mightily from this partnership. The military should be representative of the country it protects, and a great university and its students should be exposed to the fullest range of ideas, experiences, and perspectives."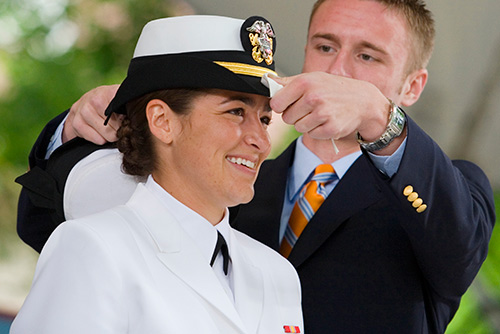 Taking place just a few days after Veterans Day, events at The Game will also recognize the service of other military men and women. At the end of the first quarter, all attendees who have served, as well as all active members of the military, will be asked to stand and will be recognized for their service to the United States.
"It's great that Harvard will acknowledge the service of those men and women in this way," said Thiriot. "I had a wonderful experience at Harvard and made lifelong friends here. Harvard has such a rich military history, and I'm proud to be able to come back this way and be part of it."
Join the Harvard community in celebrating the 129th playing of The Game. Kickoff is noon Saturday at Harvard Stadium. For game information, visit gocrimson.com.