When Carmen Fields' future husband asked her to meet his mother, Fields refused. "No way. I didn't want to be the reason she opened up the front door and dropped the Easter ham," she told a Harvard audience on Wednesday.
An African-American whose spouse is white, Fields knows from experience that life in the United States holds unique challenges for mixed-race couples and their children.
Fields and fellow panel members — among them College junior Eliza Nguyen — addressed some of those issues during a discussion called "American Masala: Race Mixing, the Spice of Life or Watering Down Cultures?" at the Student Organization Center at Hilles.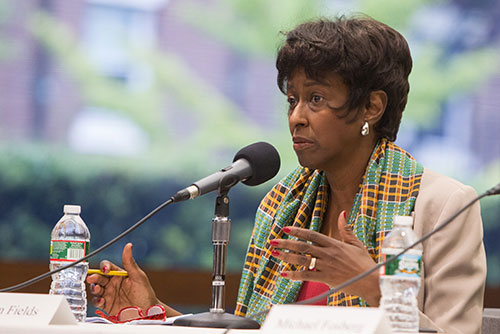 Nguyen, president of the Harvard Half Asian People's Association (HAPA), distinctly remembers the moment it dawned on her that she was neither white, like her mother, nor Vietnamese, like her father. "I was in the fourth grade, taking a standardized test. And they had that box you were supposed to check off." There was no box for biracial, and she was instructed to check only one. Nguyen, perplexed, asked her teacher which box to check. She was the only nonwhite student in her school. "Asian, of course," her teacher told her. "I was confused," said Nguyen. "Who am I?"
Questions of race and identity have intrigued Michael Fosberg since his early 30s, when he found out that his father was African-American. Fosberg, who grew up in a white family in a working-class suburb of Chicago, decided to track down his biological father after his mother and stepfather divorced. He had little notion of what lay in store. "I'm sure there are things your mother probably never told you," Fosberg's father told him by phone. "I'm black."
"From there, the door just flung open to my biraciality," said Fosberg. "I immediately embraced my black family. And had all these amazing experiences with them … this family is part of who I am." Fosberg travels the country performing his one-man play, "Incognito." The play, along with a memoir of the same name published in 2011, attempts to open a dialogue on race relations and the meaning of racial identity.
Despite the efforts of Fosberg and others, mixed-race couples and their children often face crises of personal identity and isolation — sometimes bigotry and the threat of violence.
"It wasn't that long ago that interracialism was dangerous," said E. Dolores Johnson, a Harvard Business School grad who is writing a book about her parents' experience in a biracial community in Buffalo.
When Johnson's white mother married her African-American father in Indiana in the 1940s, she boarded a train for Buffalo, never to return, fearing for her family's safety.
At the time there were anti-miscegenation laws on the books in most states, and Indiana's Ku Klux Klan membership was among the highest in the country. "Ninety-six percent of people couldn't abide by any race mixing at all," said Johnson.
But beyond this devastating racial history, there is hope. Nguyen finds that young people have the ability to talk openly about race. Fields views her daughter as a "bridge child," who sees past differences among groups. "And we have an opportunity, as mixed-race people, to forge these bridges," added Fosberg.
The Faculty of Arts and Sciences Office of Diversity Relations sponsored the event. Fosberg performed "Incognito" earlier in the day, also at the Student Organization Center at Hilles.