At Sanders Theatre this weekend, a mother explained that she had cooked a special breakfast for the whole family to share together on her daughter's first morning home — a plan that was derailed when her daughter slept until 1:30 p.m.
"I'm just thrilled that you're eating it now," the mother said.
"Thanks," the daughter said, mumbling through giant forkfuls of the homemade meal. "Actually, waking up now is perfect, because I'm meeting Brianna at 2 p.m."
"Oh," the mother said dejectedly. "Well, what time will you be back?"
"Um … tomorrow?"
Sanders Theatre erupted in a sympathetic roar of laughter. The onstage presentation, performed by Katherine Damm '13 and Ezra Stoller '15 — both members of Harvard's improvisation group, the Immediate Gratification Players — clearly resonated with the audience of parents on campus for Freshman Parents Weekend.
The student-improvised scenes were included to help parents better understand the challenges their teens face as new Harvard students, not only adjusting to life on campus, but also to life when returning home. A panel of Harvard administrators addressed the themes illustrated during the presentation.
"I think part of what the daughter was trying to get across in this exchange is that freshmen feel like they really change during these first few months at college," said panel member Anya Bernstein Bassett, director of undergraduate studies and senior lecturer in social studies. "They want to convey that they feel really different, and I think the acknowledgment of that can be huge."
During her welcome remarks, Harvard President Drew Faust thanked parents for trusting their children to the University.
"The span of time between move-in weekend and this weekend has probably felt infinitesimal and infinite," Faust said. "Over the past few weeks, your sons and daughters have embarked on educational journeys like none they've taken before. I want your children to feel comfortable here, to find their connections, and to use those connections of feeling truly at home here. But at the same time, I want your children to feel comfortable with being uncomfortable: to embrace ever-present opportunities to upset the notions of who they are as they imagine the possibilities of who they can become. This, in my mind, is one of the great strengths of a liberal arts education — taking risks and striking off in unexpected new directions."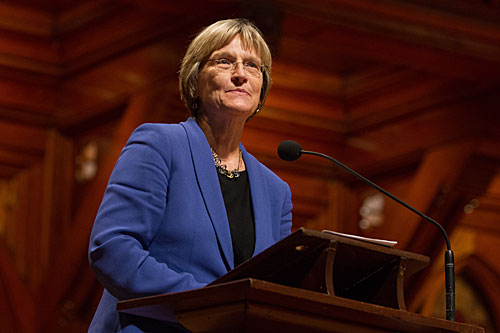 Evelynn M. Hammonds, dean of Harvard College, invited parents to learn more about the many Harvard communities available to their sons and daughters. "By now, your children are starting to settle in at the College," Hammonds said. "By the end of this weekend, I hope you will also start to feel more comfortable with their new world, and have a better idea of what it has to offer them. Harvard is a big university, but there are many small communities within it, places where students can feel known and accepted."
During his keynote address, Richard Light, the Carl H. Pforzheimer Jr. Professor of Teaching and Learning, shared several suggestions, gathered from 1,600 Harvard students over 10 years, on making the most of the opportunities at Harvard. Light's book on these interviews, Making the Most of College: Students Speak Their Minds, donates all proceeds to student scholarships at Harvard.
Light said that he encouraged students to get to know one Harvard faculty member each semester. "Even if you only succeed half of the time, by the time you graduate, you will know four or five Harvard faculty members reasonably well," Light said. "Those faculty members may be willing to write letters of recommendation for graduate school, scholarships, or other opportunities down the road."
Light also shared that students who felt the most satisfied with their student experience their first year were those who took only some required courses. Those who stepped outside their comfort zones and explored new academic fields of interest, he said, reported the highest satisfaction with Harvard's academic challenges. Another key to success at Harvard, Light said, was time. In his role as an adviser, he said, "One of my students told me, 'Here at Harvard, time is my most precious commodity.' " Light added, "I tell my students to be productive: Don't just 'hang' or 'chill.' "
At the end of the keynote lecture, the crowd of parents took that advice themselves, gathering their coats, enthusiastic to explore more of the campus that their sons and daughters now call home.