As the sun broke through cloudy skies for the first time in days, a group of Harvard students rolled up their sleeves and joined forces with staff and administrators to make Harvard Yard a more beautiful space on Friday.
For the second consecutive year, Harvard's landscaping staff brought trees, shrubs, boxes of bulbs, and a new bench to Harvard Yard. With their help, students, proctors, and administrators transformed the space into a more inviting setting.
This year, the Freshman Dean's Office, which coordinates the event, selected the area around Holden Chapel, Lionel Hall, and Mower Hall for some sprucing up. A $3,000 contribution from a Harvard College fund, which was presented by College Dean Evelynn M. Hammonds, made the project possible.
"We had areas of the Yard that we just felt could look a little better, and we wanted students to have a chance to feel involved with their environment," said Dean of Freshmen Tom Dingman, as he dug a hole for a tree outside the entrance of Holden Chapel. "It's a great way to meet other classmates, make an impact, beautify their new home … and get their hands dirty."
Outside Holden Chapel, freshman Rosalie Nathans dug a hole for a shrub while fellow freshman Mica Yoder planted some bulbs. "I saw it was supposed to be a beautiful, sunny day, and thought it would be a great way to get outside," Nathans said as she drove her shovel into the dirt. "It's cool because they're giving us the plants, but encouraging us to decide where to put them, and how we'd like it to look. So when my mom visits, I can show her all the things we planted. It's a nice way to make things look a bit more spiffy."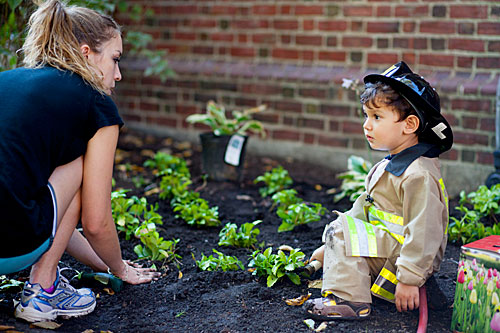 Outside Lionel Hall, several freshmen worked with groundskeepers to plant winterberry holly shrubs and Japanese tree lilacs. "It's such a nice day, so why not help out?" remarked Mason Barnard '16. "I did landscaping as a summer job through high school in Colorado — so for me, it's not just fun, but also kind of nostalgic. In a way, we're making our own contribution to the Yard."
Freshmen Harry Hild and Dominic Akandwanaho agreed that the event was worth taking time out of their schedules. For Akandwanaho, the project was an opportunity to give back. "I'm from Uganda, and did things like this often when I was in high school," he said. "It was a great chance to make a difference — especially during my first year here, I really wanted to contribute."
Landscape Services employee Mark Muniz, who has been working at Harvard for 11 years, said the students' involvement reflected their personal investment in the College. "I think it's great," he said. "Most colleges, students wouldn't necessarily want to pitch in like they do here. But these students have enthusiasm. They really take the reins; they want to make a difference."