Wearing a hot-pink wig, Zippy the clown, otherwise known as Julie Zauzmer '13, was encircled by children at the Community Football Day tent in front of the Murr Center, where Harvard last Saturday hosted lunch and activities for Cambridge and Allston-Brighton residents during the 23rd Community Football Day.
More than 1,000 neighbors turned out to mingle with each other and with Harvard staff members and then soaked in the Crimson football experience under a brilliant blue sky, complete with crisp fall breeze.
Zauzmer, who was fashioning balloons into objects, mused, "I've never made a football before," after a boy placed his order.
But she got the job done and handed the balloon ball to the boy. "It's shaped like a blood cell! Hey, I'll give it to my science teacher," he said, trying a toss.
Zauzmer, who is part of the Harvard student group Class Clowns, volunteered her time for the day.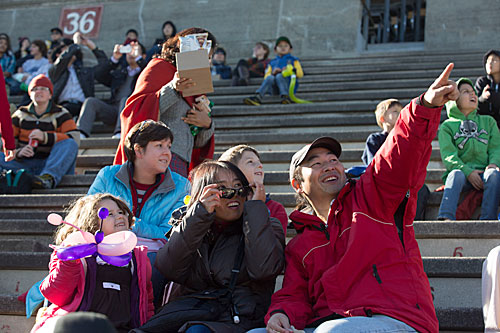 The football team took the field, and the Harvard Band played a rallying tune. Neighbors young and old migrated to the grassy quad to enjoy the music as the band performed for them.
Juliette Cloutier, 4, of Cambridge, joined the throng, joyfully bobbing up and down with the music. It was her first football game, and her mother's first since high school.
During the game, the Harvard football team rolled to victory over Bucknell University, 35-7.
Harvard students and neighbors were front and center on a day that has become a rite of fall at the University, which hosts in partnership with Harvard Athletics.
"Each year, Harvard invites its neighbors to experience one of the great things about college life — football in the fall," said Christine Heenan, vice president of Harvard Public Affairs & Communications. "We want our neighbors to come on campus and take part in the unique activities and events that Harvard offers."
"It's a very festive day," said Nicole Cloutier, who lives near campus. "It's really nice to have Harvard as a neighbor. It feels like our neighborhood. We're always walking through the Yard."
In addition to Community Football Day, Harvard Athletics will host six winter sports events that are free for Allston-Brighton and Cambridge residents: men's hockey versus Bentley on Oct. 27 at 7 p.m.; women's hockey versus Cornell on Nov. 24 at 4 p.m.; men's basketball versus Holy Cross on Dec. 22 at 2 p.m.; women's basketball versus Dartmouth on Jan. 12, time to be decided; women's hockey versus Yale on Feb. 8 at 7 p.m.; and women's basketball versus Yale on Feb. 23 at 6 pm. For more information, here's a link.