Thousands of Harvard College students flocked to Tercentenary Theatre in Harvard Yard on Friday, but instead of heading into classrooms or libraries, they raced through inflatable labyrinths, drenched Harvard administrators, and danced on the "boardwalk."
Coordinated by the College Events Board, a student-run organization, the "Welcome Back Event" greets new and returning students with an outdoor festival. This year's event transformed Harvard Yard into a carnival, complete with a bounce house, dunk tank, games, music, and carnival food.
Just outside Widener Library, Melissa Naidoo '13 was celebrating her birthday by racing through the bounce house against Currier House blockmate Nadia Farjood '13. "The Welcome Back is an awesome event. I come to it every year," Naidoo said. "It's such a great way to start the semester. You see students from all the Houses, and run into people you haven't seen all summer. As the night progresses, I'm sure I'm going to find at least 12 people I haven't seen yet, so I'm really excited."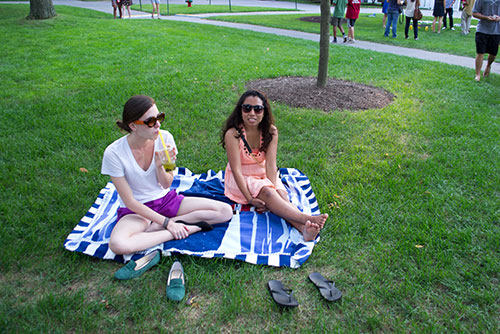 "There are few opportunities for the entire College to come together as a community," said Evelynn M. Hammonds, dean of Harvard College. "The College Events Board does a terrific job of organizing this and other events every year. It's a perfect way for us to welcome all our returning students back to campus and to introduce our new students to life at Harvard."
Across Tercentenary Theatre, David Kilstein '16 was the first to successfully submerge David R. Friedrich, assistant dean of Harvard College for student life, in the dunk tank. Kilstein celebrated his victory with some fried dough.
"I played baseball throughout elementary and middle school," he said of the throw that sent Friedrich into the water. "It felt good to be able to draw on my glory days."
At the beanbag toss, Miriam Psychas '13 and Laura D'Asaro '13, both of Kirkland House, enjoyed the chance to reconnect. "Welcome Back is a fantastic event," D'Asaro said. "It's one of my favorites of the whole year. Harvard students get to do things like jump on bounce houses and play games. It takes you out of the academic world for a minute, and we can just have fun."