At the Harvard Divinity School's (HDS) convocation Thursday, new Dean David Hempton drew on the memory of violence he has witnessed to offer hopeful visions for the future. During a moving keynote address, Hempton reflected on religious and ethnic conflict, and suggested ways to move beyond it.
Hempton, a prominent scholar of global Christianity and Harvard's Alonzo L. McDonald Family Professor of Evangelical Theological Studies, described how he arrived at Queen's University Belfast, Northern Ireland, in 1970, as sectarian violence between Catholics and Protestants engulfed the city. He said his "almost surreal memories" of those years are filled with images of revenge killings, masked men armed with automatic weapons, bombings, armed soldiers, armored cars, and "a seemingly endless succession of funerals."
"There were many times that I wished I was somewhere else," said Hempton. "It was, however, a remarkably formative experience. It was an environment that demanded attention, serious thought, and critical self-reflection."
Hempton modeled his speech after Errol Morris' documentary "The Fog of War." In that 2003 film, former Secretary of Defense Robert McNamara offered his views on modern warfare. Hempton titled his own observations "The Fog of Religious Conflict: Eleven Reflections from a Conflict Zone."
Such conflicts are more complicated than people realize, even to the so-called experts, said Hempton, and involve religious and ethnic stereotyping. Violence radicalizes people, he noted, and social and economic suffering stokes such unrest, as does a "zero-sum game" mentality for those who, feeling threatened, often see their only option as a fight to the death.
"People who see no options for themselves," he said, "are people without options."
"Peacemaking needs to be backed by considerable economic resources," said Hempton. It also requires "wise and morally courageous religious leaders" at all levels, and the knowledge that "very occasionally, the human desire for peace and justice surprises you."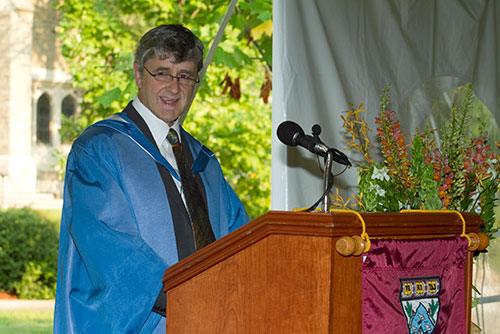 Hempton also suggested how his reflections could be used at HDS and throughout the University. Be informed, he encouraged his listeners, "be religiously literate not just in a forensic way, but globally engaged and morally committed." Hempton urged his listeners to partner with colleagues in other Schools and departments to learn from each other.
"Don't be condescending to those in difficult situations," he added, and don't assume the world would be better off "without religion altogether."
As a final piece of advice, he encouraged the crowd to be "actively engaged peacemakers at every level and in all aspects of your lives, here and in the future."
"Refuse to stereotype," said Hempton. "Think creatively about how religion works in the world, and use all your talents."
Hempton, who as a student majored in history, said he initially planned to study English at Queen's University Belfast, where famed poet Seamus Heaney was a young lecturer in the English Department. In a fitting tribute, Hempton concluded his talk with a nod to the Nobel laureate in literature and onetime Harvard professor, whose "family tradition in Northern Ireland, as it happens," Hempton said, "was on the other side of mine."
Hempton read an excerpt from Heaney's "The Cure at Troy":
So hope for a great sea-change
On the far side of revenge.
Believe that a further shore is reachable from here.
Believe in miracles
And cures and healing wells.