"The power of fun to make an impact is incredibly underappreciated," said Kirkland House resident Laura D'Asaro '13 as she reflected on her latest offbeat, record-setting achievement: building the world's largest cardboard box fort in the MAC Quad on Harvard's campus.
The idea for the temporary fort came to D'Asaro during her sophomore year when she saw how many cardboard boxes went to waste after the annual student move-in. She brainstormed the idea of the box fort as a creative way to highlight the serious issue of waste.
What does it take to build the largest cardboard box fort? Try 1,081 boxes, more than 100 students, and six hours. At the end of the day, the fort measured almost 8 feet high, 77 feet at its widest point, and came in at 150 boxes more than the old record held by the University of Nevada, Las Vegas.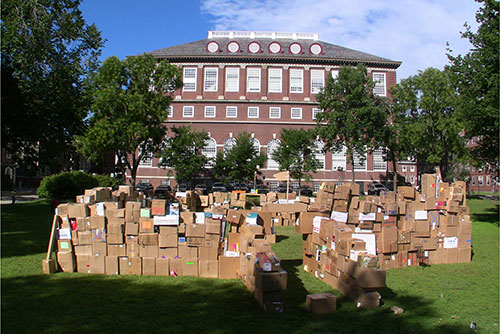 D'Asaro and her fellow Kirkland residents had broken the record last year with a 566-box fort. However, later in the year both Brigham Young University and the University of Nevada, Las Vegas, broke the record, prompting D'Asaro to try again. Students sought to expand the effort schoolwide this time around by partnering with custodians and Harvard Recycling, and reaching out to students in all of Harvard's undergraduate housing to collect enough boxes to build the biggest fort.
"When students and custodians had an opportunity to participate in setting a world record, it was one more reason to save boxes from being wasted," said Rob Gogan, manager of recycling and waste services at Harvard Campus Services. "It was fun to watch the pride with which students who had donated boxes pointed out to their friends where their boxes fit in the overall fort. I hope we can mobilize another student to pick up the torch next fall after Laura graduates."
On Sunday at 10 a.m., D'Asaro began by standing "in a sea of boxes and wondering what I had gotten myself into." Eventually, more students began arriving and two groups were organized to build the fort: an assembly committee to put the boxes together and a construction committee to build the fort. A labeler wrote numbers on each box so the group could keep track of how many boxes were used, and the event was filmed for verification. The students will submit the video, photos, and other details to RecordSetter, a website that tracks world records (recordsetter.com). They expect to have the record verified quickly.
There was no particular approach to building the fort, leading some students to add their own unique architectural features, including rooms, pyramids, and turrets. Cheering ensued at every 100-box milestone. And once the fort was constructed, a few students enjoyed dinner in their new creation before breaking the boxes down for reuse.
"I daydream about doing things differently and look for creative ways to make a difference," D'Asaro said. "Making this a schoolwide event brought people together who wouldn't normally meet," she said, adding that she's thinking of new ideas for the coming year, including a project focused on Earth Day.
Breaking unusual records is nothing new to D'Asaro, who as high school junior broke the world record for speed-crawling a mile. As part of that crawl (which took 22 minutes and 4 seconds), she raised more than $5,000 for the American Cancer Society. The lesson that individuals can make a difference first came at 15 when D'Asaro raised $13,500 to rebuild a local playground by selling lemonade and cookies.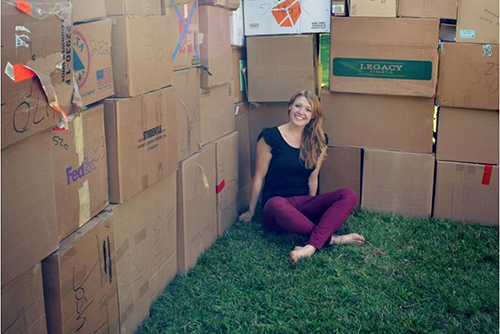 The box fort effort also goes to show, through a whimsical example, how deep Harvard's commitment to sustainability runs. After taking apart the fort, volunteers from the Environmental Action Committee (EAC) planned to flatten and re-cover the boxes for sale at May's move-out period, helping to reduce waste. Last spring, the EAC raised more than $1,000 through sales of used boxes.
"Collecting supplies for the box sale is a huge group effort that takes weeks, if not months, of planning," said student Kristen Wraith, EAC board official. "With Rob and Laura's help, we were able to get more than enough boxes for our sale in a matter of hours. This will be a huge help next semester and will allow us to focus our efforts on our different campaigns. The EAC's time line is always tight in the spring, and now it's as it we've been gifted weeks of newfound time."