Action that defines faith. Belief that encourages discussion. Joyousness that allows for the occasional bout of existential angst. These themes ran through the first service of the fall term under the direction of the Rev. Jonathan L. Walton, the new Pusey Minister of Harvard's Memorial Church.
As sunshine streamed through the windows, Walton, who is also the Plummer Professor of Christian Morals in the Faculty of Arts and Sciences and professor of religion and society at Harvard Divinity School, delivered the "Freshman Sunday" sermon. He discussed the writings of the Apostle James and spoke of a faith unbound by church walls, a belief expounded in calls for Christians to tend to the physical, as well as spiritual, needs of their community.
"Faith as defined in this epistle is not a mere cognitive assent to a belief in a divine being," said Walton, who succeeded the late Rev. Peter J. Gomes in the influential pulpit. "Nor should faith be conceived as blind allegiance to a perceived sacred yet illusive reality. No, … such conceptions of faith are as morally vacuous as they are ethically inept. Rather, James is referring to faith in a sacred reality that reveals itself in human activity."
Belief is revealed by action, Walter said. "It does not matter if Christianity is true, but rather can we, as those informed by the teachings of Jesus, make it true. Hence at the end of the day, our faith is not something to be professed, as talk is cheap, but something primarily to be done."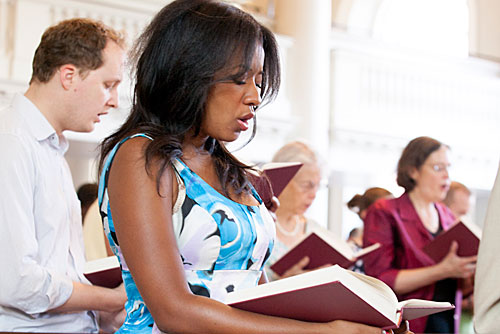 Walton mixed spiritual texts, historical references, and homespun advice in his debut sermon, titled "Why Do We Matter?," and his tone was both formal and intimate. The Scriptures, he said, urge us to be quick to listen and slow to speak.
Prof. Jonathan L. Walton - Why Do We Matter?
Professor Jonathan L. Walton's sermon on the Fourteenth Sunday after Pentecost, Freshman Sunday, September 2, 2012, in the Memorial Church.
For Walton, religion is an intellectual as well as spiritual exercise. He challenged those who make the assumption that all Christians "check their brains at the door" or are anti-science, anti-historical, and anti-intellectual. "This is not what is advocated in this church," he asserted.
The Memorial Church, he declared, is a place to educate minds and expand hearts. The church should participate in institutional dialogues and cross-cultural exchanges among Harvard's various religious groups. The church is also a vehicle for action. Last year, the church extended financial assistance to nearly 50 local agencies; contributions to community services exceeded the year's total collected from the Sunday morning offerings, Walton said.
Walton especially reached out to Harvard freshmen and other campus newcomers, calling on the community to make them welcome. "As the Torah teaches us, 'Do not mistrust the stranger or oppress the stranger, for you were once strangers in the land of Egypt … and freshmen in the College department.' "
Newcomers, while excited to be at Harvard, may be nervous and worried, he said. "Let them know they are still OK. Let them know that even at Harvard, it's OK to wrestle with doubts and insecurity and moments of despair. For woe unto the community who denies their own human frailty, engages in self-deception, and thus normalizes the culture of callousness."
He noted, "This is the season of excitement, joyous anticipation, and yes, even at times, existential angst."
The Memorial Church's steeple, visible throughout Harvard Yard, is more than just a geographic landmark for finding your way, he said. Whenever you are spiritually lost, "You come to Memorial Church, for there is somebody here who knows who you are and can get you exactly where you need to be."
Tabitha Salomon, a first-year Harvard Business School student attending her first sermon at the church, said she enjoyed the experience. "Faith is a big part of my life. I'm trying to find the right church that will help me on my spiritual path," she said. "Also, the voices of the Harvard choir were angelic."
Meg Barrow '13 and Annie Morgan '13, both residents of Dunster House, have been attending the Memorial Church services since they were freshmen. "We loved the service. It had such a great energy to start off the school year," Barrow said.
"He fits into the community here," Morgan added.