With the hustle and bustle of move-in day behind them, Harvard College freshmen looked more settled into their new surroundings as they filed in for the University's annual convocation on Tuesday.
But as President Drew Faust acknowledged, the Class of 2016 was just beginning to experience a whole new sense of disorientation, "a moment when you realized that your arrival here was no longer about where you've been or even where you are now, but where you are going."
"We already know that when it comes to succeeding, you are all experts," Faust told her young audience. "But your four years here are going to give you a whole new sense of what success means."
Faust and a host of University leaders gathered with the College's newest class to formally welcome them to Harvard. Although convocation is a relative infant in terms of Harvard traditions — it was first held in 2009 — each speaker took the opportunity to introduce the incoming class to the 376-year-old legacy of liberal arts education and free inquiry that precedes them.
"For the next four years, we are here to help you become comfortable with being uncomfortable," Faust said. "One of the reasons why you are here is that we recognized your capacity for leaving your comfort zones."
Not to be felled by rain, the ceremony was moved from its usual location in Tercentenary Theatre into the Memorial Church and Sanders Theatre. (Connected by video, the day's speakers were split between both venues in the interest of fairness — "one of Harvard's values," Dean of Freshmen Thomas A. Dingman said.)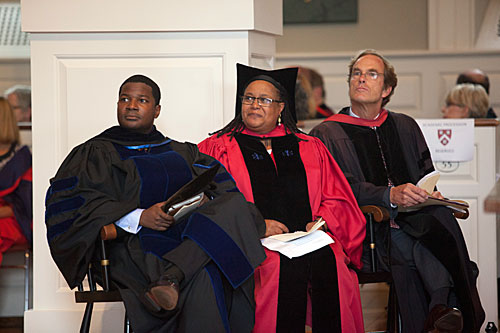 The Rev. Jonathan Walton, the new Plummer Professor of Christian Morals and Pusey Minister in the Memorial Church, began the event with an invocation. He wished freshmen "strength and courage to embrace the infinite possibilities that the future holds, even as we remain humble," as well as the ability to "face down the existential angst that such opportunities may bring."
A large part of that angst comes from a natural impulse to compare oneself with others, said Michael D. Smith, dean of the Faculty of Arts and Sciences and John H. Finley Jr. Professor of Engineering and Applied Sciences.
"Don't compare — connect," Smith urged. "Get up after class and talk to your classmates; reach out to your professors and your teaching fellows. Make connections here and now that will last you a lifetime."
After all, he added, Harvard's strength as a major research university stems from the fact that it "connects people, and in doing so shapes what we know, who we are, and how we make our impact on the world."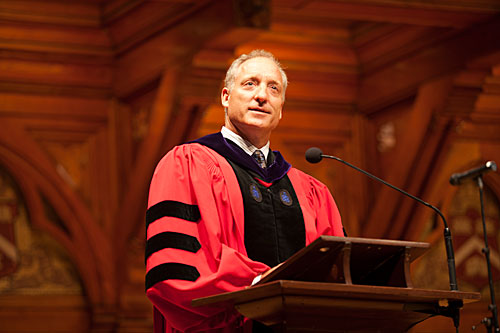 If those new connections spawn discomfort, that's the point, said Evelynn M. Hammonds, dean of Harvard College and Barbara Gutmann Rosenkrantz Professor of the History of Science and of African and African American Studies.
"Our goal is to make you alert to the human and natural worlds, and to prompt you to be self-critical, creative, and analytical," Hammonds said. "We hope your assumptions will be uncomfortably challenged. We hope you'll feel unsettled by your encounters with different cultures, different traditions, and new ideas, and we expect you to be curious about it."
Quelling the sometimes-intimidating rhetoric, College senior Peggy Walenda Mativo shared her Harvard experience with the Class of 2016. In her path from shy Kenyan boarding school student to Harvard undergraduate, she was reminded of a Swahili proverb from her childhood: "If you want something that's under the bed, then you have no other option than to bend and root for it." She described her slow and faulting process of finding the courage to seek out mentors in the natural sciences and in laboratory work, where she discovered her passion for research.
Like the proverbial shoe under the bed, "People who want to connect with you are out there," Mativo said. "All you have to do is reach for them."
Students also heard from Harvard Alumni Association President Carl Muller '73, J.D. '76, M.B.A. '76, who led them in a rendition of "Fair Harvard," and heard performances by the Kuumba Singers, the Harvard University Band, and the Holden Choruses.
In an afternoon filled with thoughtful guidance, perhaps Faust had the best tip of all: Don't forget to trust your own instincts.
"Sometimes the way you will find your way is by not taking others' sage advice," she said.