On a warm summer evening, 30 high school students from the greater Boston area gathered for the Crimson Summer Academy's (CSA) annual poetry slam, raising their hands high in the air or leaping to their feet and snapping fingers enthusiastically to show their support for their peers.
The young scholars spend three consecutive summers on the Harvard campus, amid a stimulating mix of classes, projects, field trips, and cultural activities to achieve their dream: success at college.
"The mission of the program is to help talented, low-income high school students gain access to first-rate colleges and universities," said Maxine Rodburg, director of the CSA, who has directed the program since its inception in 2004. "From 8 a.m. to 5 p.m., Monday through Friday, they attend classes, and we schedule special events for a few nights per week. Student success results from building a strong community, so we've built a culture in which people can get to know each other well and encourage each other."
While the average family income of most scholars is just $28,000, all 158 CSA graduates have gone on to attend college, and 94 percent complete their degrees in four years. Some scholars have even attended Harvard.
"The Crimson Summer Academy's long-term investment in our youth is life changing," said Jeffrey Young, superintendent of Cambridge Public Schools, "and the Cambridge Public Schools are proud to be collaborating with Harvard on this very important project."
"One hundred percent of CSA Scholars are attending college today, regardless of family income, cultural background, or challenging circumstances," added Young. "Through this program, Harvard has given local students the tools, skills and confidence they need to achieve the goal of going to college and pursuing their dreams."
At the slam, student Tyler diBenedetto's poem brought the crowd to its feet with cheers and snapping fingers. A sophomore at East Boston High School, this is his first summer with CSA.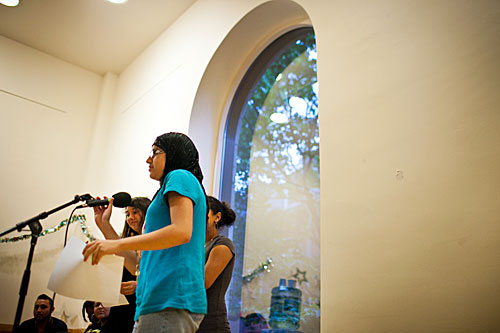 "CSA is an amazing program," diBenedetto said. "It really gives kids who don't have the opportunity to go to private schools the chance to get ahead of the game. The courses we take here are already advanced, so that will help us through high school. And after high school, we get a grant toward college. But that doesn't even touch on the relationships we're building here, and that's the best thing about the program: the people. The community is so strong, and that's what makes it such a rewarding, powerful experience."
Along with the CSA scholars, more than 20 college undergraduates — seven of whom this year are CSA graduates — serve as mentors, working and living alongside the scholars and living with them during the summer. "We stay in very close touch with all our graduates," Rodburg said,  "before they enter college, during their college years, and even after college. We have a very strong network of alumni."
"I was part of the first cohort of students with CSA in 2004," said Jide Olanrewaju, an alumnus at the poetry slam to lend his support. Olanrewaju, who was at Cambridge Rindge & Latin School, said, "I remember it was a very exciting opportunity, and a very different atmosphere from high school. I came here for three summers as a scholar, and then won a grant that allowed us to come back as junior mentors to the incoming scholars. "
Olanrewaju, who studied architecture and urban design at Hampshire College and graduated in 2011, said, "CSA was fundamental in my going to college," he said. "Just the exposure of learning at Harvard and seeing that there's much more to the world, that there are so many opportunities and resources for you to develop your dreams, that is what it's all about. There's a sense of connection, belonging, and community in these relationships that you've built over the years — a sense of guidance. This program has given me a sense not only of the importance of education, but also giving back."
CSA mentor Suryani Dewa Ayu '15, who graduated from CSA in 2010 and performed her own poem at the slam, said CSA was pivotal in her attending Harvard.
"CSA is a family," Ayu said. "It's a network of people who really support each other, who are constantly in contact, checking up on you, encouraging you, and seeing how you're doing. It's such a phenomenal program, and I'm so glad to be back here, interacting with the kids."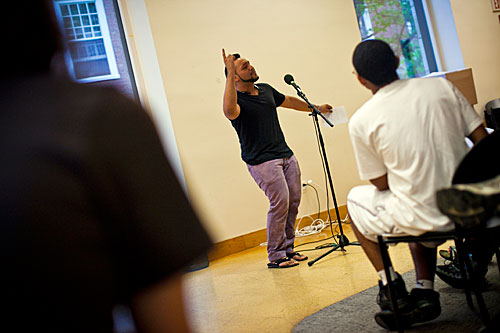 Jiovani Robles, a 2009 CSA graduate, a senior at Wesleyan University, and a 2012-13 Gates Millennium Scholar, is a CSA mentor this summer and emcee of the poetry slam. "CSA is a program that really pushes you," he said. "It allows students to really think about what they want to do for the future and helps them think for themselves. And by bringing them onto the Harvard campus, it exposes them to college life.
"The people in this program are a real inspiration," he said, looking around the crowded room. "This is a whole new generation of scholars. I'm so impressed with the work they did tonight, and the passion that they have for the program and each other."