In a summer clouded by the lingering bleak teen employment outlook, Harvard University worked hard to break the trend.
Last year reflected the lowest teen employment rate in the history of the United States since the post-World War II era, according to a study from the Center for Labor Market Studies at Northeastern University. The summer jobs outlook for 2012 was also described as "not very bright."
In light of this, Harvard employed more than 150 teenagers from Boston and Cambridge to work throughout the University — in its programs, departments, and Schools.
To celebrate the end of the season, Harvard Human Resources and Harvard Public Affairs & Communications hosted a party on Aug. 15. Together, teen employees and their mentors shared pizza and their thoughts on the impact of their summer jobs.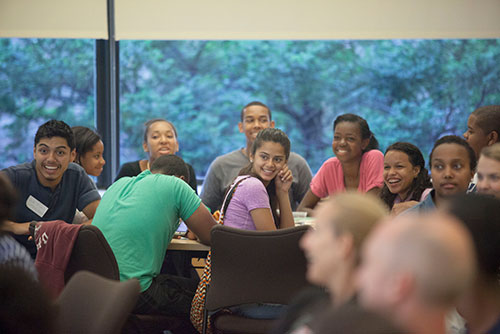 "It's not just about working, coming in and doing your job, but you're finding out who you are, what you want to do, and also learning skills that can apply to school," said Eunice Offre, a recent Cambridge Rindge & Latin School graduate. Offre spent her summer working at Harvard's Graduate School of Education (HGSE) doing data entry and research. She has worked two consecutive summers at the University and will be attending Colby-Sawyer College this fall.
HGSE was among seven University Schools, Central Administration departments, and the Phillips Brooks House Association to hire local students June through August.
According to Boston Private Industry Council (Boston PIC) staffers, who recruit, interview, and prepare Boston teens for their summer jobs, the experience is invaluable today — and in the future.
"Our students become valued by their managers, feel valued, and it translates into their performance in school," said Rose Delorme, a career specialist at Boston PIC.
It is also a test drive in the work world and an opportunity to build up and support a young workforce. "We are essentially building a strong future workforce together, teaching them skills and instilling a work ethic and the basic foundation for future job success," said Roselys Esteve, assistant director of the School-to-Career program at Boston PIC.
For more than 10 years, Harvard has been working with the city of Cambridge, through the Summer Youth Employment Program, and the city of Boston, through the Boston Youth Fund and Boston PIC, to link local teens with jobs at the University.
"This is a long-term partnership," said Christine Heenan, vice president of Harvard Public Affairs & Communications. "Harvard believes very strongly in providing employment opportunities for local youth in partnership with Cambridge and Boston, and we benefit greatly from these students, too."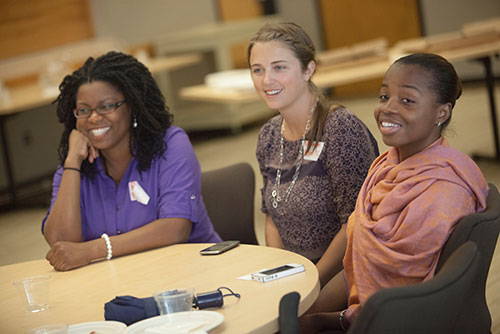 "I think Harvard is doing an amazing job with this program, remaining committed to the community and investing in the urban youth who are part of tomorrow's workforce and who wouldn't otherwise be exposed to these kinds of opportunities," said Esteve.
For Harvard, the local teen workers were also a big value add.
"We are a small school doing important work, and we wanted students who came prepared," said Lisa Maxwell, assistant director of employment at the Harvard Graduate School of Education. "Our students did great work this summer. In fact, all three managers want their students back next year. We struck gold!"