Planning and executing an outdoor festival for 1,000 people isn't your typical teenage summer job, but 100 Boston-area teenagers employed as junior counselors in the Phillips Brooks House Association's (PBHA) summer camps pulled it off without a hitch.
The junior counselors, who have been earning paychecks at a dozen Harvard student-run day camps in Cambridge and Boston neighborhoods this summer, were the brains and brawn behind a midsummer celebration that transformed the sleepy green hills of Stony Brook Park in Jamaica Plain into a festival stage on July 25.
The festival supported Boston Moves for Health, Mayor Thomas M. Menino's campaign to improve health and fitness in Boston. The program supplemented mainstay events like sack races and a popular talent show with a basketball tournament, a salsa dancing class, and a Zumba class. Nearly 100 campers participated, following every Zumba kick and salsa swing. At each event, local teens armed with pedometers were clocking and tallying the pounds the PBHA camp community was shedding together.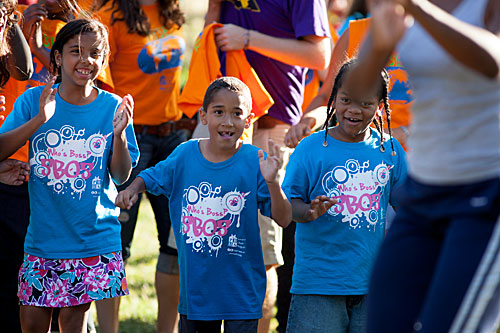 Held at the midway point for the PBHA summer camps, which serve 850 children from Chinatown, Roxbury, Dorchester, South Boston, Cambridge, and elsewhere, the 13th annual event also was an opportunity for campers and counselors to share what they've been learning with each other and family members.
"This is one of the only events in Boston and Cambridge that intentionally brings our different neighborhoods together to celebrate and support each other," said Maria Dominguez Gray, Class of 1955 Executive Director of PBHA, as she looked out over a nearby hill peppered with clusters of children, teenagers, and college students in brightly colored camp T-shirts, each unique to a particular camp.
"Our teenagers are really being leaders. They planned everything, from the carnival games and activities to the food, to outreach, right down to the pedometers," said Gray over a Latin drumbeat.
"Its like I had a triple job," said 17-year-old Aadreem Smith, who oversaw a planning committee for the event, in addition to handling her junior counselor responsibilities with the Roxbury Youth Initiative. Smith began taking part in the Roxbury Youth Initiative when she was 11 and has been a junior counselor for three years. "It's become more than a job for me. Every summer, I look forward to coming back. It's a family, not a job."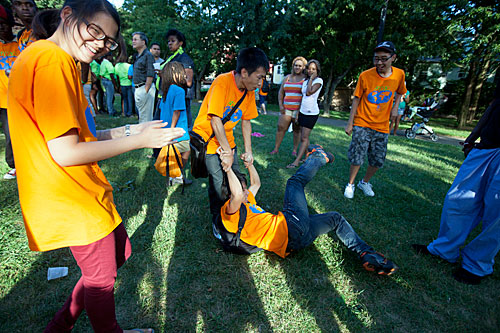 The camps, which were cited by the National Summer Learning Association last year for excellence, are coordinated, run, directed, and taught by approximately 120 college students. The camps offer seven weeks of learning and cultural and recreational activities for local children at a very low cost (approximately $100) and summer youth employment for local teens in partnership with the Boston Youth Fund and the Cambridge Mayor's Youth Fund. For the college students, the experience can be transformative.
At the event, a small group of PBHA alumni who came to visit their former camps and campers for the day said they had seen about 50 former camp directors and counselors already. A group of three had all chosen public service careers.
"All the things I learned in the camps, I've taken with me to Harlem," said Karla Reyes '11, who just completed her first year as a middle school teacher in Spanish Harlem. She was Keylatch-South End camp director for two summers.
"Being a public servant means being a community partner, and I've taken that to New York."