One day last month, a dozen high school students stood before Karina Contreras, M.L.A. '14, as she gestured to several wires hanging vertically inside the Graduate School of Design (GSD). Contreras explained that the students would use tinfoil, construction paper, spaghetti, and the wires to improvise a freestyle design.
"Your design will be inspired by the music I'm going to play," Contreras said. "The music will influence the design, which will change based on each new track. Make sense?"
The out-of-the-box exercise was part of Project Link, a four-week program that immerses 10th- through 12th-grade students from Greater Boston in the world of design. Since Project Link's inception, program leaders have targeted regional high schools that don't have art or architecture programs.
"Project Link evolved from two GSD alumni in particular — Jonathan Evans '10 and Andy Lantz '10 — who wanted to encourage more minority participation in the field," said Julian Bushman-Copp, M.Arch. '12, who has worked with the program for three years. "They realized that you could only do that by educating students about design at a younger age. Project Link is meant to be the link between high school and design education at the collegiate level."
Participants in the program, which is funded by GSD, spend about three weeks on Harvard's campus, learning drawing, modeling, and representation techniques associated with architectural design, as well as design perspectives of landscape architecture, urban planning, graphic and industrial design, and the fine arts.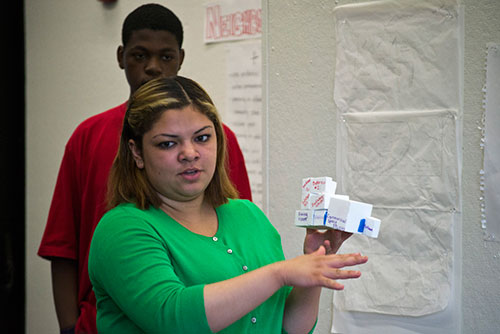 Robert Murray, a sophomore from the John D. O'Bryant School of Mathematics and Science in Roxbury, has gained hands-on experience in a field he has a passion for.
"I tried to do architecture on my own, but never had any training, as my school didn't have any architecture programs," he said. "I've been wanting to do architectural engineering for a while, and the program's really opened my eyes in that respect — it's not just about designing buildings, but the process you go through to do that."
Said James Joutras, a sophomore at Weston High School: "I like the fact that you can have such artistic creativity. The teachers have done a great job, and the fact that we're able to come to Harvard and study here is really nice. It's a privilege."
The students, said Dasha Ortenberg, M.Arch. '13, "have skills and understand concepts that I didn't even understand until I was in graduate school. I really hope that they are both able to improve those skills and [to] learn a new way of thinking about design — that they can take that with them as they continue their education."
The benefits of the program extend to team leaders.
"Teaching design is a whole new challenge, and I love it," Bushman-Copp said. "I've often thought that teaching was something I would pursue personally later on, so this has been a great experience in that respect."
For Contreras, whose career in architecture was inspired by a summer course experience as a high school student in California, the program is an opportunity to give back. "That university summer program really helped me because I wasn't, at the time, very art-driven," she said. "But it allowed me to submit a portfolio for architecture school at USC, where I got my undergraduate degree.
"I really am glad that Harvard does this," Contreras said. "It's nice to know that Harvard is reaching out to new generations to help students get involved and really expand their horizons. I think it's important to carry on that tradition."
Adjusting his design, Murray said, "Architecture has no limits. As long as it's controlled in the sense that people can live in the building, you can make it however you want, using whatever process works best. It can go as grand as you want it to go. "