In Ernest Hemingway's classic "A Moveable Feast," the author takes us on a tour of his favorite bars and cafes. At Harvard these days, the feast comes to you.
On Tuesdays, from 11:45 a.m. to 3 p.m., members of the Harvard community stop by food trucks parked on Oxford Street and try a variety of artisan dishes for their lunchtime reprieve. The trucks are part of a Harvard community outreach effort called the Harvard Common Spaces program. (A complete schedule, which includes Sunday stops, can be found on the website.)
Each food truck that rolls onto Harvard's Cambridge campus has its own unique menu and character. Grilled Cheese Nation serves the popular American classic grilled cheese with a gourmet twist. Jonah Hollis, who makes many of the sandwiches, prefers the Swiss Family Boston sandwich, which features a homemade jalapeno and apricot spread. "I like anything that joins savory and sweet," says Hollis. "It's the best of both worlds, really."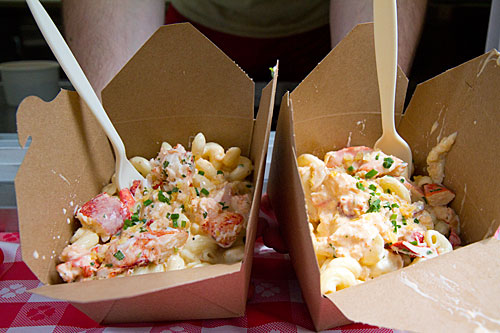 The public's most popular option, he notes, is the Boston Common, which starts with Vermont cheddar and can be topped with tomatoes and apple-wood-smoked bacon.
Lobsta Love's name was inspired by the iconic Boston accent (think, "I pahked my cah in Hahvahd Yahd"), and the truck shells out lobster rolls and other New England cuisine, such as clam chowder, lobster bisque, crab rolls, and lobster macaroni and cheese.
Last week, Lauren Churchwell, Olivia Xiong, and Elyssa Tawil, who are attending a film program hosted at Harvard, tried lobster paninis. Upon their return to Lobsta Love on Tuesday, they sampled the lobster macaroni and cheese.
"I've had a lot of lobster mac and cheese," says Churchwell, "and this has the right proportion of macaroni and cheese and lobster."
The food trucks are popular among Harvard employees. A group from the Center for Education Policy Research stopped by Grilled Cheese Nation for lunch. "They're cool," says Amal Kumar, a research analyst at the Graduate School of Education, who got a Brie Me Up. "It's something different."
The Dining Car and Lefty's Silver Cart weren't stationed this past Tuesday, but will be returning to campus in the fall. The Dining Car's menu is perpetually changing to feature meats and seasonal produce that reflect the local agricultural community. Selections from the spring menu included slow-roasted Australian spring lamb, a honey truffle goat cheese sandwich, and lamb and black bean chili with jalapeno corn pudding.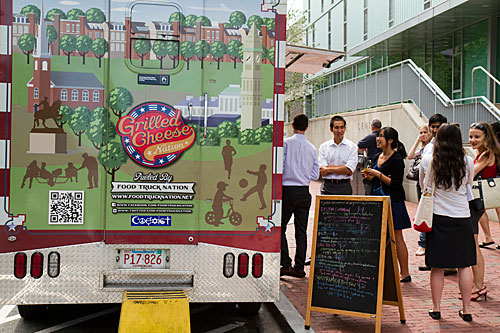 Lefty's Silver Cart, which is self-described as "a cheerful and progressive foodcart," makes sandwiches, soups, and smoothies using organic and local ingredients. Samples from the menu include the Philini, made with handmade fresh mozzarella, pesto, and tomato; and the Greenway, with avocado, pea shoots, tomato, and cucumber.
Food trucks, which began appearing outside the Science Center in September 2011, received a favorable response from people living and working on Harvard's Cambridge campus.
"Food trucks are so trendy right now, so we teamed up with a variety of trucks ranging from Lobsta Love to Grilled Cheese Nation, and we continue to expand the program," says Madeline Meehan, director of events for Harvard Campus Services. "The community loves them."
The food trucks will park on Oxford Street until construction on the Science Center Plaza is completed in spring 2013. The trucks' schedules are posted each month at the Harvard Common Spaces website. The site also includes information about other Harvard Common Spaces initiatives and upcoming programming.