Before "Iron Chef," before Rachael Ray, before Emeril Lagasse, there was Julia Child.
A 6-foot-2 culinary force of nature, Child used her passion for food, her wit, and her down-to-earth charm to demystify French cuisine for the American masses. Both "Mastering the Art of French Cooking," which she co-wrote, and her TV series, "The French Chef," were groundbreaking.
Child, who died in 2004, would have celebrated her 100th birthday on Aug. 15. Her memory lives on — vividly — at Harvard.
Child's path from ad executive to one of the world's most famous chefs is captured in the correspondence, documents, books, photos, audio, and videotapes that make up the bulk of the Julia Child Papers at the Radcliffe Institute for Advanced Study's Arthur and Elizabeth Schlesinger Library on the History of Women in America. Her papers began to arrive at Radcliffe in 1976 in part because of her intense correspondence with Avis DeVoto, wife of the Harvard lecturer, historian, and author Bernard DeVoto. Also among the library's holdings are the papers of some of Child's friends and colleagues, including those of Avis DeVoto and longtime collaborator Simone Beck.
"Having the papers of Julia Child in a collection that focuses on the history of women, on the history of domestic arts, and on the history of cooking is really like having the Holy Grail," said the Schlesinger's curator of books and printed materials, Marylène Altieri, who helped curate an upcoming exhibit at the library that will feature items from the collection. "I can't think of a single other person who had the impact that she had on the world of food in the United States in the 20th century."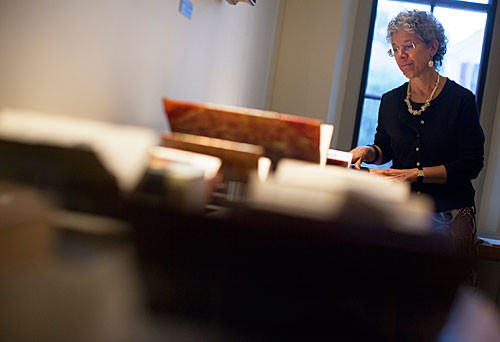 Child's love affair with food began in post-World War II France with a life-changing dish of sole meunière. "It was the most exciting meal of my life," she wrote for her memoir, "My Life in France," which was published in 2006. Living in Paris with her husband, Paul, who was the exhibits officer for the United States Information Service  (the pair met when they were both stationed in Ceylon with the Office of Strategic Services in 1944), she promptly enrolled at the famed cooking school Le Cordon Bleu. Letters in the Schlesinger collection describe some of her early forays in its kitchen, including her failure on the school's final exam (she ultimately passed, graduating in 1951) and her efforts to relate to the school's prickly proprietress, Madame Elisabeth Brassart. "Funny how there are some people to whom it is so difficult to talk," she wrote in a letter to her family dated April 7, 1951. "Mme. Brassart's mind and mine just run in entirely different directions."
Altieri credits those rich correspondences — the Childs wrote letters almost daily to family and friends while living both abroad and in the United States — with bringing the collection to life. 'The amount of detail we have," she said, "is astounding."
With iron determination, Child flourished in Paris, as countless items in the collection vividly demonstrate. An image from 1956 shows her working in the kitchen next to the French culinary master and Le Cordon Bleu instructor Max Bugnard. There is also a red, white, and blue badge from the informal cooking school Child started in a Paris kitchen with Simone Beck and Louise Bertholle — the Ecole Des 3 Gourmandes. The three would go on to collaborate on "Mastering the Art of French Cooking," the first volume of which was published in 1961. Child never forgot her roots. In many of the collection's photos she is proudly wearing the same badge while filming her famous cooking show.
A few items in the collection offer a glimpse into Child's work in what she called the "heart of the home" — the kitchen at the Irving Street house, not far from Harvard Yard, where she and Paul lived for more than four decades after returning from Europe. (When Child moved, in 2001, she donated the kitchen to the Smithsonian Institution.) Among them: a wire whisk; a copper pot from E. Dehilleren, the cooking equipment store she discovered in Paris and described in her letters. An image of Julia and Paul seated at their kitchen table reveals an intricate pegboard he designed that included a hook and careful outline for each of her pots.
Ten years her senior, Paul retired just as Julia's career blossomed and lovingly became "the amanuensis," said Altieri, "that she could never have hired or paid for."
Paul helped his wife at every turn. His handwritten note to "Jooolie" dated 1963 includes his suggestions for naming the new show. "Cuisine Secrets," "The Chef at Home," and "Kitchen à la Française" are just a few of his recommendations scrawled in blue ink at the bottom of a page yellowed with time. The title had to be short enough to "fit on a single line in TV Guide," said Altieri.
In a 1963 letter, Paul wrote to his brother, "Julie has now worked out a scheduled program for herself based on the rigid necessities of television. It has to include practice sessions at home with either Ruth Lockwood [production assistant for 'The French Chef'] or me, holding the stop-watch." That watch is part of the collection, as is a rough sketch done by Paul that sets up a "French Chef" episode on omelets. The lined page documents the layout for the studio kitchen and includes the smallest of details — where to place the butter, salt, pepper.
Her husband's help and involvement were invaluable to Child. "It meant everything to her that he was there for her all the time," said Altieri, "and so interested in what she was doing."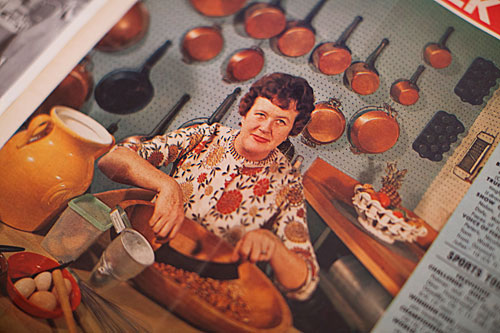 The collection also preserves Child's research materials and meticulous methods. It includes her vast library of old and new cookbooks — from the 1712 edition of "Le Vray Cuisinier François," by legendary chef Pierre de la Varenne, to the iconic "The Joy of Cooking" — and documents in painstaking detail the development of "Mastering the Art of French Cooking." Marked-up drafts of the book, which was almost 10 years in the making, show Child and her collaborators obsessed over getting it right. A sample of an introduction to the eggs chapter has been crossed out under a stern instruction: "Dull, rewrite." On a flyleaf in her first edition she noted pages needing corrections. Also in the collection: copious notes on Child's exploration into the science of cooking.
"The first thing that really got her going was the realization that American flour was radically different from French flour," said Altieri. During her time in France, Child had flour shipped from different U.S. manufacturers and experimented with the varieties in her recipes. A paper from her records on all-purpose flour includes the directives "scoop, do not shake, level off."
The library will mount an exhibit this fall that highlights Cambridge and other places central to Child's life. It is also planning a corresponding one-day symposium at Radcliffe for Sept. 21.
Altieri took the job at the Schlesinger three days before Child passed away. She missed the chance to meet the iconic chef in person, but her close work with the collection, she said, has given her the next best thing.
"There's much of her voice in them," Altieri said of the letters. "Now I really do feel almost as if I had met her."