Liverpool Football Club brought to the Soldiers Field Soccer/Lacrosse Stadium the requisite soccer balls, cones for drills, and practice jerseys — as well as lots of enthusiasm and good humor … and a bit of sunscreen.
"We're all going to head back home with a bit of color," said Forbes Duff, community coach for Liverpool F.C., who ignited a passion for the game in local youth on Sunday. "We don't get much of this kind of weather back home."
On a beautiful summer evening, coaches from the legendary soccer club conducted a clinic for approximately 50 children from the surrounding communities of Allston-Brighton, Boston, Cambridge, and Watertown. The two-hour event saw kids from the Gardner Pilot Summer Academy, Jackson Mann School, Boston Police Athletic League, and other community organizations take part in a series of drills, exercises, and games.
"We are delighted that the Liverpool Foundation agreed to hold a clinic for children who live in our neighboring communities," said Christine Heenan, vice president of Harvard Public Affairs & Communications. "Harvard has a strong partnership with Cambridge and Boston, and we are proud to host events like this, which allow our neighbors to learn from the exceptional people who often visit our campus."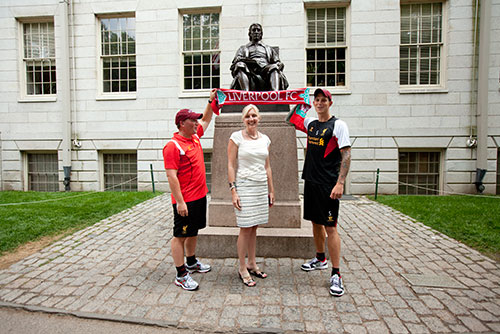 The children, many wearing jerseys of their favorite teams from around the world, were split into groups based on age and ability. In these groups, Liverpool coaches focused on shooting and dribbling, but also emphasized listening and working together. Meanwhile, participants' parents and siblings watched from the grassy berm just off the field, some yelling out encouragement while others ferried bottles of water to the thirsty kids. At the end of the session the Liverpool coaches explained what the groups did at the clinic, handing out gifts to all participants, and posed for photos with anyone who asked.
While the kids were clearly excited to take part, according to Joseph Sara, assistant principal for the Gardner Pilot Academy, the parents may have been more excited.
"I think the parents' understanding what [the clinic] meant made it exciting," said Sara. "A lot of the parents know more about the game than the kids, but coming to Harvard is a great gift, that's the way they see it. It's a way that the community gets to come in and not only see Harvard, but also, in this case, to see soccer played at the highest level."
Founded in 1892 and based in the county of Merseyside, in England, Liverpool F.C. is among the most successful and well-supported soccer teams in the world. The team is in Boston and training at Harvard as part of its 2012 North American Summer Tour, which includes a high-profile exhibition against Italian power A.S. Roma on Wednesday at Fenway Park. Liverpool is owned by John W. Henry, who also serves as the primary owner of the Boston Red Sox.
Events such as these especially resonate with Duff, who as a youth participated in similar clinics hosted by the Dundee United Football Club in his native Scotland. He said that the fun, enjoyment, and excitement of the game were key to his passion for soccer and are core components of Liverpool F.C.'s community engagement efforts, efforts that, according to Duff, might see Liverpool return to Boston and Harvard in the future.
"If we can keep kids active and fit, keep them involved, having fun and enjoying it, then hopefully this will carry on to other parts of their lives as well as football."