The Kuwait Foundation for the Advancement of Sciences (KFAS) has given $8.1 million to Harvard Kennedy School (HKS) to support the continuation of the Kuwait Program at HKS's Middle East Initiative. The gift will be used to develop leaders with the capacity to address the many challenging public policy issues facing the region. It will also fund research on issues of vital importance in the area, such as education, energy, and water.
The gift extends a relationship between HKS and KFAS that began in 2000, when KFAS made a grant to support visiting specialists on the Gulf region, faculty research on Kuwait and the Gulf, customized executive education programs, and executive education fellowships. Since then, the Kuwait Program has provided support for 32 research grants; hosted visiting scholars on Harvard's campus; conducted 13 customized executive education programs graduating 332 alumni; and granted 83 executive education fellowships, allowing participants from Kuwait to train not only at HKS but also at Harvard Business School, Harvard School of Public Health, and Harvard Graduate School of Education.
The current grant will support, over a period of five years, a number of initiatives including a visiting scholars program; fellowships for students from the region interested in master's degrees in public policy or public administration; faculty research; and executive education fellowships in existing programs and customized executive education programs. It will help the Middle East Initiative, part of the Kennedy School's Belfer Center for Science and International Affairs, to further expand its support for research and leadership development in the region.
"Through the Kuwait Program, the Kennedy School will deepen its engagement with the Gulf region and help educate leaders who will make a lasting impact in the area and throughout the world," says David T. Ellwood, dean and Scott M. Black Professor of Political Economy at HKS. "We are grateful for the gift to support the program and the many vital projects it advances."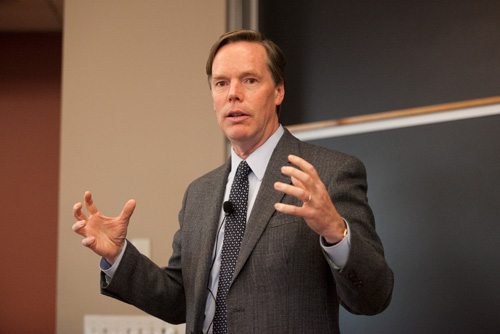 "This important program will continue an ongoing relationship between the Kuwait Foundation and Harvard Kennedy School," says Adnan Shihab-Eldin, director general of KFAS. "The program we are about to launch will build on previous success, expanding the scope to include a new visiting scholars program and fellowships for outstanding emerging leaders."
Nicholas Burns, Sultan of Oman Professor of the Practice of International Relations at HKS, says, "We are grateful for the Kuwait Foundation's confidence in our expanding Middle East program. This generous gift will broaden our capacity to engage in research, executive education, and teaching on the Middle East and to bring leaders from throughout the region to our School. We hope it will also promote a much more intensive exchange among our students and the young people of the Middle East at a time of reform and hope in the region."
Harvard Kennedy School maintains an abiding commitment to advancing the public interest by training skilled, enlightened leaders and solving public problems through world-class scholarship and active engagement with practitioners and decision-makers. The School offers the depth, reflection, insight, and excellence of ideas and teaching that can shape future leaders, affect public policies, and make an impact on people and their daily lives.