In the summer shade of Harvard's Tercentenary Theatre, a handful of students of the Chinese martial art tai chi performed a graceful routine, moving in unison through controlled kicks, arm thrusts, and other slow motions that seemed as much ballet as training for war.
The students were led by tai chi Master Yon Lee, an Adams House affiliate who has taught Harvard students for the past 25 years. In collaboration with Harvard's Center for Wellness, Lee will be conducting free, outdoor tai chi lessons under the towering, vaulted trees near Memorial Church on Tuesday afternoons through the summer and into the fall.
The program, which also has Lee offer midday sessions in the Adams House courtyard, is in its third year and is part of President Drew Faust's campaign to energize Harvard's common spaces, most visibly through the placement of colorful chairs throughout the Yard.
On Tuesday, the tai chi class included several regulars, including Marilyn Goodrich, a faculty assistant in the Anthropology Department, and Nicholas Atwater, lab manager for stem cell scientist Kevin Eggan. One student described the session as "a moving meditation," while another said there's "something magical" about the boost it gives.
"It's a great escape from the daily grind, especially in the Yard, where you're close to nature. Birds are chirping," said Atwater, who has been taking lessons from Lee for a year and a half. "The good thing about tai chi is the slowness of movement. It engages the physical body in a different way."
Goodrich, who has worked at Harvard for 10 years, said she had been having balance problems as she got older and noticed improvement after she started studying with Lee a year ago. She began with the free public lessons but then joined the Harvard Tai Chi Tiger Crane Club, where she works out twice a week.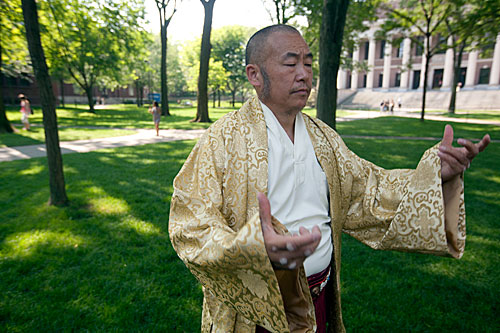 Lee is the senior adviser and chief instructor at the club, which he said is for participants who want more serious martial arts training.
"Master Lee is an extraordinary resource here at Harvard. He's a great teacher, very kind and encouraging of students," Goodrich said. "It's been a huge benefit to me psychologically, spiritually."
Lee is something of a fixture at Harvard. He began teaching tai chi as part of Harvard's recreation program at a time when interest in Chinese martial arts was very high, he said. Seventy-five people showed up for his first class. The following fall, the class had 110.
Though many people practice tai chi for its meditative and spiritual aspects, it remains a martial art, and each movement has a purpose in that field, Lee said. Practitioners can use tai chi for self-defense, though he said that goal demands a greater time commitment than the weekly classes he offers in the Yard.
Lee relishes the opportunity to promote the art and is interested in tai chi's spiritual and healing potential. Tai chi's movements provide a whole-body workout, engaging muscle groups that may be inactive or misused in daily life, Lee said.
Goodrich, Atwater, and a handful of students received an added bonus in late June, when Grandmaster Shi Deli visited from China to conduct a guest class in the Yard. During the class, Deli took the students through specialized techniques whose intent is to cleanse them internally. Lee explained that tai chi practitioners seek to make their bodies impervious not just to physical attack, but also to disease and the effects of aging.
Deli is the director of the Shaolin Temple Damo Zen Wushu Academy of Dengfeng, China. Deli was appointed by the Chinese government to host a group of Harvard students who visited in 2005, and has maintained a relationship since then, visiting four times over the years. Harvard student groups have visited China several times since then, and groups of Chinese students have visited Harvard.
"At the end of the day, everyone wants something that can make them healthier, make them feel younger," Lee said. "People walk up, and by the end of the session they're good as gold."