Calling the Harvard Kennedy School (HKS) "the voice of public service at Harvard," University President Drew Faust welcomed alumni from across seven decades Friday to a special 75th anniversary conference at the Charles Hotel.
"The Kennedy School motto 'Ask what you can do' is a resonant theme that extends across Harvard and makes all of us so much more aware of what it means to have these responsibilities and how they might be exercised," Faust said. "The Harvard Kennedy School is a powerful embodiment and representation to the world of a fundamental University value, and that is why facts and knowledge matter as societies and nations make choices about the future."
Faust noted the School's "wide range of influence," both in terms of its esteemed graduates — from U.N. Secretary-General Ban Ki-moon, M.P.A. '84, and Liberian President Ellen Johnson Sirleaf, M.P.A. '71, to "50 members of Congress both past and present," and the many "world changing" ideas and programs that have taken form at HKS over its history.
"The Kennedy School has even changed the language we speak. I think that is a fundamental indicator of influence," Faust said.  "Phrases like 'soft power' have entered the lexicon and become central to the language of international affairs. 'Bowling alone' is a term of our national conversation about the fraying of civic ties. So the influence of the Kennedy School has been extensive and deep — internationally, nationally, and how we understand ourselves, even how we talk about our world."
It is the dual mission of training leaders and conducting important research, Faust said, that makes the School and the University more relevant than ever.
"That is what we stand for: that knowledge and learning, evidence-based decision-making can have a huge positive impact on the world, and the Kennedy School leads the parade in advancing that conception in the circles of power and government and policy," she said.
HKS Dean David T. Ellwood focused his opening remarks on the School's evolution from its founding in 1936, explaining that it wasn't until President John F. Kennedy took office that "suddenly public service and the idea of government service became cool."
"It highlights the most important thing we can do to begin with, which is to get spectacular people of great character, great intelligence, great energy, and great desire to make a difference to come here," he said.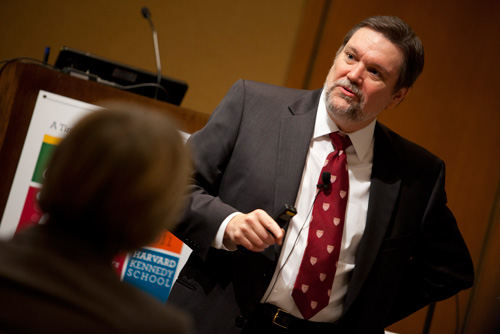 Ellwood provided an overview of some of the School's key priorities, including technology and governance, behavioral and decision sciences, and making democracy work.
Other plenary sessions focused on governing in the digital age, economic inequality, and the Middle East and North Africa.  The lunchtime keynote address, "The Future of Power," was delivered by Joseph S. Nye, Harvard University Distinguished Service Professor and former HKS dean.
The conference, titled "HKS at 75: A Time of Peril and Promise for the World" is among the highlights of Reunion Weekend 2012.