The Class of 2012 first gathered on a memorably blustery evening in the fall of 2008 in the Science Center, where the new freshmen played games and ate pizza to wait out a power outage caused by a tropical storm. Their final meeting proved not so different, as hundreds of graduating seniors, rain boots and flip-flops poking out from beneath their black robes, poured into the Memorial Church on Tuesday to the drumbeat of steady rain.
"From the day you arrived on campus nearly four years ago, events conspired to make you an extraordinary group," President Drew Faust said in her Baccalaureate Address, only in part referring to their extraordinarily bad luck with weather. Faust was quick to remind them, however, that there is "another dimension of this extraordinariness, another and parallel truth, which is that you — and I — are also extremely lucky."
If the students arrived on an "imperceptible updraft of inexplicable luck," then Faust used "this strange medieval rite called the Baccalaureate" to challenge them to make good on that good fortune.
The Baccalaureate Service is one of Harvard's oldest traditions, held on and off since 1642. As in past years, the service included readings from Hindu Scriptures, the Hebrew Bible, the Analects of Confucius, the Quran, and the New Testament, a nod to both the University's religious past and its multicultural present.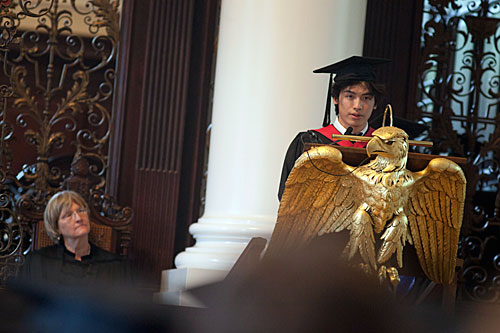 Closed to all but the College's senior class, the intimate occasion provided an opportunity to look back at four eventful years. Indeed, in that first fall alone, the class experienced both the onset of the great recession and the election of the first African-American president, Faust recalled.
As much as the world changed, so did the students. Faust praised their "collaborative and entrepreneurial" spirit and their willingness to try new things.
"As I assured you nearly four years ago, none of you was an admissions mistake, and you have proved it by the hard work that has brought you here today," she said. But "no matter how hard we have worked or how many obstacles we have overcome, we are all here in some measure through no cause of our own."
Like the concept of divine grace that Puritan ministers once espoused from that very pulpit, Faust said, "Good fortune is not something we have a right to, but something given to us that we have no claim on."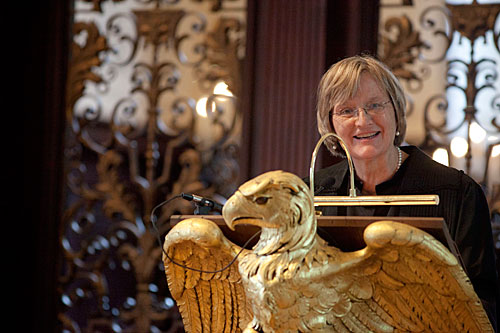 Faust urged seniors not to fall prey to the fallacy of believing too uncritically in their own merit, and to always recognize the role of serendipity in their lives. Without that mindset, "We risk forgetting the sense of obligation that derives from understanding that things might have been otherwise," she said.
"If, as every Harvard undergraduate knows, love is about never having to say you're sorry, then luck is about never taking anything for granted," she added to knowing laughs.
This year's graduates face a still-lagging economy, but their time at Harvard has prepared them to capitalize on their mix of talent, opportunity, and hard work, Faust said. Acknowledging the lucky hand they've been dealt can bring its own liberating relief — the freedom to pursue their passions not just on Wall Street, but in public service, the arts, research, or entrepreneurship.
"Paradoxically, the less we acknowledge luck, the more we feel the terror of pressure to do something big, to be extraordinary," she said. But the point isn't to be extraordinary, she said. "The point is to be a worthy person in the world."
"So, as you enter the company of educated men and women, and take your Harvard degree into the world, recognize your own good fortune," Faust said.
And, she added — in a nod to the recent YouTube video of Harvard's baseball team gone viral, a testament to the randomness of fate if there ever were one — don't forget to write, email, or "call me, maybe."