When he became president, Barack Obama set an ambitious goal, calling for the country to regain its status as having the world's highest number of 25- to 34-year-olds with college degrees.
In his 2009 American Graduation Initiative, Obama outlined his support of community colleges and his plan to have 5 million more community college graduates by 2020.
On Monday, a panel of education experts convened at the Harvard Graduate School of Education (HGSE) to explore in detail what it will take to reach Obama's benchmark goal. Unsurprisingly, money topped the list during an Askwith Forum discussion moderated by Bridget Terry Long, HGSE's Xander Professor of Education and Economics, as did the need for greater collaboration and support from various stakeholders.
With students graduating from college with on average $25,000 in debt, the administration has taken aim at bringing down the skyrocketing costs, said panelist Martha Kanter, undersecretary of the U.S. Department of Education and an HGSE graduate.
The number of recipients of federal Pell Grants has grown from 6 million in 2008 to 9.8 million, and the government will increase the amount of the award by $900 this fall, Kanter said. It will also continue to ease access to federal student aid, and work to increase tax credits for higher education, promote and strengthen the income-based loan repayment program passed by Congress in 2010, and support public-service loan forgiveness.
But Kanter said that the federal and state governments need to help families and students make informed decisions about college by providing them with simplified information. And colleges have to figure out ways to constrain costs.
"Our strategy," she said, "is shared responsibility."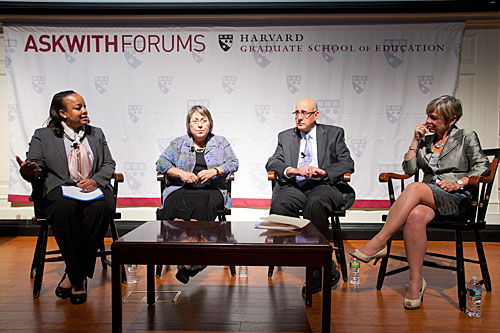 In addition to fighting disease, poverty, and hunger in developing countries, the Bill & Melinda Gates Foundation is trying to improve the U.S. public education system. A big part of that effort involves supporting "brave leaders in taking risks," said Hilary Pennington, the organization's former director of education, postsecondary success, and special initiatives.
As part of an effort to meet Obama's goal, the private foundation focuses on funding networks of institutions to attack similar problems.
One such initiative, titled "Completion by Design," involves 21 community colleges in four states that are attempting to overhaul their students' experience. From the outset, the project insisted on the participation of representatives from state governments, said Pennington, in an effort to "understand the policy barriers" that make it difficult for organizations to effectively serve their student populations.
While each college is approaching the goal differently, said Pennington, the initiative encourages them to develop their practices "in consistent ways so that there will be a body of evidence at the end of their work that helps policymakers and institutions understand better how to get change at scale."
Rolando Montoya lent his institutional perspective to the discussion from his post as the provost of Miami Dade College, a state school in Miami that has eight campuses and an enrollment of more than 174,000 students, many from low-income and minority households.
As part of an effort to understand how to do a better job of ensuring students graduate, he turned to the students themselves, conducting a series of rigorous focus groups.
The surprising findings revealed that the students wanted more structure and an "intrusive" administration that would be uncompromisingly strict over issues like deadlines, orientation sessions, and course enrollment options.
"A big issue is a lack of structure. … The kids are telling us: 'Tell us what to do; guide us with more detail; don't give us so many options; please, please, give us a prescribed curriculum, a prescribed pathway that we can follow. … That's what they really want."