Journalist Fareed Zakaria, who was chosen as the principal speaker for the Afternoon Exercises, is among those to be presented an honorary degree at Harvard's 361st Commencement.
Fareed Zakaria
Doctor of Laws
Fareed Zakaria is one of the best-known and well-respected journalists of our time. In a career that has included prominent roles at Newsweek, Time, CNN, and The Washington Post, Zakaria has interviewed world leaders ranging from Barack Obama to the Dalai Lama, from Moammar Gadhafi to former Russian President Dmitry Medvedev. He has tackled issues including globalization, the Middle East, international relations, and America's role in the world.
His work has won many awards, including a 2010 National Magazine Award. Among his most decorated is the October 2001 Newsweek cover story, "Why They Hate Us." His CNN show, "Fareed Zakaria GPS," was nominated for an Emmy Award for an interview with Chinese Premier Wen Jiabao.
Zakaria, who received a doctorate from Harvard in 1993, was born in India and earned his bachelor's degree from Yale University. He was appointed managing editor of Foreign Affairs magazine at age 28 and spent eight years there before moving to Newsweek in 2000. He spent 10 years overseeing all of Newsweek's editions abroad and then became an editor at large of Time.
Today, Zakaria continues at Time and also hosts "Fareed Zakaria GPS," an international affairs program. He is also a Washington Post columnist and a best-selling author. In 1999 Esquire Magazine described him as "the most influential foreign policy adviser of his generation," and in 2010, Foreign Policy magazine named him one of the top 100 global thinkers.
Zakaria's 2003 book, "The Future of Freedom: Illiberal Democracy at Home and Abroad," was a New York Times best-seller and has been translated into more than 20 languages. His most recent book, "The Post-American World," was published in 2008 and was also a New York Times best-seller. His first book, published in 1998, was "From Wealth to Power: The Unusual Origins of America's World Role."
John Adams
Doctor of Music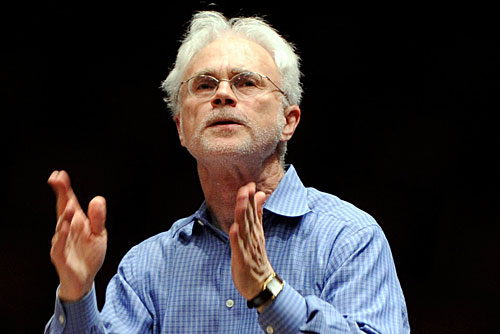 During the past 25 years the American composer John Adams '69, A.M. '72, has redefined the contemporary musical landscape with his nuanced aesthetic, one rich with expressive forms, minimalist sensibilities, and profoundly humanist themes.
The New York Times has called Adams' music "both lush and austere, grand and precise. To make an analogy to two poets whose work he has set to music, it's Walt Whitman on the one hand and Emily Dickinson on the other."
Adams has composed chamber music, symphonic pieces, and oratorios, but perhaps his best-known works are his trio of opera collaborations with theater director Peter Sellars '81: "Nixon in China," which chronicles Richard Nixon's historic visit to China in 1972; "The Death of Klinghoffer," about the 1985 murder of an American Jew by Palestinian terrorists; and "Doctor Atomic," concerning the creation of the nuclear bomb.
Adams also won acclaim for "On the Transmigration of Souls," a work commissioned by the New York Philharmonic Orchestra to commemorate those killed in the terrorist attacks of 9/11. The piece received the 2003 Pulitzer Prize in music. Adams, who refers to the composition as "a memory space," has said he hoped it would inspire listeners with the feeling of walking into a cathedral where "you feel you are in the presence of many souls, generations upon generations of them, and you sense their collected energy."
Born and raised in New England, Adams learned the clarinet from his father and began composing at the age of 10. While at Harvard, where he received his undergraduate and master's degrees, he filled in as a reserve clarinetist for the Boston Symphony Orchestra, conducted Harvard's Bach Society Orchestra, and studied with distinguished professors including Leon Kirchner.
An accomplished conductor, Adams has appeared with the Chicago Symphony Orchestra, the San Francisco Symphony, and the New York Philharmonic. He has received honorary degrees from the Juilliard School, Northwestern University, the Yale School of Music, and Cambridge University. He is a recipient of the Harvard Graduate School of Arts and Sciences Centennial Medal "for contributions to society" as well as the 2007 Harvard Arts Medal. A six-time Grammy Award winner, Adams is a member of the American Academy of Arts and Letters and currently holds the title of creative chair of the Los Angeles Philharmonic.
K. Anthony Appiah
Doctor of Laws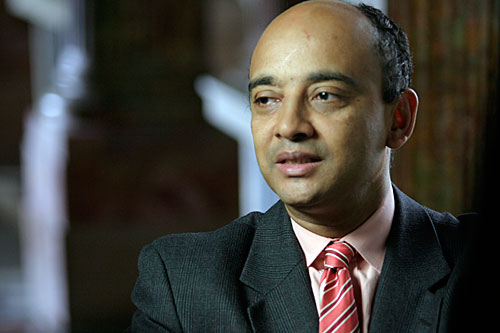 It is fair to say that Kwame Anthony Akroma-Ampim Kusi Appiah is a citizen of many worlds, moves easily in all of them, and is famous in more than a few. Born in London, raised in Ghana, educated at the University of Cambridge, and now a U.S. citizen teaching at Princeton University, he is a philosopher who investigates values, moral practice, and the foundations of liberalism. (His 2010 "The Honor Code," for one, explores this ancient concept as a way to propel a modern-day moral revolution.) Appiah — who has also taught at Harvard, Yale, Duke, and Cornell universities — is a cultural theorist who studies the political dimensions of race, African traditional religions, ethics in what he calls "a world of strangers," global human rights, and the fate and influence of African thought. (In 1997, he co-edited "The Dictionary of Global Culture" with Henry Louis Gates Jr., the Alphonse Fletcher University Professor at Harvard University.) The 58-year-old Appiah is also a novelist whose first of three fictional works, "Avenging Angel" (1991), is a murder mystery set at his posh UK alma mater. And he is even a sheep farmer, a facet of global culture that he practices with his spouse, Henry Finder —  editorial director of the New Yorker magazine — at their homestead near Pennington, N.J.
To add to his geographic, cultural, and intellectual credentials as a citizen of the world, Appiah is related to Ghanaian royalty on his father's side and to British nobility on his mother's side. (His uncle and great-uncle were both kings of Ashanti, a traditional West African empire. His grandfather was English statesman Sir Stafford Cripps, once Britain's chancellor of the exchequer, who also played a role in negotiating Indian independence.) Appiah has also mastered five languages: English, French, German, Latin, and Asante-Twi, a 14-vowel Akan language that is among the three principal dialects of Ghana. A decade ago, he and his novelist mother, the late Peggy Appiah, co-authored "Bu Me Bé: Proverbs of the Akan," a bilingual annotated edition of 7,015 Twi sayings. One proverb might be especially apt for the studious Appiah, who appeared in a 2009 Forbes magazine list of the world's seven most powerful thinkers: "The head is the crown of the human body."
Appiah — who taught at Harvard from 1991 to 2002 — has 10 other honorary degrees, including those from Columbia University, Bard College, and The New School. In February, he was among nine recipients of the National Humanities Medal, presented by President Barack Obama.

Dame Gillian Beer
Doctor of Letters
Celebrated literary critic and author Dame Gillian Beer receives an honorary degree at Harvard today. It's an honor that, in a way, started with an accident when she was just 14.
Attempting to jump down a flight of steps at school, Beer fell and seriously injured her spine. During a long recuperation at home, she took solace in reading. Writers like Henrik Ibsen, Oscar Wilde, and William Shakespeare became her constant companions, and led her to a career in literature. "In some ways it was probably the moment of opportunity for me," she told an interviewer in 2009. "I had no critical appraising capacity at all, I just read."
Beer's lifelong pursuit eventually became a specialty: exploring scientific writing in its cultural setting. Her seminal work "Darwin's Plots: Evolutionary Narrative in Darwin, George Eliot and Nineteenth-Century Fiction" (1983) — republished in 2000 — explores the impact that Darwin's radical new visions had on prominent 19th-century authors, and the wider cultural impacts of Darwinian thinking. Her other works include "Open Fields: Science in Cultural Encounter" (1996) and "Virginia Woolf: the Common Ground" (1996).
Raised by her schoolteacher mother in a village in Somerset, England, Beer completed her undergraduate and graduate studies at St. Anne's College, Oxford, where she received first class honors in English and the Charles Oldham Shakespeare Prize. Beer was a fellow at Girton College, Cambridge, between 1965 and 1994. In 1994 she became King Edward VII Professor of English Literature and president of Clare Hall at Cambridge. She is a fellow of the British Academy and a Foreign Honorary Member of the American Academy of Arts and Sciences. In 1998 Beer was made a dame commander of the Order of the British Empire. She is married to literary critic John Beer, and the couple has three sons and three grandchildren, and will celebrate their golden wedding anniversary in July.
Walter Kohn
Doctor of Science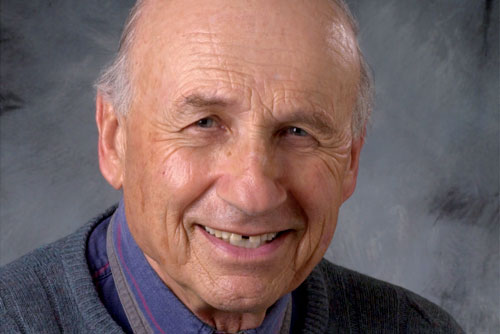 A condensed-matter physicist, Walter Kohn shared the 1998 Nobel Prize in chemistry for his development of the density-functional theory, a method that allowed scientists to study the properties of very large molecules by simplifying the prohibitively complex calculations once required for the task. His theoretical work helped shape the development of quantum chemistry in the latter half of the 20th century and has become an essential tool for electronic materials science.
Kohn was born into a Jewish family in Vienna in 1923. As a teenager, he fled for England shortly after Austria's annexation by Nazi Germany. Treated as a potential spy, he was interned by the British and then sent to Canada. His parents later died in the Holocaust.
At the University of Toronto, Kohn began serious study of physics and mathematics but not, ironically, chemistry. "I was not allowed into the chemistry building, where war work was in progress," he wrote in his Nobel autobiography. "In fact, the last time I attended a chemistry class was in my English school at the age of 17."
After a year in the Canadian Infantry Corps at the war's end, Kohn received his bachelor's degree and a master's in applied mathematics from the University of Toronto. He was awarded a doctorate in physics by Harvard in 1948.
Kohn went on to faculty positions at Carnegie Mellon University and the University of California, San Diego, taking a number of visiting appointments at leading research institutions around the world. In 1979, he arrived at the University of California, Santa Barbara, to serve as founding director of the National Science Foundation's Institute of Theoretical Physics; he is now professor of physics and chemistry emeritus and research professor.
Over the years, he has been active in causes ranging from U.S.-Soviet nuclear disarmament to world population management. He and his wife, Mara, reside in Santa Barbara, Calif.
Wendy Kopp
Doctor of Laws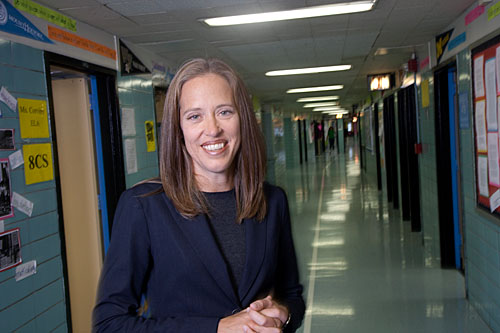 Wendy Kopp is the founder and chief executive officer of Teach For America, a nonprofit organization that aims to reduce educational inequality by recruiting high-achieving recent college graduates to teach in low-income schools. Founded on the principle that all children deserve access to superior education, the pioneering program set the tone for a national movement that seeks entrepreneurial solutions to the American education system's pressing problems, from poor achievement to teacher shortages.
Born in Austin, Texas, in 1967, Kopp attended Princeton University, where she wrote a senior thesis proposing a national teaching corps. After graduating in 1989, she began building the foundations for Teach For America, enlisting a charter group of 500 young teachers-in-training by 1990.
Since then, the organization has employed 33,000 recent graduates as teachers; they have taught more than 3 million children in schools across the country. A third of Teach For America's graduates continue careers in teaching, and many more have gone on to work in school administration or public policy or to start their own educational ventures.
In 2007, Kopp co-founded Teach For All, an international organization that supports education initiatives around the globe. Under her leadership as chief executive officer, Teach For All has partnered with social enterprises in 22 countries to adapt the Teach For America model abroad.
Kopp is the author of "A Chance to Make History: What Works and What Doesn't in Providing an Excellent Education for All" (2011) and "One Day, All Children: The Unlikely Triumph of Teach For America and What I Learned Along the Way" (2001). She has received numerous honorary degrees and public service awards, including the Presidential Citizens Medal.
She and her husband, Richard Barth, president of the Knowledge Is Power Program, reside in New York with their four children.
Hon. John Lewis
Doctor of Laws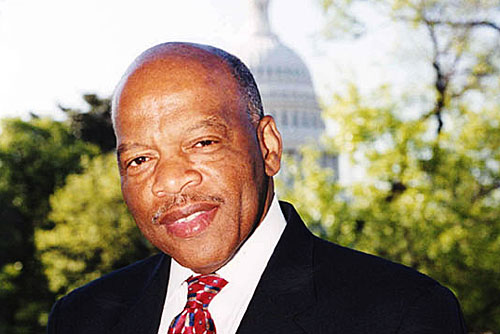 The Hon. John Lewis, the 72-year-old son of Alabama sharecroppers who helped end the Jim Crow era he grew up in, is minority leader of the U.S. House of Representatives and has served Georgia's 5th Congressional District for the past quarter century. But long before Congress — when still in his 20s — Lewis cut a national figure in a different arena: the Civil Rights Movement. It was a decade-long tide of protest to gain rights that, in theory, had been conferred on black Americans a hundred years before.
Lewis was still a teenager when news of the Montgomery Bus Boycott (1955-56) — and radio addresses by a young Martin Luther King Jr. — inspired him to participate in the cause. He was a college student in Nashville, Tenn., when he participated in the Freedom Rides in 1961, a protest that took the form of simply occupying interstate bus seats reserved for whites in the segregated South. The buses were routinely waylaid by angry mobs armed with pipes, bats, bicycle chains, and firebombs. That summer, Lewis was arrested and beaten — the first of more than 40 arrests, beatings, imprisonments, and severe injuries that he sustained during the Civil Rights era.
By age 23, Lewis was chairman of the Student Nonviolent Coordinating Committee and a key architect of the historic March on Washington in August 1963. (He was the event's youngest keynote speaker, and today is the only one still living.) In 1964, he took part in voter registration drives during the Mississippi Freedom Summer. In March of the next year Lewis led 525 orderly protestors across the infamous Pettus Bridge in Selma, Ala., where they were caught in a violent maelstrom: lunging police dogs, club-wielding onlookers, and lashing fire hoses turned up to full blast. This landmark episode of mob action, eagerly captured by national media, revealed the cruelties of the segregated South and hastened the passage of the Voting Rights Act of 1965.
In 1977, the Jimmy Carter White House called on Lewis to direct ACTION, a federal volunteer agency. In 1981 he entered political life, first as a member of the Atlanta City Council and by 1986 as a congressman representing Atlanta and outlying areas. Today he is senior chief deputy whip for the House Democratic Caucus, a member of key committees, and — to some — the moral center of Congress, its conscience, and its chief reminder of dark days not so long past.
Lewis — a graduate of both Fisk University and the American Baptist Theological Seminary — holds more than 50 honorary degrees, including degrees from Princeton, Columbia, Duke, and Howard universities. The man who as a boy was refused a library card for being black is the author of a memoir, the frequent subject of interviews, and the recipient of numerous awards, including the Lincoln Medal and — in 2011 — the Presidential Medal of Freedom. Lewis and his wife, Lillian Miles, residents of Atlanta, have one son.

Mario Molina
Doctor of Science
Mario Molina, Distinguished Professor of Chemistry and Biochemistry at the University of California, San Diego, is a chemical engineer who recognized the dangers of man-made chlorofluorocarbons (CFCs) to the atmosphere's ozone layer.
Molina's work during the 1970s showed that CFCs, which had been thought to be safe for use as propellants in spray cans, as refrigerants, and in other applications because they're inert at ground level, break apart when they reach the upper atmosphere, creating ozone-destroying free chlorine. Subsequent research showed Molina to be right, eventually confirming an ozone hole over the Antarctic and spurring the world to ban the chemicals.
The discovery won Molina the 1995 Nobel Prize in chemistry, with F. Sherwood Rowland, with whom Molina worked, and Paul Crutzen "for their work in atmospheric chemistry, particularly concerning the formation and decomposition of ozone."
Molina grew up in Mexico City and recalls being interested in chemistry very young, setting up a child's chemistry lab in an unused bathroom. He received a bachelor of science degree from the Universidad Nacional Autonoma de Mexico in 1965 and a doctorate in physical chemistry in 1972 from the University of California, Berkeley. He held faculty positions at the University of California, Irvine, and at the Massachusetts Institute of Technology, where he was an Institute Professor until he left for San Diego in 2005. He also worked as a researcher at the Jet Propulsion Laboratory.
Molina has received more than 30 honorary degrees and won numerous awards in addition to the Nobel Prize. He serves on the U.S. President's Committee of Advisors in Science and Technology and is a member of the U.S. National Academy of Sciences and the Institute of Medicine, and of the Pontifical Academy of Sciences of the Vatican. His current research involves the chemistry of air pollution in the lower atmosphere and the science and policy of climate change.