Fifty years ago, Margaret H. Marshall was the teenage daughter of a chemist and a homemaker in Newcastle, South Africa. At a Radcliffe Day luncheon Friday, the now-retired chief justice of the Massachusetts Supreme Judicial Court recalled her childhood city as "a garden" in the foothills of the Drakensberg Mountains.
But she realized even then that the lush landscape of maize and dairy farms was also a garden of shadows, a childhood Eden within a South Africa in the grip of racial apartheid. The authorities and others worked to "protect and consolidate the power of the powerful" and uphold a race-dividing scheme "tethered by law," Marshall told the gathering of 750 under a tent in Radcliffe Yard.
At the luncheon in her honor, Marshall received the 2012 Radcliffe Medal, which the Radcliffe Institute for Advanced Study bestows on the Friday of Commencement Week.
In 1962, Marshall said, she traveled to Wilmington, Del., as a high school exchange student, a visit that changed her life.
"For the first time, I felt free to roam through the marketplace of ideas," she said, free to observe (for one) a world of race relations that was so unlike home, where "the existential blindness of white South Africans to apartheid was banal, quotidian, and almost universal."
In the United States of that era, serious questions involving race were being solved mostly by peaceful protest, and by a U.S. court system that provided a framework for ideals like " justice and the rule of law," said Marshall. "When I returned to South Africa I was wearing a new pair of glasses."
Back in South Africa, as a university student, Marshall acted out those ideals, and for three years led the anti-apartheid National Union of South African Students. After graduating, with her phone tapped and in some danger from authorities, she returned to the United States.
Harvard was her first stop, for an Ed.M. in 1969 from the Harvard Graduate School of Education. In 1973, Marshall enrolled at Yale Law School, and afterward began a fast-rising career. From 1992 to 1996, Marshall was the chief counsel at Harvard, the first woman to hold that post. From 1996 to 2010, she served on Massachusetts' highest court, the past 21 years as its first female chief justice, and authored more than 200 opinions.
One of them, said Radcliffe Dean Lizabeth Cohen, was "a pen stroke heard 'round the world," Goodrich v. Department of Health, which in 2003 held for the first time in a high state court that same-sex couples had the right to marry.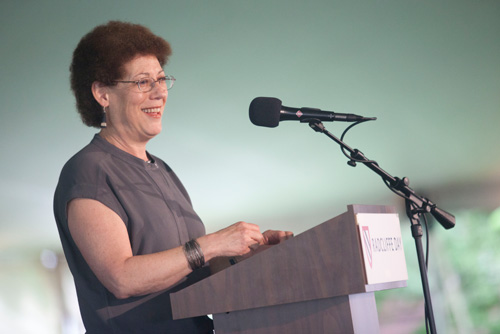 Marshall is retired as a jurist now, but is still active in private practice as senior counsel at Choate Hall & Stewart LLP and in academe as senior research fellow and lecturer at Harvard Law School.
During her remarks, she reflected on what may be the two most threatening shadows in the garden of 21st-century America. One is a faltering education system, despite the fact that liberty itself depends on education "among different orders of people," she said, quoting founder John Adams. The other, the main focus of her remarks, is a justice system "in danger of failure."
That threat to "fair and impartial courts," said Marshall, comes from the political process, and the floods of money it invites. "Assaults are being mounted at the highest level," she said, pointing a finger at recent U.S. Supreme Court decisions, including Citizens United v. Federal Election Commission, a landmark ruling in 2010 that banned restrictions on political contributions by corporations and unions.
Among the "less heralded consequences" of the ruling, said Marshall, is the money pouring into judicial races in states that elect judges. She quoted Sandra Day O'Connor, the former associate justice of the Supreme Court and 2009 Radcliffe Medalist, who said that three-quarters of Americans now believe court decisions are affected by political influence — that, perhaps, justice is now for sale.
Marshall said she hoped that the Supreme Court will review a Montana case challenging the Citizens United decision, quoting O'Connor again: "We should avoid these ends, by avoiding these beginnings."
Marshall brought the audience back to her own childhood roots, where South Africa was morally paralyzed by apartheid and where judges were "powerless."
"Do we here, in this great country, really want a legal system where judges vie for popularity and not for justice? The warning signs are there for all to see," she said. "The question is: Have we the will to protect a structure of government that for so long has protected us?"
Marshall's message was sobering, but Friday was also a good-news day for Radcliffe.
Harvard President Drew Faust, a former Radcliffe dean, praised Cohen — who was just named dean in March — for "the excitement she found in bringing people together" as interim dean for the eight months before that.
"We like to think of ourselves as a front door to Harvard," Cohen said, repeating the idea that Radcliffe is an intellectual crossroads. The signposts at that crossroads are the Radcliffe Fellows program (the new fellows were just named), exploratory seminars, lecture programs, a world-class research library, and many symposia. (Cohen mentioned one planned for September called "Citing Julia," a look at the legacy of chef Julia Child, whose papers are at Radcliffe's Arthur and Elizabeth Schlesinger Library and who would have turned 100 this summer.)
Cohen also noted a historic moment in this year's Radcliffe Medal luncheon: It was the first webcast on the institute's redesigned website. An upgraded Radcliffe audio-visual system now makes all of Radcliffe's programming accessible to an international audience.