Harvard celebrated its top-ranked seniors Tuesday at the 222nd Phi Beta Kappa Literary Exercises. The first lesson of the day for the 167 near-graduates came early: When it rains, mortarboards aren't as useful as umbrellas.
Inside Sanders Theatre, surrounded by parents and friends, the PBK seniors took in other lessons. This year's ceremonial poet and orator were in agreement on two, perhaps: In brevity is wit. And the world needs help.
Both brevity and wit came in the person of PBK poet Kay Ryan, winner of the 2011 Pulitzer Prize, whose poems are typically distilled to 20 lines or fewer — "packed," said one critic, "with music and meaning." The two-time Poet Laureate of the United States wished out loud that she could have become a different poet before the ceremony — "somebody more long-winded," perhaps, as befitting the occasion. Instead, she strung together 12 of her compact poems "into something I will call a graduation garland."
Her poem-lessons, wisely brief, were wise too — offering hard-won lessons from a writer who grew up in a hardscrabble corner of California and who came to fame late. Ryan's poems added measureless grace to wisdom that seems otherwise plain: Failure is fruitful; doubt ("the great interrupter") is not; patience is worth waiting for; and glory — like a PBK ceremony, let's say — is fleeting.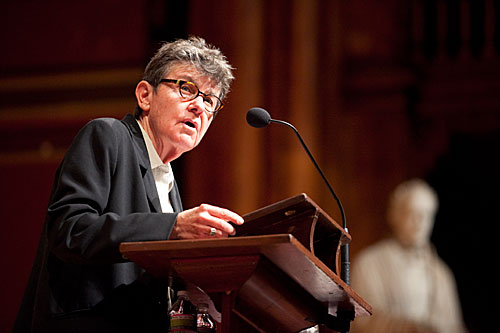 In "Chop," Ryan has us see a bird walk along the edge of a beach. Quite proud and happy, "his each step makes/a perfect stamp —/smallish, but as/sharp as an emperor's chop./Stride, stride/goes the emperor/down his wide/mirrored promenade/the sea bows/to repolish." For other lessons, go to the other poems, including "Counsel," "Failure," "Atlas," "Home to Roost," and "New Clothes."
Brevity and wisdom came too with PBK orator Derek Bok, the legendary two-time Harvard president and onetime Harvard Law School dean whose scholarly work today often turns to the role of universities in society. PBK orators of the past, he warned, were long-winded. Emerson's 1837 address, for one, took more than an hour and a half. But Bok was grateful to be able to speak at all. "I've been to this occasion 21 separate times," he said, "without being able to say a single word."
The 22nd time was the charm. Bok's "The Price of Democracy," 24 minutes long, took time to chastise Americans: After 12 months in which people in corners of the world have fought and died for a chance at democracy, U.S. citizens have taken democracy for granted, along with long-enjoyed freedom, human rights, and the rule of law.
We blame politicians and a rancorous political arena for our woes, said Bok, but the real culprit is our own disengagement with civic life. We complain that politicians pay so little attention to the poor, he said, but the poor vote at half the rate of the prosperous. We are shocked that lawmakers are elected from party extremes, yet only a third of those who are qualified chose to vote in primary elections.
Americans disparage immoderate political ads "and the primitive level of political discourse," said Bok, yet ads like that work — a sign that few voters are well informed. Since 1960 "this casual attitude toward politics" has increased, he said, and participation in civic life has "steadily declined." For one, Americans go to the polls in notoriously low numbers, ranking 139th among 172 democratic nations in the percentage of citizens who vote.
Meanwhile, public schools teach a third fewer civics classes than 50 years ago. "Colleges have hardly done any better," said Bok, since "college-level study of democratic principles" meets increasing resistance.
So stop blaming politicians for everything, he said. "Democracy will be successful only if most people join to make it so." There's no easy answer on how this will happen, said Bok. "But education is the place where we must begin."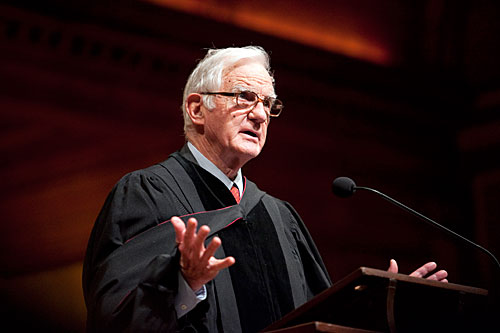 Education seems all right at Harvard, where the PBK ceremonies named a traditional set of teaching prizes. This year's recipients were David Mooney, Robert P. Pinkas Family Professor of Bioengineering, who treats undergraduates as if they were graduate students; David Morin, a lecturer in physics known for his physics limericks and for courses "like well-oiled machines"; and Emma Rothschild, the Jeremy and Jane Knowles Professor of History, whose large lecture, wrote a PBK senior, "feels like a seminar."
In another tradition, honorary members were named to Harvard's PBK chapter, Alpha Iota of Massachusetts, chartered in 1781. Those recognized: poet Kay Ryan; Harvard legal historian Charles Donahue Jr. '62, Paul A. Freund Professor of Law; University of Virginia Edmund Spenser studies expert James Nohrnberg '62; Harvard astrophysicist Patrick Thaddeus, the Robert Wheeler Willson Professor of Applied Astronomy; and Massachusetts jurist and writer William G. Young '62, a trial judge for 35 years.