Renowned for his caricatures, his original style of cubism, and his figurative painting, artist Lyonel Feininger, a member of the Bauhaus School, the influential modern art offshoot founded in Germany in 1919, never intended his photographs for public consumption. They were private images, occasionally offered as gifts to family and friends.
But an intimate exhibition titled "Lyonel Feininger: Photographs, 1928-1939," in the Harvard Art Museums/Arthur M. Sackler's fourth-floor gallery, offers viewers a comprehensive look at his largely unknown photographic work.
A painter largely committed to oil on canvas, Feininger was initially skeptical about photography, what he called a "mechanical medium," said Laura Muir during a "Two-Point Perspective" gallery talk in April, part of an ongoing series of discussions sponsored by the Harvard Art Museums that explore works from various viewpoints.
But as a Bauhaus teacher — Feininger was hired by movement founder Walter Gropius as its first faculty appointment — the 57-year-old was greatly influenced by his two sons, both photography enthusiasts, who had installed a darkroom in the basement of their home, and by his friend and Bauhaus colleague, Hungarian artist László Moholy-Nagy, who led the school's metal workshop and who championed experimental photographic techniques.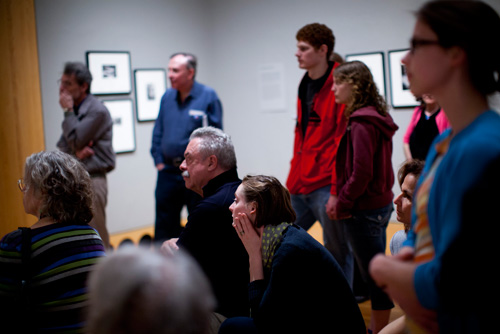 The exhibition's earliest images reveal Feininger's skill with the medium and his ability to transform "something familiar into something otherworldly," said Muir, the show's curator and assistant curator of the Harvard Art Museums/Busch-Reisinger Museum. The pictures show deserted streets and Bauhaus campus buildings, and often involve a ghostly, halo lighting effect, which the artist achieved by positioning himself so that the direct light from a streetlamp or window was largely obstructed by another object. Feininger, who liked to work alone and often after dark, captured moody, black-and-white images from the late 1920s as he prowled his German neighborhood and the Bauhaus campus.
His son T. Lux once wrote that his father "likes halos; he just wants to control them," said Penley Knipe, Philip and Lynn Straus Conservator of Works of Art on Paper, who helped to prepare many of the images for the exhibition.
The show, which was in Germany and at the J. Paul Getty Museum in Los Angeles before making its final stop at Harvard, covers Feininger's most prolific period with photography, 1928-39, and chronicles his experimentation with innovative techniques promoted by Moholy-Nagy, including the use of closely cropped images, multiple exposures, and unusual perspectives.
In a series of images from 1932-33, Feininger captured the ornate window displays of Weimar Germany. Elaborately dressed mannequins gaze back at the viewer, recalling, said Muir, the "eccentric characters" at the heart of many of his cartoons, caricatures, and early drawings. The images, the exhibition's accompanying text notes, "emphasize not only the eerily lifelike and strangely seductive quality of the mannequins, but the disorienting, dreamlike effect created by reflections in the glass."
In contrast to his photographic work, an adjoining gallery contains a selection of Feininger's drawings and watercolors. His skills as a master caricaturist are evident in "Ghosties," a whimsical, cartoonlike work of ink and watercolor. Nearby, a black ink and charcoal drawing depicting sharp angles and shapes evokes his unique style of cubism.
Included in the exhibition are Feininger's original cameras, a Voigtländer Bergheil and a Leica I Model A camera from 1931. Displayed under glass in the center of the gallery, they offer viewers a tangible and tactile connection to the deeply personal, often ethereal works on the walls.
Fearful at the rise of Nazi Germany, the artist eventually relocated to the United States with his family in 1937. In 1938, he rented an apartment in Manhattan where he continued his photography, much of which is now preserved in the Harvard Art Museums' collection of more than 18,000 negatives and slides in the Lyonel Feininger Archive of the Busch-Reisinger Museum.
The work in the show is drawn primarily from Harvard's Houghton Library's comprehensive Lyonel Feininger collection. The exhibit will be on view through June 2.